BACK TO VALLEN'S PUNK PORTRAITS
Sue Tissue
Mark Vallen 1979
Pencil on paper

Sue Tissue was the lead singer for the edgy punk-pop band from Long Beach, California, the Suburban Lawns. In 1979 my pencil drawing of Tissue was published as a cover for L.A.'s premiere punk journal, the low legendary Slash magazine. The artwork would be the first of two artworks created as covers for the magazine. My drawing also ended up in the book, Hardcore California, a history of Punk and New Wave by Peter Belsito and Bob Davis.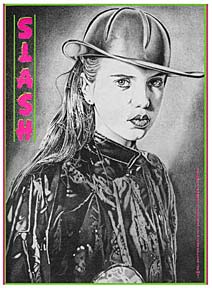 I met Sue Tissue during a rooftop party at the ramshackle West Hollywood command post of Slash magazine. I suggested to Claude Bessy (aka Kickboy Face, the enfant terrible editor of the punk journal), that I do a portrait of Tissue as a cover of the rabble-rousing publication. Kickboy concurred, Tissue consented, and the result was my portrait of Tissue wearing one of her cuckoo anti-fashion statements... a black vinyl raincoat with a red plastic fireman's hat worn backwards.
Tissue's quirky vocal style put the band at the forefront of the avant garde. Their underground hit single, Gidget goes to Hell typified their unique Southern Californian sound.
My drawing is available as a Giclйe print; a perfect reproduction of the black & white pencil drawing created as a cover illustration for Slash - but without the text. Each print is hand signed by the artist. The image is printed on high quality Arches white paper, with a 0.5 inch white border left around the artwork.
Sue Tissue
Giclйe print - 10" x 14" $200.00