Where Have All The Flowers Gone?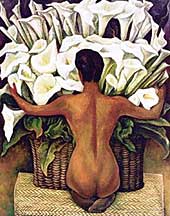 Diego Rivera painted his glorious oil painting, Nude with Calla Lilies, in 1944. Rivera was known as a fiery radical and an artist who helped create a national art for his Mexican homeland… a genre of social realism that's come to be known as the Mexican School. Rivera painted an endless number of monumental fresco murals and easel paintings that presented an unromanticised history of his country. He painted common workers and indigenous people. His artworks extolled peasant uprisings and opposed imperialist war and militarism. His marriage to artist Frida Kahlo is the stuff of legend. While Rivera created dozens of uncontroversial and tender artworks like his famous Calla Lilies series, his name will forever be associated with a revolutionary art created for the people.
Fast forward to the present where the legacy of Diego Rivera has been largely forgotten and Frida Kahlo is just another face to be seen on handbags and t-shirts. I'm watching a TV news report on the US occupation of Iraq. It's yet another tragic account of an American soldier falling on the battlefield… only this man (who shall remain unnamed out of respect for his family), is not a US citizen but a Mexican national. He joined the Marines in the hopes of becoming a citizen of the United States. It's reported that he was killed in Fallujah…. falling on a grenade to save his fellow soldiers.
The TV news shows the grieving family of the fallen hero at graveside, beside themselves with sorrow. The mother is screaming and wailing in Spanish. Later the brothers and sister of the deceased soldier are shown sitting on the couch in their tiny living room… silent and brokenhearted. The sister holds the burial flag neatly folded into a triangle. The camera pulls back to show the sad trio sitting beneath a large print of Rivera's Nude with Calla Lilies. The irony is overwhelming.