"The Oscar for Best Art goes to…"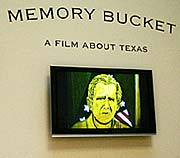 Jeremy Deller has won Britain's most prestigious art award for his short film about Texas, Memory Bucket. The movie documents his travels through the US state, featuring encounters with locals and a visit to George W. Bush's favorite burger bar near the "Western White House." The Tate Gallery's Turner Prize honors Deller's knack for filmmaking by bestowing upon him a check for $48,000. Not bad for someone who has admitted to not being able to paint or draw.
Apparently the Tate Gallery in central London has turned into The Academy of Motion Picture Arts and Sciences and is now handing out Oscars for best picture. The three runner up "artists" who also walked way with large cash awards had submitted video-based works as well. But what does any of this have to do with art?
In a tremendous irony that is indeed farcical, the Tate Gallery's prize is named after J.M.W. Turner, the great English romantic landscape painter of the eighteenth century who became known as "the painter of light" for his genius in the manipulation of oil on canvas. As judges praised and awarded Deller, outside the Tate Gallery others loudly objected to the fact that not a single solitary painter was involved in the art competition.
The Stuckists handed out flyers to the public that read: "We apologize for the lack of art in this year's Turner Prize. As an alternative you will find a display of enthusiasts' television programes and computer games."