The Gates: Good For Nothing
I first became aware of the works of Christo in 1972 while reading, Towards Revolutionary Art (TRA), a small left-wing arts journal from San Francisco. TRA had published a caustic attack upon Christo for his Valley Curtain project (pictured above), a huge barrier of orange nylon fabric hung in Rifle Gap, Colorado.
TRA's fierce diatribe savaged Christo for his "$700,000 exhibitionist publicity stunt sanctified under the name of art." Moreover, the journal excoriated art critics for promoting "the mystification of art so as to help prop up the capitalist art world along with its flock of degenerate groupies and rich speculators – and in the process keep art and aesthetic expression monopolized and out of the reach of masses of working people."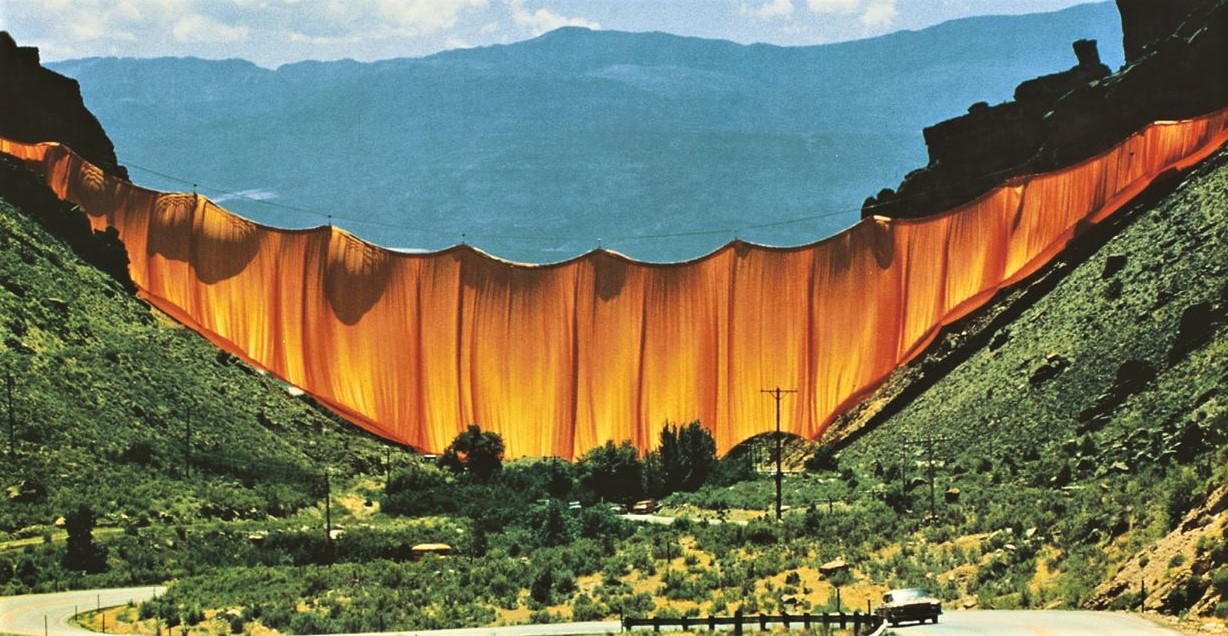 While TRA ceased operations long ago, the Bulgaria-born Christo and his French-born partner, Jeanne-Claude (who together insist on speaking to the press in one voice), have continued to orchestrate their site specific mass spectacles. Over the years they've undertaken projects like the complete wrapping of the Berlin Reichstag in aluminum-fabric, and the wrapping of the Pont Neuf, France's oldest standing bridge, with white cloth.
But before you write off TRA's tirade as neo-Marxist gibberish, consider what Christo himself has to say about his latest project, The Gates: "we don't do it for the people, we do it for us." Jeanne-Claude was equally blunt:
"We do not create messages. We do not create symbols. We create works of art. All works of art are good for nothing.''
The pair divulged their good for nothing project "would cost less than $21 million dollars." The Gates project consists of 7,500 gate-like structures that are 16 feet high and hung with long flowing panels of saffron-colored nylon fabric. Now under construction, the gates will run along 23 miles of walkways through New York's Central Park. On February 12th, the fabric panels will be unfurled and on view for only 16 days before the gates are completely removed.
Christo and Jeanne-Claude say the tens of millions of dollars funding their project comes from the sale of preliminary sketches and collages (which sell at $30,000 to $600,000 each). They assert "We're not rich people. We spend everything we have and everything we can borrow from the bank and get no money back." But this seems more than a little disingenuous to me, especially since they've been seen driving around New York in a Maybach (a car that sells for around $357,000).
I'm sure the two will garner much positive attention from the press and the art establishment, so my opinion is likely to appear as heretical. The Christian Science Monitor in its glowing praise of the project, exclaimed "when war and natural disaster saturate the news, it's easy to forget that beauty can still be found."
Excluding the Monitor, who has overlooked beauty? Forgive me for saying so, but in order to recognize beauty must we also forget about human suffering?
No doubt the war wounded of Iraq and the Tsunami victims of Southeast Asia will be perplexed to hear about the $21 million dollar display of ephemeral installation art… it's bewildering to me as well.
Furthermore, while Christo and Jeanne-Claude received a city permit to grace Central Park with a mass installation that bears no message and in the words of the artists is "good for nothing" – it is worth noting that last August the city denied a park permit to hundreds of thousands of anti-war demonstrators during the Republican National Convention.
But then, there are two types of artists. Those like myself who possess a social consciousness, and those like Christo and Jeanne-Claude, whose self-serving and haughty attitude reveals contempt for the human race.
If this blog falls silent for the next few days you may assume that I've been trapped inside my home by zealous followers of Christo, and that they've wrapped my dwelling in saffron-colored nylon fabric in an attempt to intimidate me. In that event I'll take advantage of the isolation to stand by my easel and begin some new paintings, artworks that will be – good for something.