Paris 1968 – 2006: Up They Rise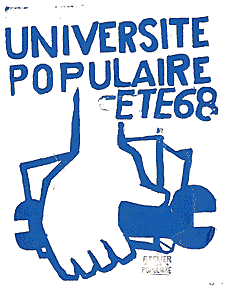 On March 16, 2006, more than 300,000 students marched across France to show their opposition to a new law that allows companies, without reason or explanation, to fire workers age 26 or under.
Students organized strikes and disruptions that hit 64 of the country's 84 universities, and in the western city of Rennes students seized and occupied the town hall. At the end of the gigantic march in Paris, riot police attacked protesters with teargas and water cannons, a tactic that is becoming routine as the student movement grows in popularity and intensity.
On the 14th, tens of thousands of students marched through Paris, and at the College de France in the capital's Latin Quarter, students chanting "We're not young flesh for the boss!" were tear gassed by heavily armed riot police.
The so-called First Employment Contract (CPE) is designed to garner super profits for business owners by denying young workers any possibility of obtaining benefits or long-term employment, the CPE even denies severance pay for young workers who are fired. In Paris, more than 140,000 students and union members poured into the streets to demand the overturning of the CPE, which is now widely mocked as: Capitalisme, Précarité, Exploitation (Capitalism, Precariousness, Exploitation). This past Saturday, hundreds of students briefly seized the historic Sorbonne building at the University of Paris, defiantly blockading themselves inside to protest the CPE until they were forcefully ejected by riot police.
The government's clumsy attempts to suppress the anti-CPE movement with tear gas and truncheons has only caused it to expand further. Tens of thousands on the streets of Paris chant "police everywhere, justice nowhere," while the unpopular Prime Minister Villepin refuses to back down in the face of the growing popular revolt. The left-wing newspaper Libération wrote in an editorial, "Within five months France's Government has succeeded two times in driving its young people into the street, the government is incapable of offering any future to young people except for precariousness. Whether they have a degree or not, whether they fail or succeed at their studies, youth today are discriminated against."
To the informed observer today's events seem like déjà vu, bearing remarkable similarity to the Paris of May 1968, when workers and students in their millions united in massive demonstrations and strikes that nearly toppled the conservative government of Charles de Gaulle.
Today's demonstrations have not reached that level of intensity, and while times have undeniably changed, certain dynamics and conditions remain the same. In 1968, the Atelier Populaire, a silkscreen poster workshop run by striking students and workers, produced brilliant graphics that were plastered on walls all over Paris in support of the uprising. Now some of those very images have been spotted once more on the streets of Paris, and hopefully in the future we'll see a new Atelier Populaire rise to the occasion.