Black Heritage on the Auction Block
I was horrified to read in the Los Angeles Times that the historic collection of African American art owned by L.A.'s Golden State Mutual Life Insurance Company has been "carted off to be auctioned in New York." The LAT article, Historians angered by auction of black art, revealed that "Golden State plans to sell 94 artworks Oct. 4 at Swann Galleries" in New York City, with the auction of paintings, prints, drawings and sculptures expected to sell for as much as $1.5 million.
At issue here is not merely the desire to see this body of work remain in Los Angeles – much wider concerns are at stake.
As reported in the LAT, Samella Lewis, the founder of the Museum of African American Art in Los Angeles, stated; "It's one of the finest collections in the West in terms of African American culture and art. It's like a museum." But an opportunity for L.A.'s museums to purchase the Golden State collection never occurred, as the insurance company decided to send all of the artworks straight to the auction block. How is it that we've arrived at a point in our so-called civilization where great collections of historic artworks can simply be sold off piece by piece to the highest bidders? What happened to civic pride and the public interest, where did they go? Clearly, the Golden State collection should be in a public museum and available in perpetuity to the general public.
But there's another aspect to this story that bothers me a great deal. The significance of the Golden State collection reaches far beyond monetary worth, it represents a people's collective history. From the Legend of John Brown series of screen prints by Jacob Lawrence to Charles White's portrait of Harriet Tubman, the artworks epitomize, in visual terms, the history of African Americans. How can such a body of work be scattered to the four winds, with individual pieces to disappear into private collections?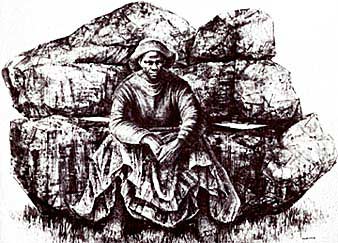 "General Moses." Charles White. Ink on paper. 1965. White's portrait of the escaped slave and leader of the famed underground railroad, Harriet Tubman, who was referred to as the Moses of her people. In the collection of the Golden State Mutual Life Insurance Company, but soon to be auctioned off to the highest bidder.
The LAT article quoted Paul von Blum, the senior lecturer in African American studies at UCLA, with a single sentence. "For the multicultural community in Los Angeles, it's a cultural loss to the city. I would like to see these works go into a museum in Southern California." Knowing Von Blum personally, and being acquainted with his deep and abiding passion for African American art, I realized he would have more to say on the subject, so I asked him to contribute his thoughts to my web log. Here's what he had to say:
"On August 17, 2007, The Los Angeles Times published an article by Bloomberg News reporter Lindsay Pollock about the impending sale of the major artistic treasures of the Golden State Mutual Life Insurance Company in Los Angeles. This black-owned corporation plans to sell almost 100 artworks representing some of the most iconic figures in African American art history. Among the artists in this sale, to be conducted by Swann galleries of New York on October 4, are Henry Tanner, Romare Bearden, Jacob Lawrence, Charles White, Elizabeth Catlett, and David Hammons.

The loss of these works is nothing short of a cultural catastrophe for the Los Angeles area. During his 30 years as Golden State art director, Los Angeles artist William Pajaud lovingly assembled this collection, working with minimal funds and often trading his own paintings to acquire these artistic masterpieces. For almost two decades, I have conducted tours of this collection with my UCLA students and with numerous community groups.

Without exception, visitors have been exceptionally moved by this collection. They have understood how the tradition of African American art serves as a reminder of the struggles, aspirations, and triumphs of people of African descent. Losing these works not only diminishes the status of the arts in Los Angeles, but also deprives generations of young people the opportunity to see and appreciate the accomplishments of such stellar African American visual artists.

A capitalist society provides little remedy against corporate sales of privately owned art collections. Still, people concerned about this impending cultural tragedy should alert area public officials and art world 'players' about what is about to occur. The best result, under the circumstances, would be for concerned area collectors to step in and purchase all (or at least many) of the works at auction and make arrangements to keep and display them publicly in Los Angeles.

Such collectors, of all racial and ethnic backgrounds, exist in abundance in Los Angeles. Publicity about this sale can only in crease the likelihood that someone will rise to the occasion and save the Golden State art collection for the residents of Southern California."