May 68: Posters from the Paris Rebellion
Among the many graffiti slogans scrawled upon the walls of Paris during the rebellion of May 1968, perhaps the one that best summed up the temper of the time was "Be Realistic, Demand the Impossible". But poetic, politically pointed graffiti was not the only thing to adorn the walls of Paris in 68. Anonymous street art posters augmented the May uprising, leaving behind a legacy of socially conscious graphics that to this day have not been outdone in terms of political sophistication, simplicity, and effectiveness.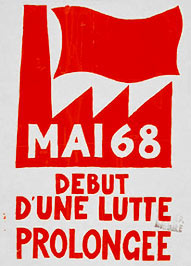 [ Mai 68: Début d'une lutte prolongée – "May 68: Beginning of a prolonged struggle". Silkscreen street poster created anonymously by members of the Atelier Populaire, 1968. ]
Produced anonymously by the workers and students of the Atelier Populaire (Popular Workshop), the posters of May 68 Paris have been enormously influential over the years despite the fact that they have never been made commercially available. My understanding of how art can have an impact on public opinion was in part shaped by exposure to those posters the year they hit the streets. Years ago I wrote an online illustrated article that traced the history of the prints, an examination that remains one of the largest archives of May 68 Parisian posters to be found on the web, so I'm pleased to see the posters of 68 receiving a long overdue reappraisal.
May 68: Street Posters from the Paris Rebellion, opened on May 1st, 2008, at the Hayward Project Space in London. It is the first exhibition of Paris 68 posters to be organized in the UK, displaying 46 of the original posters created by the Atelier Populaire. The poster exhibit runs until June 1, 2008. You can read an interview with the exhibit's curator, Johan Kugelberg, at the Creative Review website.
Meanwhile in France, a collection of over 250 rare May 68 posters produced by the Atelier Populaire, went on exhibition and sale at the world famous Drouot auction house on April 5, 2008. While I've not yet read about the results of the poster sale, I did get word that starting prices for individual prints began at 100 Euros (around $150 yankee dollars) – that such influential and historic posters could be priced so low invokes a number of tricky questions.
It should be evident that there is a tremendous difference between a historic May 68 poster and a street art stencil print created by a contemporary artist. How is it then that Bonhams London auction house sold a single Banksy stencil print of a Chimp for £228,000 ($449,000), while the starting price for any May 68 poster on the auction block at Drouot was so abysmally low? We should be aware of the forces at work here, and the Atelier Populaire itself had some instructive words regarding the commodification of political street art. As I noted in my previously mentioned essay on the Atelier Populaire, the poster making collective took an unequivocal stance regarding their works. "To use them for decorative purposes, to display them in bourgeois places of culture or to consider them as objects of aesthetic interest is to impair both their function and their effect. This is why the Atelier Populaire has always refused to put them on sale."