"The Gaze": Silkscreen Print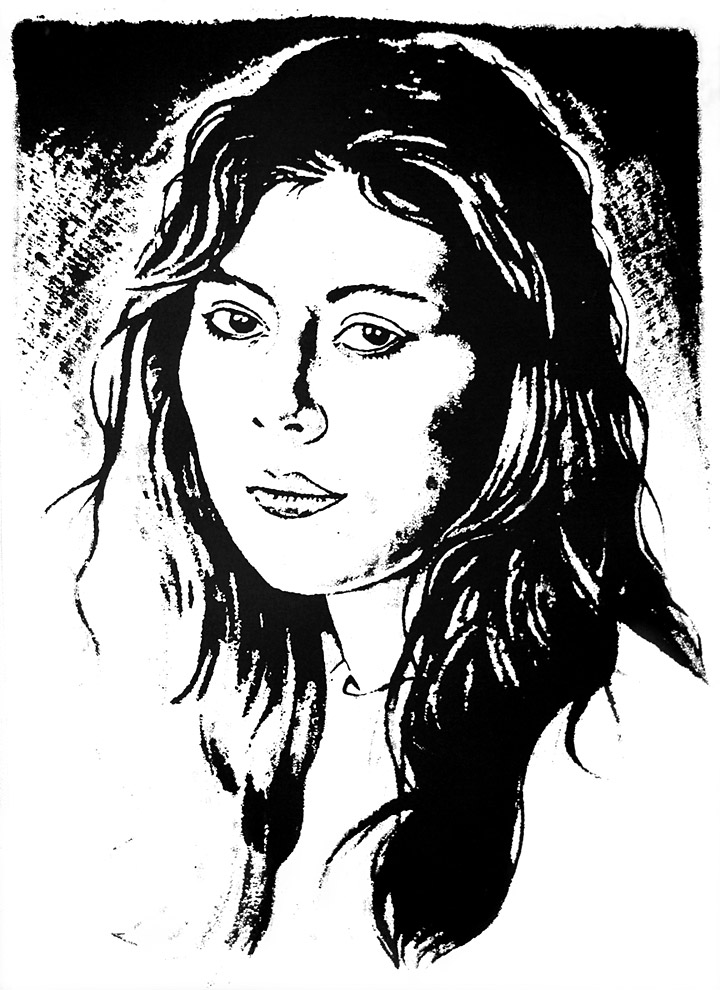 "The Gaze" – Black & White serigraphic print. 1980
(c) Mark Vallen. Hand pulled by the artist
Dimensions: 17.5″ x 23″ inches
Signed and numbered by the artist
Edition of 16
I created this silkscreen portrait print of a young woman in 1980. During that period I was doing quite a lot of work in serigraphy, generally making prints of a political nature. As evidenced in the above, I was also interested in creating works of a more personal disposition. Though trained in modern methods of silkscreen printing, I never liked transferring photographic images onto a screen using chemicals and emulsions or even by means of laboriously cutting paper or film stencils. I have always enjoyed a "hands on" approach to serigraphy; drawing directly on the screen so that the gesture of drawing becomes part of the print.
Because of that preference, I developed a method of drawing directly onto the screen using oil-based lithographer's pencils and crayons, complemented by painting lithographer's touche onto the screen with a brush as if I were painting a canvas. Once dried I then flooding the screen with water-based glue. The "stencils" produced bore results akin to lithographic techniques, allowing for great spontaneity, subtle gradations in tone, remarkable textures, and best of all – since one could never fully control the medium – finished prints that were full of surprise and "the artist's hand".
While I did create prints in color, I had, and still have, a preference for prints in black and white, which on the whole I feel are more enigmatic and melancholy – which suits me fine. Some of my favorite silkscreen works from that period of experimentation were created by using the method I explained in the above. Of those prints I especially like The Gaze. Similar black and white serigraphic prints I created during those days will be available on this web log in months to come.