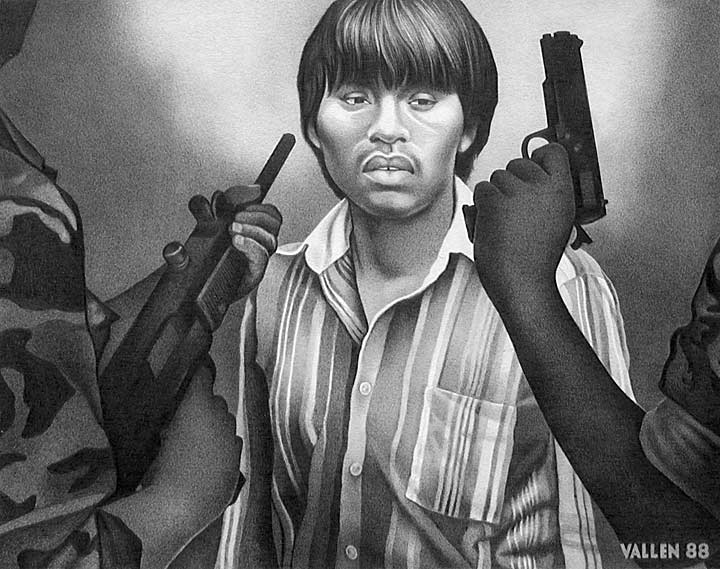 On May 10, 2013, former Guatemalan tyrant Gen. Efraín Ríos Montt was found guilty of genocide and crimes against humanity by a Guatemalan court. Specifically, he was found guilty of the murder of 1,771 indigenous Maya civilians. The 86-year-old Montt was sentenced to 80 years in prison, 50 years for genocide and 30 years for crimes against humanity. When I received word of Montt's conviction I cried aloud, "Oh my God!", hardly believing that justice had at last prevailed… at least, in part.
In the 1980's I met a number of Guatemalan refugees that had fled the terror in their country for the relative safety of Los Angeles, and I was profoundly disturbed by the harrowing tales they told me of their homeland – stories regarding the torture, mutilation, and murder of friends, family, and associates back home. As a result, I spent a good portion of the 80s creating posters, flyers, and drawings that were opposed to the bloodbath then occurring in Guatemala and the rest of Central America; my artworks were circulated all across L.A. and beyond. The drawing pictured above, "Meanwhile… in Guatemala", was one such artwork (view a larger version).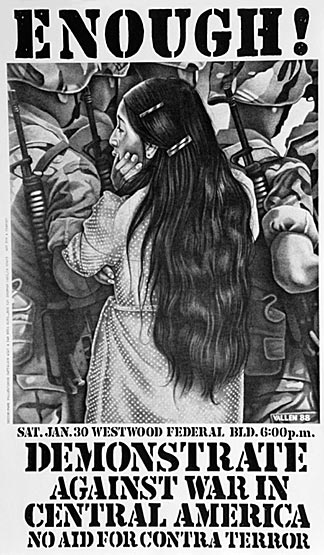 While hundreds of thousands of U.S. citizens joined me in protesting the wars in Central America, it was not a popular thing to do. The Cold War hysteria of Ronald Reagan's America designated such activists "un-American" and "un-patriotic". In short, making art in solidarity with the Guatemalans was not a path to career success. Now that Ríos Montt has been found guilty of genocide and crimes against humanity, I feel vindicated and joyful.
Montt was not the first nor last military despot to brutalize the people of Guatemala; he was from a long line of murderous thugs and assassins that throttled civil society and butchered Ixil Maya communities with impunity.
One could say it all began in 1954 when the U.S. government and the C.I.A. engineered a coup d'etat that overthrew Guatemala's democratically elected government of President Jacobo Árbenz Guzmán (1950-54), but that is another story.
In announcing the Guatemalan court's decision, Judge Yasmin Barrios stated that "The defendant is responsible for masterminding the crime of genocide", and that "We are convinced that the acts the Ixil suffered constitute the crime of genocide… Rios Montt knew everything that was going on, and he didn't stop it, even though he had the power to do so." Barrios added, "We the judges are totally convinced that the goal was the physical destruction of the Ixil area."
In March of 1982 Montt staged a coup d'etat that toppled the brutal dictatorship of President Lucas García, and Montt ruled until the next totalitarian goon – General Óscar Humberto Mejía Victores – overthrew him in a 1983 military coup. It was simply a falling out among thieves. Being a faithful servant to Guatemala's oligarchs and Uncle Sam (he was a graduate of the U.S. Army School of the Americas), Montt came to no harm after being overthrown, in fact he was "elected" to the nation's congress in 2007.
All the same, Montt's 14 month military rule became infamous for the most vile abuses, including widespread torture and rape conducted by state forces. Montt launched a scorched earth military campaign meant to destroy the rural support base of the country's left-wing guerilla movement. Making no distinction between the Maya civilian population and combatants, Montt's campaign obliterated over 600 Maya villages and took the lives of hundreds of thousands of innocent peasant farmers.
Montt's counter-insurgency policies did have its supporters. On December 4, 1982, President Reagan met with Gen. Montt at San Pedro Sula, Honduras. Reagan gave his assessment of the fascist dictator to the gathered international press:
"I know that President Ríos Montt is a man of great personal integrity and commitment. His country is confronting a brutal challenge from guerrillas armed and supported by others outside Guatemala. I have assured the President that the United States is committed to support his efforts to restore democracy and to address the root causes of this violent insurgency. I know he wants to improve the quality of life for all Guatemalans and to promote social justice. My administration will do all it can to support his progressive efforts."
Only two days after Reagan made his statement, U.S. armed and trained Guatemalan special forces, the Kaibiles, raided the Mayan hamlet of Dos Esses, where they massacred nearly 300 villagers… mostly women and children. It was not an isolated incident; the slaughter of innocents had become government policy for Guatemala's generals, and yet the U.S. government continued to pour millions of dollars worth of lethal military aid into their hands.
While the New York Times, the Los Angeles Times, The Wall Street Journal, and other corporate newspapers have all mentioned the Ríos Montt conviction, few if any made mention of Montt's crimes being facilitated by the extensive military, economic, and political backing of the U.S. government. In his 2003 book, Killing Hope: US Military and CIA Interventions Since World War II, William Blum noted that the Reagan administration supplied Montt with "$3.1 million of jeeps and trucks, $4 million of helicopter spare parts, $6.3 million of other military supplies."
What doubt is there that U.S. military aid was used by Montt and his death squads to slaughter Maya peasants by the tens of thousands? Blum also noted in his book how covert U.S. military aid was provided to the Montt dictatorship; "the United States was using Cuban exiles to train security forces in Guatemala". In a October 21, 1982 Washington Post article, journalist Jack Anderson reported that "Green Berets had been instructing Guatemalan Army officers for over two years in the finer points of warfare".
The question remains, if the former Guatemalan tyrant Gen. Efraín Ríos Montt is guilty of genocide and crimes against humanity, what can be said of those in Washington D.C. who willfully supplied the dictator with the means to carry out his butchery?
####
UPDATE: Guatemala's highest court overturned the guilty conviction against Rios Montt on May 20, 2013, only ten days after the former military dictator was sentenced to 80 years in prison for genocide and crimes against humanity. Guatemala's "Constitutional Court" cited procedural errors for canceling the verdict. Montt is to be "retried". It is uncertain when that might occur. Have the good people of Guatemala not suffered enough torment? Where is justice?