Stencil Art for a Free Burma
The group, Saffron Revolution Worldwide (SRW) has created stencil art in support of the people's uprising for democracy in Burma, also known as Myanmar. SRW encourages groups and individuals around the world to download the stencil template, utilizing it to create spray-paint stencil art in deep orange paint as an expression of solidarity with Burma's marching monks. If making stencil art is not quite your speed, then consider signing, Stand With The Burmese Protesters, an online petition in support of the Burmese freedom struggle that will be sent to United Nations Security Council members.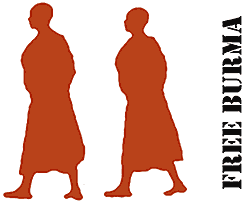 [ Free Burma stencil art – available from Saffron Revolution Worldwide. ]

Recent bloody events in Burma/Myanmar, have shocked people around the world. The present crisis began on August 19th when a popular uprising broke out over rising fuel costs. The revolt soon spread and took on the character of a mass rebellion. Enormous throngs took to the streets calling for democracy and an end to the military regime that has ruled the country for 45 years. The revered Buddhist monks of the nation have spearheaded the demonstrations, with tens of thousands marching in their sandals and saffron colored robes – in fact, their stunning visual presence and moral authority has caused the uprising to be hailed as the "Saffron Revolution."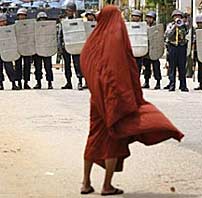 [ A Buddhist monk faces down armed government troops Sept. 26, 2007, in downtown Yangon, Myanmar. Photo from Reuters. ]

In an effort to crush the movement, the generals that run the country gave "shoot to kill" orders to the army. At the time of this posting, the military regime now admits to having shot dead 10 pro-democracy activists, but opposition forces say that upwards of 200 have been killed so far. The army has also implemented a severe crackdown against the Buddhists, vandalizing and occupying their monasteries as well as arresting and beating monks. Two good starting points to learn about the situation in Myanmar/Burma, are the websites of the Free Burma Coalition (FBC), and the Burmese American Democratic Alliance (BADA).