NoHo Art Wave: Hello Gentrification
The following account of a community being gentrified, is now so commonplace a story across America as to hardly merit attention. While this chronicle concerns a district in the City of Los Angeles, the dynamics apply to cities everywhere.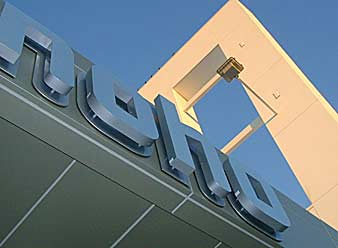 I was born and raised in Los Angeles, and North Hollywood is a district in the north-western section of L.A. known as the San Fernando Valley.  The North Hollywood Chamber of Commerce decided in 1992 that the area would be called the "NoHo Arts District."
Evidently the business association wanted to draw a comparison between the burgeoning eclectic neighborhood of North Hollywood and the famed arts district of SoHo, Manhattan, New York City.
But it was an ironic choice for a name, since the celebrated bohemian arts community that existed in SoHo during the late 60's, was forced out by a process of gentrification that led to a mass exodus of artists in the 1990's, a fate no doubt to be shared by the artists of NoHo.
On September 28, 2007, the Los Angeles Times reported that L.A.'s Metropolitan Transportation Authority (MTA) gave the go-ahead to a $1.3 billion development project that will completely change the face of North Hollywood. The project will be the most expensive private development venture in the entire history of L.A., far surpassing the $500 million spent on redeveloping the world famous avenues of Hollywood & Highland. The MTA awarded Lowe Enterprises exclusive rights to plan and implement the massive undertaking.
Dubbed, NoHo Art Wave, the colossal 1.72 million square foot complex will be a "mixed-use" project that integrates commercial and residential development, with the entire multiplex to be constructed on MTA-owned land at the last stop of the Red Line subway located at Lankershim and Chandler boulevards. Quoting the L.A. Times story; "More than 1 million square feet of office space will be built in three buildings between 12 and 20 stories tall. Other buildings on the drawing board will house nearly 160,000 square feet of retail and entertainment and about 560 apartment units. About 6,200 parking spaces will be built, with 1,500 reserved for MTA users."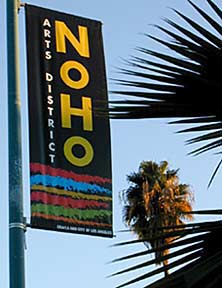 The Senior Vice President of Lowe Enterprises, Thomas Wulf, was quoted in the L.A. Times story as saying the project is being called NoHo Art Wave, because the complex is being visualized as "a wave drawing pedestrians, office users and retail customers. (…) Our goal is to really build upon the resurgence that's already taken place in North Hollywood, such as the resurgence of live theaters." It is telling that Mr. Wulf makes no mention of bringing artists to the district, or of providing art studios and exhibition spaces, so perhaps the real meaning behind the name, Art Wave, is that we should wave good-bye to the existing arts community in the area and say hello to corporate culture and gentrification.
The L.A. Times also mentions that other officials at Lowe Enterprises wish to "tap into" the North Hollywood arts scene, saying they'll provide space for groups to rehearse and perform. It is splendid that the City of Los Angeles and Lowe Enterprises have such high regard for NoHo's professional theater groups – but what about the other artists in the area? With city officials and developers promoting NoHo as an arts district, will the city government and Lowe Enterprises also allocate buildings and resources to arts organizations for the establishment of art studios, workshops and exhibition spaces? Will they assign a fair portion of the $1.3 billion budgeted for the Art Wave complex for the placement of outdoor sculptures and installations? Will wall space in the very center of the NoHo Arts District be set aside for the creation of painted and mosaic community murals – and if not, why not?
Already, "Masks," a notable NoHo mural by artist Barbara A. Thomason has been obliterated in a project unrelated to the Lowe Enterprises venture, so I must ask, does the destruction of Thomason's mural foreshadow the type of "development" we can expect for the NoHo Arts District? Are the good people of North Hollywood to enjoy an arts district that is devoid of art?
The NoHo Arts District now features 22 active theater groups, and it's home to more recording facilities than in any other city west of the Mississippi – but theaters and recording studios do not comprise a fully realized arts community. Where is the municipal art gallery for this arts district? There are but a half-dozen struggling art galleries in all of NoHo, and only two that are of any real significance. The Satsuma Gallery is a cooperative run by artists that is hidden away in an industrial area, and the Lankershim Arts Center/NoHo Gallery L.A. is a privately run rental gallery that charges artists a $250 fee just to exhibit – a state of affairs that is not at all favorable towards building, maintaining and expanding a viable arts community.
That an established professional artist cannot find an appropriate exhibition space in NoHo gives the lie to the area being an arts district. Perhaps the North Hollywood Chamber of Commerce should simply rename the locale a theater district and be done with it.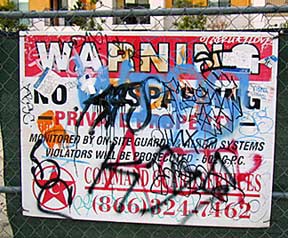 The aforementioned Lankershim Arts Center/NoHo Gallery L.A., currently occupies a building that originally served as the headquarters for the Department of Water and Power. Built in 1939 and designed by famed architect S. Charles Lee, the structure is a magnificent example of Art Deco architecture that was designated a historic cultural monument for L.A. in 1980.
I've always felt it was preposterous the city overlooked and ignored what otherwise could be the jewel of a true arts district, but it's not too late to strike a fair and equitable arrangement with the building's present occupants.
It is my opinion that the Cultural Affairs Department of the City of Los Angeles should renovate and be in control of the building, and that a reborn Lankershim Arts Center become the focal point for the entire NoHo Arts District. That the city can allocate $1.3 billion for the commercial development of NoHo, but it can't put together a modest budget for a much needed municipal art gallery in the same community – indicates a set of priorities that have nothing to do with supporting the arts.
If the City of Los Angeles is actually serious about developing NoHo into a locality capable of sustaining arts tourism and attracting world class artists and exhibitions, then it should operate a city-run gallery in the area with a paid staff of arts professionals – as is the case with the Los Angeles Municipal Art Gallery located in Hollywood's famed Barnsdall Art Park. In September, L.A. Mayor Villaraigosa announced that the L.A. Municipal Art Gallery would do away with its $7 admission fee, a benevolent gesture that is to be applauded, but why not extend the same type of generosity towards the NoHo arts community, especially at a time when so much money is being invested in North Hollywood?
I'm mindful of the fact that active state intervention in the arts cannot be looked upon as a universal remedy. Autonomous circles of artists and their supporters can accomplish great things if left to their own devices. But in the case of the NoHo Arts District, where a commercial development project is being imposed upon a community, city government must put aside buildings and resources so that artists may continue to explore and expand independently of mainstream corporate culture.
I feel great unease over the likelihood that the region's relatively low rents and affordable housing costs will skyrocket due to commercial development – pushing out the majority working class population who live and find employment in the community. For instance, a 930 sqft live-in/work studio space at the just completed, Lofts at NoHo Commons, runs anywhere from $2,559 to $4,000, with the stipulation that residents be able to prove that their "monthly gross income must be equal 3 times the amount of the monthly rent."
It is well and good that apartments and condos aplenty are being made available to people of upper income brackets, but where are the low-rent studios, workplaces and galleries being built for actual artists in this arts district?
I'm alarmed that there has been a total lack of transparency and democratic procedure in the entire process of developing NoHo, I can't recollect a single community meeting being called by city government or private developers to access community needs and desires. A good example of the "behind your back while you weren't looking" nature of this development project, was written about in a Los Angeles Daily News article by staff writer Rick Orlov. His piece revealed that the Metropolitan Transportation Authority board faced a conflict of interest over its vote to approve the $1.3 billion development project. It seems that 11 of the 13 MTA board members "had received campaign contributions connected to projects considered for the site." For instance, MTA board member David Fleming runs the law firm Latham and Watkins, which represents Lowe Enterprises.
Orlov's article went on to state that; "Because of so many conflicts, a board would usually be unable to reach a quorum to take a vote at all. But in this case, the board used an obscure lottery-based procedure to randomly select five of the 11 conflicted members to vote on the project." It should surprise no one that the MTA board voted unanimously to endorse the billion dollar development deal, nor should it shock anyone that, according to the Daily News article, "Metro officials said they could not immediately provide information on the specific donations" that comprised the conflict of interest fiasco.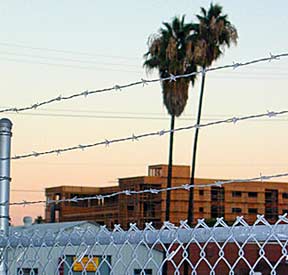 Finally, the question of what makes an arts district should be realistically examined. The overwhelming majority of artists have forever lived on the edge – both figuratively and literally – and they always will.
From Montparnasse, Paris, during the beginning of the 20th century to the East Village, Manhattan, NYC at the close of the 20th, bohemian enclaves of artists have come together to challenge the status quo with bold new aesthetics and ideas.
Artists, musicians, sculptors, dancers, poets and others, including those people with non-conformist social and intellectual views, are attracted to the dilapidated periphery of urban areas, where cheap rent makes possible the renovation of abandoned warehouses and derelict buildings into productive and affordable studio, gallery, living, and retail space. Small eateries, coffeehouses, bars, clubs and bookstores in such a district serve as meeting places where artists mix with the general public – and it all eventually coalesces into a vibrant and influential alternative community.
To create and sustain such a quarter takes time, effort and lots of imagination, and its success is the result of the visionary work of those artists and neighborhood supporters who call the area home. Ultimately, an arts district is an experimental hotbed generating what is innovative and new in culture and aesthetics – enriching all of humanity in the process. While an eclectic arts district might benefit from outside investment – it can never be established by investors.
It's been shown time again that massive commercial development in artistic neighborhoods drives prices up and artists out, and there's no reason to believe things will be any different in L.A.'s NoHo Arts District. In the end, if something is not immediately done in NoHo to accommodate the needs of artists for inexpensive studio and exhibition space, if artists are not allowed a role in determining the destiny of the community they helped create – then they will abandon it to seek greener pastures elsewhere. At which point, the complex of commercial boutiques and upscale apartments financed and constructed by the business community will be an "arts district" in name only.
_____________________
CORRECTION: In my article I wrote that the NoHo Gallery L.A. charges a $250 rental fee. In point of fact, the gallery's website stipulates that an; "Artist is required to pay a $150-$250 gallery fee (depending on size, number of works & exhibit)." The gallery's director, Dan DeBevoise, contacted me to say that only a small percentage of artists pay the $250 fee, the great majority pay $150, and that he waves the fee for some artists due to their financial situation.