Eco-Vandals Hurl Paint on La Scala Opera House
On Dec. 7, 2022 five members of Italy's eco-extremist group Ultima Generazione (Last Generation), attacked the famous La Scala opera house in Milan on its opening night. The eco-vandals hurled buckets of pink, blue, green, yellow, and red paint onto the facade of the historic opera house that first opened in 1778.
The attack came early Wednesday at around 7:30 am with the vandals throwing pails of paint on the face of the building, its portico and entrance doors, as they shouted slogans against gas and oil. They unfurled red banners bearing the slogan: "Last Generation—No Gas and No Carbon," then waited to be arrested.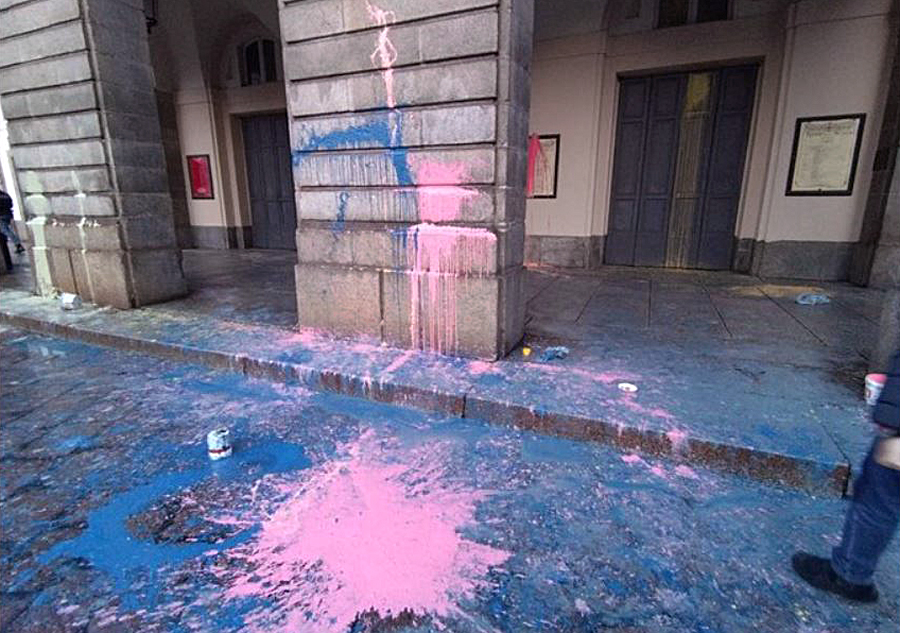 The police arrived and arrested the culprits. At the time of this writing I have no word as to the charges. Later on, the Ultima Generazione organization released a statement on their Twitter account in an attempt to justify their crime:
"Instead of taking the necessary measures to safeguard Italy's future from drought and climate disasters, politics is locking itself away to enjoy a show for a few people. We smeared the La Scala theater because we cannot accept that our politicians carelessly watch a theatrical drama when they are accomplices in a real drama, when every day people die because of their choices."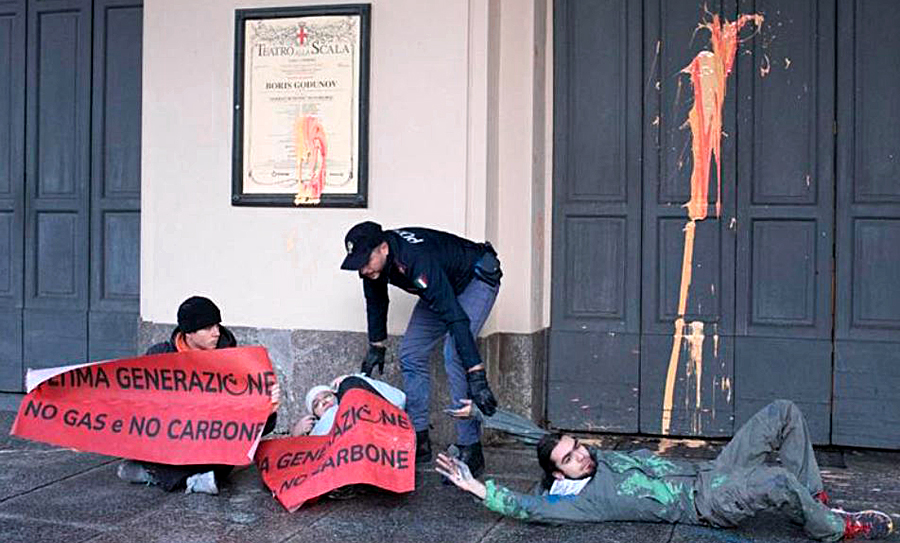 La Scala traditionally starts its opera season on Dec. 7 to coincide with the feast day of Milan's patron, Saint Ambrose, but this year the opera house first had to clean up the enormous mess the "climate activists" had created. The eco-vandals choose Saint Ambrose's Day for their vile spectacle, but there's also another reason. The opera season opens with a performance of Boris Godunov by Russian composer Modest Mussorgsky, and attendees included Italian premier Giorgia Meloni and European Commission president Ursula Von Der Leyen. The attention seeking vandals couldn't resist the temptation of disrupting the opera.
The General Director of La Scala, Dominique Meyer, properly noted, "In doing 'Boris Godunov,' we don't do propaganda for Putin. This is a great masterpiece in the history of art."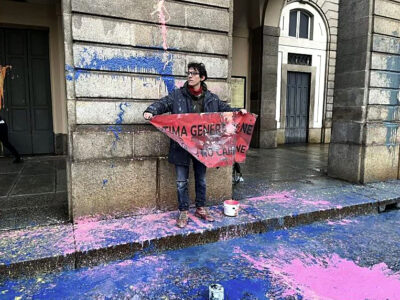 As I've documented on this blog, this was not the first attack on the arts committed by Ultima Generazione; in the recent past they hurled soup onto Van Gogh's The Sower displayed in Rome, poured flour over a sports car painted by Andy Warhol at an exhibition in Milan, and glued themselves to the marble statue Laocoön and his Sons created in 200 BC and now in the permanent collection of the Vatican Museums.
The La Scala opera house in Milan, officially known as Teatro alla Scala or La Scala, is one of the greatest opera and ballet theaters found anywhere in the world. It maintains its own orchestra, chorus, and ballet company, has its own museum that documents all of the composers, artists, singers, and dancers that contributed to La Scala's epoch-making history, and runs an Academy were professional training in music, dance, stagecraft, and management is offered to some 1,700 students annually.  Only a barbarian would assail an institution like La Scala; which brings me to a barbaric threat issued recently by the Just Stop Oil vandals.
In a Nov. 30, 2022 interview with the UK's Sky News, a spokesman for Just Stop Oil, Alex De Koning, announced that the group was ready to escalate its tactics by slashing historic paintings. De Koning threatened the art world by saying his organization will soon follow the example of the English Suffragettes of the early 1900s, who "violently slashed paintings in order to get their messages across."
The spokesman said Just Stop Oil's attacks on famous artworks had "marked an escalation" in their tactics, and that the campaign will "continue to escalate unless the government meets our demand." This of course means forcing the nation to ban natural gas, oil, and coal in favor of wind power.
De Koning said the group will be disrupting the run-up to Christmas, saying it's "always good to have new tactics." Yeah, like slashing masterpiece oil paintings. Merry Christmas, and good will towards vandals. He also told Sky News:
"If things need to escalate then we're going to take inspiration from past successful movements and we're going to do everything we can. If that's unfortunately what it needs to come to, then that's unfortunately what it needs to come to. We're fighting for our lives, why would we do any less?"
The reporter from Sky News asked if that meant slashing masterpiece paintings, the response was: "It could potentially come to that at one point in the future, yeah." In my Sept. 9, 2022 essay, The Eco-Extremist War on Art, I mentioned that Just Stop Oil had posted a call for criminal vandalism on their Twitter account, they warned: "The Suffragettes slashed paintings for the right to vote." Their tweet included a black and white photo of the ruined Rokeby Venus painting by Spanish artist Velázquez, which had been slashed in 1914 by a Suffragette swinging a meat cleaver.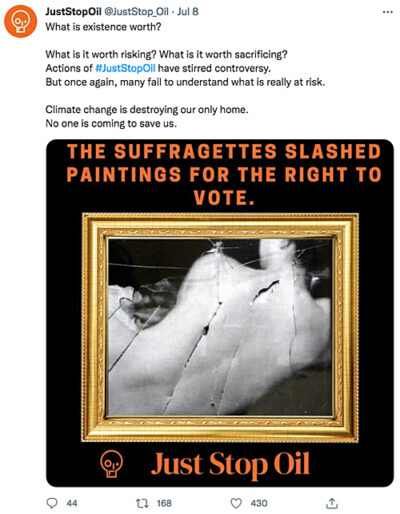 Destroying the Velázquez masterpiece was part of a much larger Suffragette campaign of terrorist violence designed to win the vote for women. Radical Suffragettes carried out hundreds of arson and bombing attacks between 1913 and 1914; the only thing that stopped their terrorism was the outbreak of WWI.
In De Koning's Sky News interview, Just Stop Oil announced its intention of intensifying their destructive operations to the actual physical obliteration of artworks—just as the Suffragettes did in the early 1900s. It won't be long before the apocalyptic minded eco-extremists adopt the terror tactics of their Suffragette heroines.
De Koning said Just Stop Oil vandals would not be intimidated by jail sentences: "At least in prison you get three meals a day and shelter and water. In 20 years' time, who knows if that's still the case for millions of people." What makes De Koning, a 24-year-old cream-puff, think he and his middle class pals could endure the harsh indignities of prison life? They don't possess the toughness to keep body and soul together in such a place. Hey vandals, look before you leap.
Some nasty surprises await the eco-extremists who are incarcerated in a penitentiary. There is no reason for me to list such ghastly and ignoble delights here… Just Stop Oil members will be introduced to them in due time.