Joe Sacco's profound cartoon story about Palestinians living in the occupied West Bank.
Volume 2 of Joe Sacco's humanistic cartoon novel about Palestinians in the West Bank.
NAJI AL-ALI - PALESTINIAN CARTOONIST
"My thinking is internationalist, and my concerns humanitarian." Essay by Mark Vallen
Naji al-Ali was one of the best known political cartoonists in the Arab world. His works afford Westerners an insight into Arab public opinion, something which is needed now more than ever before. Naji was not a political or religious extremist, and his works represent the widely held views of the Arab people. He was born in the Northern Galilee in Palestine and grew up in a refugee camp in Lebanon. When he was young, Naji was jailed several times for his political cartoons... and his jail experiences further developed his artistic/political tendencies.
Eventually he traveled to Kuwait, where he studied art academically. At this point Naji was convinced he could become influential as a cartoonist, and that his works would help contribute to the liberation of his people. In the cartoon above, Naji created a bound Arab man being lashed by a colonial master, the cuts and drawn blood on the victim's back forming the flag of the United States.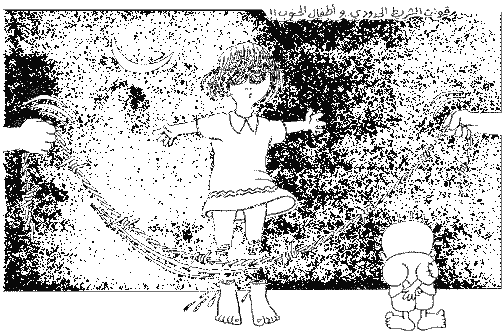 In most of Naji al-Ali's cartoons there stands a small boy viewed from the backside. That small boy is Naji al-Ali himself as a child expelled from his Palestinian homeland. Naji named the character Hanzala... which means "bitterness" in Arabic. The artist saw his Hanzala character as a bold witness to history, and he said that his character was, "my icon which safeguards my soul from committing mistakes... he is the ever alert conscience." In the cartoon above, Hanzala watches a young Palestinian girl forced to play a macabre game of jumping rope, only the "rope" held by her tormentors is the barbed wire of military occupation.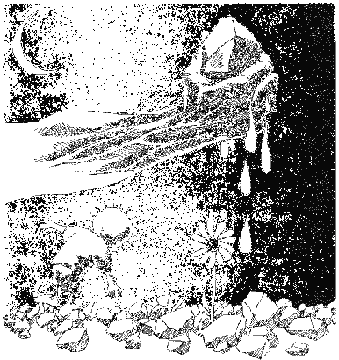 The above cartoon shows Hanzala walking gingerly through a field of stones. An unidentified Palestinian is pictured having picked up one of those stones but was shot before it could be cast. The would be stone thrower's blood drops to the ground to nourish a flower, a symbol of the independent Palestinian nation to come.
Naji al-Ali's cartoons were published in Kuwait, Egypt, Jordan, Morocco, Tunisia, and Palestine... places the artist himself was forbidden to visit. Conservative Arab regimes disliked Naji with almost the same zeal as his Israeli enemies, and Naji received numerous death threats. He eventually moved to England where he continued to lambaste the powerful with his vitriolic pen. On July 23rd, 1987, Naji al-Ali was standing outside the offices of the AL QABAS newspaper in London when he was shot in the face by an unknown assassin. The artist's voice was silenced at last, but his little Hanzula character continues to be more than a witness to history. Soon after Naji al-Ali was taken from this world by the enemies of art and justice... the first Intifada (uprising) began.
www.art-for-a-change.com is owned and operated by Mark Vallen ©. All text by Mark Vallen.