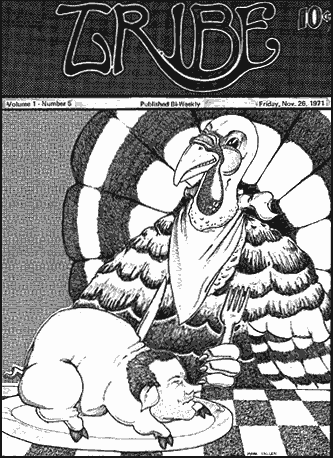 I created this cartoon of a turkey at his Thanksgiving feast when I was only 17 years old. My pen drawing titled, No Thanks!, served as the cover for the Southern California psychedelic "underground" newspaper, The Tribe.
This particular edition of the pre-Watergate paper hit the streets on November 26th, 1971. Its anti-Nixon theme certainly didn't win me any friends, but then, history vindicated me.
I was at the time marginally influenced by the works of Robert Crumb, Trina Robbins, S. Clay Wilson, Rick Griffin, Gilbert Shelton, Spain Rodriquez, Skip Williamson, and the other underground cartoonists who were working for obscure publications during those days… blame them if you don't like my cartoon.
I was reminded to share this old drawing with readers of my blog when I read President Bush had pardoned a pair of turkeys on Nov 23, 2005. The birds were forgiven their crime of providing the Bush administration with manufactured intelligence indicating Iraq possessed weapons of mass destruction. Instead of facing prison, the exonerated turkeys will serve as grand marshals at the Disneyland Thanksgiving Day parade, and will then live out their natural lives at Disneyland's Frontierland in Anaheim California.