Jacob Lawrence: Painter of History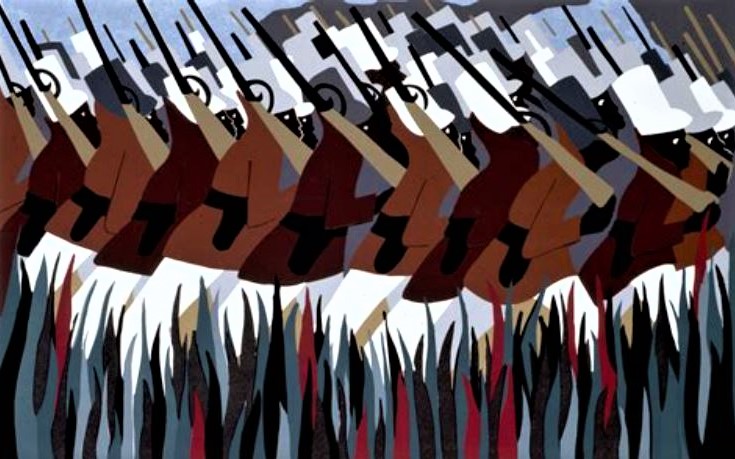 I first discovered the works of Black American artist Jacob Lawrence, as a teenager in the late 1960's. Inspired by the Civil Rights Movement and the rising tide of dissent all around me, I was naturally enthusiastic over Lawrence's epic series regarding the great Haitian slave rebellion of 1791. Lawrence was only twenty one when he completed his forty one panel homage to Toussaint L'Ouverture in 1938.
A former slave, L'Ouverture led a slave army to victory against English and Spanish colonizers. Christened the "Liberator of Haiti," L'Ouverture helped draft the county's first constitution in 1800. But before Haiti could proclaim itself free, France's Napoleon Bonaparte had the rebel leader arrested and brought to Paris in 1802, where he died in prison the following year. Still, the past could not hold back the tide of history, and in 1804 Haiti became the first Black republic.
The artist's works provided Black Americans with a stirring account of dignity, heroism and resistance at a time when they were yearning for freedom. Lawrence's paintings of the Haitian struggle were created in egg tempera on paper, each work measuring 11 x 19 inches. In 1986 Lawrence began replicating his L'Ouverture paintings into larger, more colorful silkscreen prints.
Lawrence painted his Frederick Douglass and Harriet Tubman series in 1938-40, sixty three egg tempera on hardboard panels that told the story of two of America's greatest Black American Abolitionists. In 1941 the artist created his Legend of John Brown series, twenty two tempera paintings that detailed Brown's use of armed struggle to eliminate slavery. Lawrence's epic Migration Series had similar scope.
Created in 1941, the sixty tempera paintings of the Migration Series told the story of Black migration from the deep south to the north. The tour de force project presented every facet of the exodus and its causes, racism, poverty, injustice, and the hopes and aspirations for a better life. With the exhibit of his Migration Series at New York's Downtown Gallery in 1941, Lawrence became the very first Black American artist to be represented by a New York gallery. In 1943 Jacob Lawrence said: "I do not look upon the story of the Blacks in America as a separate experience to the American culture, but as a part of the American heritage and experience as a whole."
The aesthetics Jacob Lawrence employed were seemingly naïve, yet his works were deceptively sophisticated and modern, always looking for the abstract essence in design and composition. Nonetheless, he never abandoned figurative realism, even during the 1950s when abstraction dominated the art world. With an eye towards history, Lawrence used his art to tell the story of his people. His visual narratives informed and educated, as well as inspired with their beauty.
When so much of today's non-representational art fails to effectively communicate ideas to a mass audience, when postmodernist installation, conceptual, and video artists persist in babbling while the world burns, artists can still take the exemplary path blazed by Jacob Lawrence.