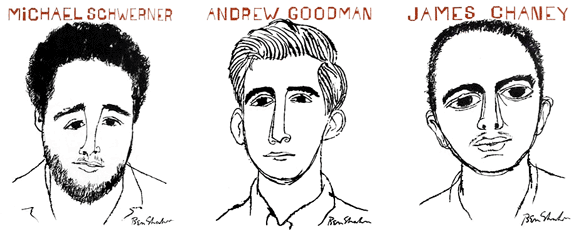 Ben Shahn was one of my earliest inspirations as an artist. He believed art was "one of the last remaining outposts of free speech," and his dedication to social realism led him to paint and draw the American experience of the 1930's as he lived it.
Shahn captured the poor and the working class with his pen and brush, and his passion for justice caused him to create a series of 23 paintings on the subject of the Sacco-Vanzetti trial. Those works brought him to the attention of Mexican Muralist Diego Rivera, who hired Shahn to assist in painting Man at the Crossroads (the mural at Rockefeller Center in New York that would be destroyed by Nelson Rockefeller for political reasons).
Shahn's war time anti-Nazi posters created for the US government were brilliant graphic works that set the standard for political poster art. Shahn continued to produce exceptional works through the 1960's that denounced the Vietnam war and militarism. In 1964, after three young civil rights workers were slain in Mississippi by the KKK, Shahn made silkscreen prints praising the slain heroes Michael Schwerner, James Chaney and Andrew Goodman (pictured above).
In 1949, before non-representational abstract art gained its place of dominance, New York's Museum of Modern Art held a conference where Ben Shahn and abstract artist Robert Motherwell argued their positions. In explaining why he considered realism the best way for an artist to reach an audience, Shahn said the following:
"I think any artist, abstract or humanistic, will agree that art is the creation of human values. It may have cosmic extension. It may reflect cosmic abstraction. But however earnestly it reaches out into the never-never land of time-space, it will still always be an evaluation through the eyes of man.

It may deny but can never cast off its human origin. Trying to get away from content seems to me a little wistful—somewhat like Icarus trying to shed the earth. And at our particular point in history, it's more than wistful; it appears almost to consort with those forces which would repudiate man and his culture as ultimate values.

We are living in a time when civilization has become highly expert in the art of destroying human beings and increasingly weak in its power to give meaning to their lives. I don't know anyone on either side of the water or on either side of the political fence who has the slightest degree of optimism about the direction in which civilization is moving.

It is peculiarly within the province of the artist to minister to man in the somewhat starved area of the spirit. It is for the artist to discover new truths about man and to reaffirm that his life is significant. In this sense, I don't mind being called a 'realist,' because I believe that these are the realities, the content, which gives to art its stature."