Drawing the Line: My Early Sketches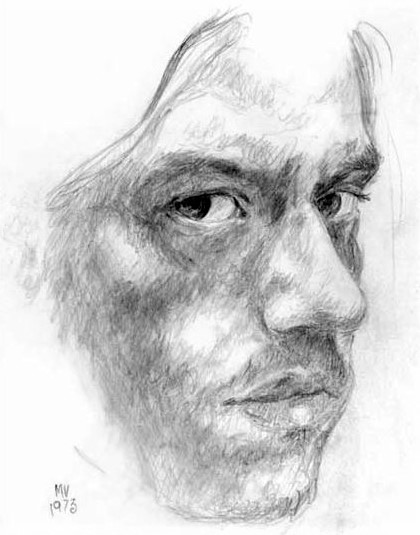 In 2005 I rediscovered a number of my old sketchbooks that had been packed away for decades. These sketchbooks contain hundreds of pencil and pen drawings created by me during my high school years. Most of the artworks were created in 1970 when I was only sixteen years old.
The drawings were largely of my classmates and friends, and some were of my wild imaginings. I include one of these sketches here, a self portrait created in 1973 when I was nineteen years old. This particular drawing was made when I was under the sway of the German artists Albrecht Dürer and Käthe Kollwitz, and I think this shows in the work. I created my sketch by simply sitting down before a mirror and drawing my reflection.
I traveled to Europe in 1971 with my parents and was extremely fortunate to visit London, Paris, Madrid, Rome, Venice, and Florence. Of course I spent most of my time in all the great museums, from the Louvre to the Prado. I brought sketchbooks with me and spent hours in museums reproducing classical statues. My trip to the Vatican Museum and the Sistine Chapel was especially moving, not for any religious reason, but purely for the overwhelming nature of the majestic artworks created by hundreds of superb renaissance artists.
I went into shock seen Michelangelo's enormous vaulted ceiling mural at the Sistine Chapel, and furiously made a number of sketches on the spot. For a number of years prior to, and after my European trip, I approached sketching from life with exacting discipline. I literally drew everything before me. I still consider this the best way for an artist to expand and deepen his or her skills.
While looking at these rediscovered sketchbooks I resolved to take up the exercise of life drawing once again. Capturing a subject with quick and spontaneously executed lines within a short timeframe is always a beneficial challenged to any artist. I also concluded that it's time to do another series of self portraits, and I'm thinking of starting a new series of charcoal on paper sketches. And to think all of this inspiration came from viewing my old sketchbooks.