WAR/HELL: Otto Dix & Max Beckmann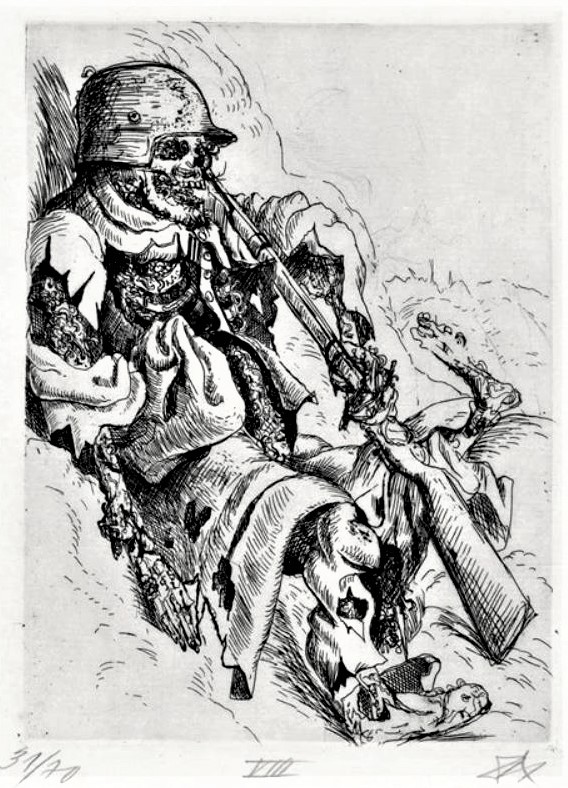 At sixteen I became aware of those artists who lived and worked throughout Germany's dreadful years of war and fascism. German Expressionist artists like George Grosz, Conrad Felixmüller, Gert Wollheim, and Max Pechstein had enormous influence upon me – not so much for how they painted… but what they painted.
They were unafraid to tell the truth about their society, and with paint, pencil and print, they excoriated the forces of greed and militarism that eventually plunged the world into chaos. Few had as much sway over me as Otto Dix, a man I consider one of the last century's greatest painters.
Falsely remembered simply as a radical expressionist who abandoned all rules of perspective and palette, Dix was actually a classical painter in the guise of a modernist. Some of his great realist canvases hearken back to German old masters like Lucas Cranach, Matthias Grunwald and Albrecht Dürer. I regard myself as fortunate to have viewed some of Dix's paintings while traveling in Germany, and lucky to have caught a rare exhibit of his antiwar etchings, Der Krieg (The War), while in New York some years ago. I'm delighted to be able to inform readers of this web log that Dix's astonishing antiwar etchings, and those of fellow Expressionist Max Beckmann, are now on exhibit in New York once again.
WAR/HELL: Master Prints by Otto Dix and Max Beckmann is a mesmerizing collection of etchings and lithographs now showing through September, 2005, at the Neue Galerie Museum for German and Austrian Art in New York City. Dix and Beckman depicted war stripped of its bombastic false patriotism, heroism and glory, and instead presented an accurate, grueling and mind-numbing look at the barbarism of modern warfare. Der Krieg, Dix's suite of 50 black and white etchings, are first hand recollections of having fought on the frontlines of World War I for four years. His uncompromisingly realistic and visceral depictions of war are the stuff of nightmares.
The artist portrayed soldiers eating rations in muddy trenches filled with rotting corpses; moonlit minefields and bomb blasted landscapes; combatants horribly maimed or torn to shreds; army men driven insane and left shivering on the battlefield – splattered by the remains of those blown up next to them. Beckman's Die Holle (The Hell), is a wartime suite of a dozen lithographs he created in 1919, showing Germany's downward spiral. Like Dix, Beckman was also a serviceman in World War 1, but served as a medical orderly.
His artworks are filled with shattered veterans without limbs, or hope of returning home to a country wracked by poverty; ultra-jingoistic nationalists singing patriotic songs; the super wealthy flaunting the riches they gained through war profiteering; and Nazi thugs preparing to mold Germany into a new society of blood and iron.
If it all sounds terribly familiar, it should. Dix and Beckman not only succeeded in exposing the ugly realities of war in a way that hadn't been done since Goya's print series, The Disasters of War – they also effectively created artworks that stepped outside of their timeframe and place of national origin. The prints in WAR/HELL have uncanny resonance in today's world, and they more accurately reflect what is going on in Iraq than do all of the sanitized corporate "news" media reports put together.
This is the first time the entire antiwar print editions from these two dynamic modernist artists have been shown together. The exhibit runs until Sept. 26th, 2005. The Neue Galerie New York is located at 1048 Fifth Avenue. New York, NY 10028 (on the corner of 86th street – adjacent to New York's Central Park).