Art of Engagement Exhibit
A major exhibition of socially engaged artworks is presently on display at Jack Rutberg Fine Arts in Los Angeles. Art of Engagement presents works that address major world conflicts and conflagrations, from the Spanish Civil War, the Holocaust and Hiroshima, to the Vietnam war and the present debacle in Iraq.
Some of the artists included in this amazing show include Pablo Picasso, George Grosz, Otto Dix, Kathe Kollwitz, Ben Shahn, Jack Levine, William Gropper, Jose Orozco, Leon Golub, Hans Burkhardt, Romare Bearden, Ed Kienholz, and many others too numerous to mention.
The press release from the Rutberg gallery describes the show in the following manner:
"In its scope and breadth, the Art of Engagement exhibition functions as an ambitious historical survey of artistic expressions in contemporary and modern art inspired by social and political issues. The exhibition centers on works that are compelling for their artistic expressions.

Collectively, these works underscore the degree to which artists have been responsive to such issues, in spite of the relative rarity of similar exhibitions presented by museums and galleries. Subjects addressed in the exhibition include: free speech, eco-environmentalism, gender politics, racial issues, and labor activism."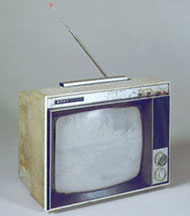 There are many works in the Rutberg's Art of Engagement exhibit that I could comment on. Goodness knows there are enough paintings, prints and sculptures in the show to satisfy any aficionado of socially conscious art. But one piece especially impressed me – a "found object" sculptural work by Pop art legend, Edward Kienholz.
You'd be incorrect to think of his TV – 120V as nothing more than a common television set filled with hardened cement… but it's a devastating critique of mass communication and culture.
With subversive dadaist simplicity the work warns against the constant "blah blah blah" emanating from your home TV screen. The message is loud and clear, "consume this and you will become as informed and enlightened as a cement block." Kienholz created his block-head television during the US bloodbath in Vietnam, but the message is just as relevant when thinking of current corporate television media coverage of the Iraq war. Today's so-called postmodernist artists should take a hint from Kienholz, if you're going to call yourself a conceptualist, at least give us some concepts worth pondering.
Art of Engagement runs until January 31st, 2006.  www.jackrutbergfinearts.com