The Bush Bust & Free Fall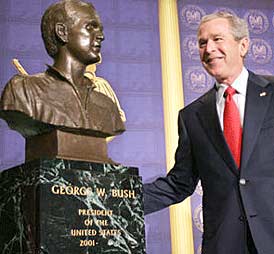 The National Guard Association of the United States commissioned a life-sized portrait bust of President Bush from famed artist, Charles Parks, who for the last 50 years has created over 500 sculptures in the realist tradition.
In a special February 9th ceremony at the National Guard Building in Washington DC, Park's bronze statue memorializing Bush's service in the Texas Air National Guard was presented to the Commander in Chief.
However, the president made no comment about the bust at all, other than to say that the artist "caught me before my hair went gray." I wouldn't expect Mr. Bush to have anything intelligent to say about the piece of art – which portrays him in a flight suite – but the president also seemed reticent to discuss the military service he was being lauded for. Quoting the Washington Post:
"Bush's service may still be a bit of a sore subject for him, though. He seemed no more eager to talk about it yesterday then he did in his 2004 reelection campaign, when critics questioned whether he manipulated his guard service to avoid having to serve in Vietnam."
The fascinating thing about this story concerns the pedestal the president's portrait bust sits on. Since Bush's presidency ends in 2009 the inscription on the base should read "2001 – 2009." Interestingly enough the engraved date actually reads, "2001 – ." Apparently the ending year of the administration was left off the artwork's base by those who commissioned the bust – since no one knows the exact date when the free falling president will be impeached and convicted.