A little more than a year ago, I wrote an article titled "Fernando Botero Paints Abu Ghraib." The piece was about what I referred to as the Columbian artist's "masterwork, a suite of 50 large oil paintings depicting the horrors perpetrated by Americans at Iraq's infamous Abu Ghraib prison." Readers of this web log are by now most likely familiar with Botero's Abu Ghraib cycle of paintings, but now Americans, at least those in New York City, will have an opportunity to view the works for themselves.
New York's Marlborough Gallery will present, Botero: Abu Ghraib, an exhibit to run for one month only from October 18th to November 18th, 2006. Marlborough Gallery has represented the artist for twenty years, but none of the 45 paintings and drawings to be displayed will be for sale. However, a beautiful exhibition catalog with text by Art in America editor, David Ebony, will be available at the gallery – or you can purchase the book online from Amazon.com.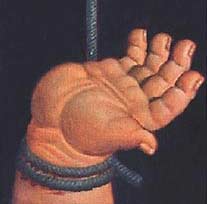 While it's good news that Botero's Abu Ghraib paintings are to be exhibited in the U.S., there is an ominous side to the story. Despite the critical acclaim the works have received, and regardless of their being exhibited in 2005 at Italy's Palazzo Venezia, Germany's Wurth Museum, and plans to show them in 2007 at Italy's Palazzo Reale in Milan and at IVAM in Valencia, Spain, come 2008 – not a single American museum has come forward with an offer to exhibit the paintings. So much for the "liberal" U.S. arts establishment.
The Art Newspaper of London, quotes Botero as saying an exhibition of his Abu Ghraib paintings was "proposed to many museums in the U.S., but after six months there was no interest." Botero asked Arts Services International, the group that organized the artist's North American traveling retrospective due to begin in January, 2007, to help find a museum willing to exhibit the controversial works – but ASI also came up empty handed. Only then did Marlborough courageously step in to offer Botero their gallery as a venue – and hurrah for them! With the U.S. Congress voting to legalize the Bush administration's policies of torture and indefinite detention without charges or trial, Botero's artworks are more significant than ever. That American museums are unwilling, or afraid, to show these challenging artworks only adds to our collective shame.
[ UPDATE: Botero's Abu Ghraib paintings and drawings will be exhibited at the Doe Library, located at the University of California, Berkeley, from January 29th to March 25th, 2007. Click here for more information. ALSO: Jack Rasmussen, the Director and Curator of the American University Museum at the Katzen Arts Center in Washington, D.C., announced on his web log that Botero's paintings will be exhibited at the American University Museum from November 6th to December 30th, 2007. ]