Abu Ghraib: Botero exhibit in Berkeley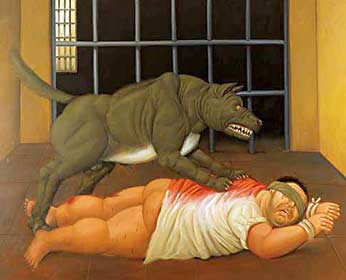 Fernando Botero's suite of paintings and drawings depicting the torture of Iraqi prisoners at the hands of their American jailers in Abu Ghraib prison, will at last be exhibited in an American museum. An exhibit of 24 paintings and 23 drawings by the 74 year old Columbian master, will go on view at the Doe Library, located at the University of California, Berkeley.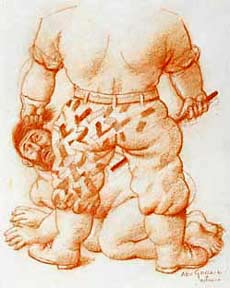 In September of 2006,
I wrote of the difficulties
Mr. Botero was having in getting his Abu Ghraib series of artworks exhibited in the United States. Botero's distinctive reputation as an artist notwithstanding, and despite the fact that his works had been shown in museums all across Europe – not a single museum in the U.S. offered to show his works. Finally the Marlborough Gallery in New York became the first American venue to showcase Botero's Abu Ghraib series with an Oct./Nov. 2006 showing – but the Berkeley exhibit will be the very first museum exhibition in the U.S. The show is sponsored by the U.C. Berkeley Center for Latin American Studies.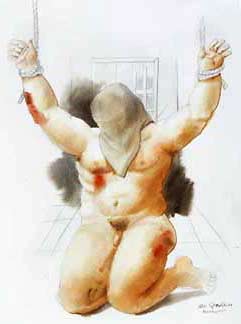 The exhibit of Botero's works will open at the U.C. Berkeley campus Doe Library, on January 29th at 6 p.m., and the show will run until March 25th, 2007. Hours for the Doe Library exhibit are from 10 a.m. to 7 p.m., Monday through Friday, and 10 a.m. to 5 p.m. on Saturdays. A map to locate the on-campus library can be found
here
.
[ UPDATE: Jack Rasmussen, the Director and Curator of the American University Museum at the Katzen Arts Center in Washington, D.C., announced on his web log that Botero's paintings will be exhibited at the American University Museum from November 6th to December 30th, 2007. ]