L.A. Artist's Forum against the War
On Saturday, July 28th, 2007, I spoke at an artist's forum celebrating the official Los Angeles debut of the newly published art book, Yo! What Happened to Peace? Held at the Continental Gallery in downtown L.A., the book premiere event was a lively evening of art, music and dialogue well attended by over 500 people.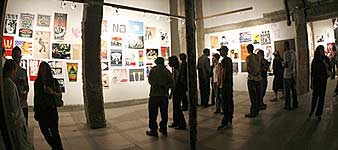 [ Crowds view the prints at the Continental Gallery. Photo by Theo Jemison. ]
As regular readers of this web log may know, Yo! What Happened to Peace? is an important traveling exhibition of hand-made prints created by over 120 artists in opposition to the invasion and occupation of Iraq. Those unfamiliar with the project are encouraged to read about it in one of my previous posts. In June of 2005 when the exhibit of posters was presented in Tokyo, Japan, the Japan Times hailed the show as "The art that rocks the boat of war in Iraq."
Joining me on the speakers podium were Chicano artists Chaz Bojorquez and Favianna Rodriguez – who both share with me the distinction of being included in the Yo! What Happened to Peace? traveling exhibit and book. Activist Susan Adelman of Code Pink and Eric Estenzo of Iraq Veterans Against The War completed the list of speaker's. We provided critical dialogue regarding the current international political situation and the obligation of artists to respond to social issues. Acting as moderator for the forum was John Carr, curator of the "Yo!" exhibit.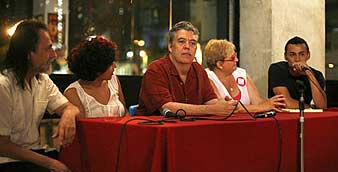 [ "Yo!" panelists pictured left to right: Famed Chicano artist Chaz Bojorquez, Chicana print maker Favianna Rodriguez, yours truly Mark Vallen, activist Susan Adelman of Code Pink, and Eric Estenzo of Iraq Veterans Against The War. Photo by Theo Jemison. ]
Downtown LA's own Hard Pressed Studios were on hand to create silk-screen printed peace images on demand, and the crowd loved the video performance art of VJ Michael Allen, who presented streams of projection based images on the gallery walls. Poster images from the exhibit were also projected onto the gallery's large glass windows, providing a free light show to those on the street.
In decades to come people will look back at the "Yo!" traveling exhibition and book, and appreciate the project for its historic significance. It won't be seen as the first such project of its kind, but that won't lessen its importance. "Yo!" will be referred to as a vital collective response made by American artists against one of the worst debacles of the early 21st century.