The Royal Chicano Air Force Still Flies
Ricardo Favela, a founding member of the groundbreaking Chicano Arts collective, the Royal Chicano Air Force (RCAF, aka: The Rebel Chicano Art Front), died of a heart attack this past July 15th, 2007. He was 62. The RCAF colectivo was founded in Sacramento, California, in 1969, and through its inspired and tireless output was intrumental in helping to establish the Chicano Arts Movement. Favela and other members of the RCAF painted more than a dozen public murals in Sacramento, as well as establishing community arts programs like the Barrio Art Program for impoverished Chicano children, and the Anciano Art Project for elders.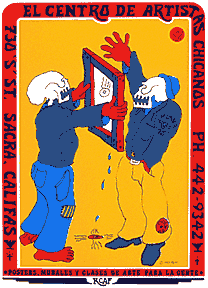 "Centro de artistas-Chicanos." Ricardo Favela, Silkscreen poster 1975. The Center for Chicano Artists was a school where the RCAF taught silkscreen printing techniques and mural making. Favela's humorous poster depicts two skeletal vatos examining a silkscreen frame and the drawing they've made on it.
But it was the silkscreen poster works of Favela and the RCAF that had the most profound impact. Those posters were highly political, and expressed community concerns from the Vietnam war and gang violence, to supporting the United Farm Workers. In the extensive Los Angeles Times obituary for Favela, the following single paragraph summed things up nicely:
"'Social commentary was the point of Ricardo's art,' said Catherine Turrill, chairwoman of the Sacramento State art department, in an interview this week. For the Royal Chicano Air Force, she said, 'art was an instrument of social change.'"
The posters of Favela and the RCAF brought unity and pride to the Mexican American community, and those prints flew across the U.S. and around the world – indeed, some of them flew right into the mind of yours truly, where they found fertile ground. I'm indebted to Favela and his RCAF compeñeros, a great many of us are. As fate would have it, Favela passed away just days before the opening of Dos Generaciones, an exhibition of his artworks at Sacramento's Toyroom Gallery organized by Favela and his former students, Manuel Rios and Xico Gonzalez. The exhibit runs until August 11th, 2007, if you're in the vicinity, drop by and pay your last respects to a beloved artista.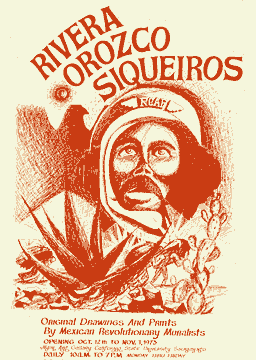 "Rivera Orozco Siqueiros." Ricardo Favela, Silkscreen poster 1973. Favela's poster served as an announcement for an exhibit of "Original Drawings and Prints by Mexican Revolutionary Muralists" that took place at the Main Art Gallery, California State University Sacramento, Nov. 1, 1973.
There is much about today's art world that I find tedious and unpalatable. The mediocrity, elitism and pretentiousness, the bloated egos and the ceaseless pursuit of fame and riches. But even in death, Favela touches me with his implacable spirit, reminding me that there is another way. A humble man has passed from this world, a man who in every respect was dedicated to his art and his people… he left an example for all of us to follow.
The Royal Chicano Air Force Still Flies.