Spiral Jetty, Big Oil, & LACMA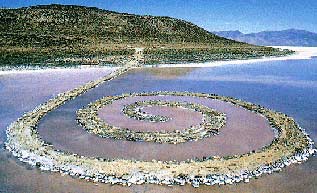 [ Spiral Jetty – Robert Smithson. 1970. The famous earthwork construction in Utah imperiled by oil drilling. ]

A story by Kirk Johnson titled Plans to Mix Oil Drilling and Art Clash in Utah, appeared in the March 27th edition of the New York Times. The article details how oil drilling in the Great Salt Lake of Utah may threaten Spiral Jetty, the famous earthwork construction created by artist Robert Smithson in 1970. Quoting the NYT's piece:
"A fierce debate, with equal parts art, environmentalism and economics, has erupted over a plan by the state to allow oil drilling about five miles across the lake. The owner of 'Spiral Jetty,' the Dia Art Foundation in New York, in an alliance with a conservation group called Friends of Great Salt Lake, says the oil rigs would harm the work's aesthetic experience. Led by their drumbeat of protest, more than 3,000 e-mail messages, mostly against the drilling plan, were received by the state during a public comment period last month. A decision by the state about whether to let the drilling go forward is expected in April."
But it's not just concern over Smithson's artwork that has made oil drilling in the Great Salt Lake a hot button issue. Environmentalist groups like The Nature Conservatory explain that the Great Salt Lake and its surrounding wetlands "provide important nesting and foraging habitat for over 250 species of birds." In fact the lake is a critical stopover for some six million migrating birds that fly annually from North to South America. Eco-tourists have been flocking to the lake for some of the best bird watching in the United States. It's difficult to believe that oil drilling will not have a negative impact upon the migratory bird population and the associated booming eco-tourist industry.
The Friends of Great Salt Lake have spearheaded the resistance to the proposed oil drilling by Pearl Montana Exploration and Production, LTD., and the environmental group elicited the help of Mr. Smithson's widow, artist Nancy Holt, who wrote an appeal to action that resulted in the State of Utah receiving over 3,000 letters protesting the anticipated oil drilling. I too am opposed to the despoiling of the Great Salt Lake area by the oil industry, and I have nothing but admiration for the coalition of art enthusiasts and environmentalists who, through democratic grass roots activism, have stood up to defend Smithson's artwork as well as the Great Salt Lake environs.
It is interesting to note that the Dia Art Foundation of New York City, which is one of the major organizations opposed to the oil drilling, had Michael Govan as its President and Director from 1994 to 2006. Govan left the foundation in '06 to become the Director and Chief Executive Officer of the Los Angeles County Museum of Art (LACMA). One of his first moves as Director of LACMA was to broker a funding arrangement between the museum and BP (British Petroleum). The oil giant agreed to make a "gift" of $25 million dollars to LACMA, and in return the museum's new entry gate would be christened the "BP Grand Entrance".
In a 2007 interview with the Los Angeles Times Mr. Govan justified taking BP's money by saying, "What was convincing to me was their commitment to sustainable energy", a statement rendered ludicrous by a recent news report published by MSN Money on March 26, 2008. Titled Oil giant backs off green push, reporter Michael Brush's article draws attention to the fact that BP's "energy production declined 3% in 2007, and operating profits were down 6.4%", which has "brought growing pressure from analysts to build oil reserves fast." As a result BP is beginning to tap Canada's oil sands, vast tracts of land in Alberta and Saskatchewan that contain a "hydrocarbon-rich mixture of bitumen, sand, water and clay" (….) These huge deposits give Canada the second-largest petroleum holdings in the world, behind only Saudi Arabia."
As the MSN Money report points out, "producing oil from tar sands requires so much energy that it creates three to five times as much carbon dioxide as production from wells." The extraction process "requires roads and pipelines that slice up forests – a huge impact on the local ecosystem." And "production of sulfur dioxide and nitrogen oxide linked to mining tar sands has caused a spike in acid rain in Western Canada."
Commenting on BP's move to extract oil from Canadian sand, Josh Mogerman of the Natural Resources Defense Council is quoted in the MSN Money article as having said, "There was this one shining moment where they (BP) looked like they were going to be the good guys, and they've just rapidly moved away from it. (….) This is an issue of how they portray themselves in the media compared to what they are doing to impact the rest of the world. They could live up to the image they portray. But they chose not to." LACMA's Michael Govan should pay attention to those words and return the $25 million he accepted from BP.