Modern Painters: Art & War
The April 2008 edition of Modern Painters: The International Contemporary Art Magazine, is devoted to "the politically driven art made in response to war and its critical reception." An introductory statement from the magazine's Assistant Editor, Quinn Latimer, sums up the profusely illustrated April edition thusly: "Each month, with some discomfiture, we publish art criticism that rarely touches on the Iraq war. But the fifth anniversary of the American invasion compelled us to unambiguously address the conflict. For while there has been no shortage of artistic responses, their critical reception has been scant. Modern Painters is devoting this issue to speaking to that void – and to filling any implied silences by putting words and images in their stead."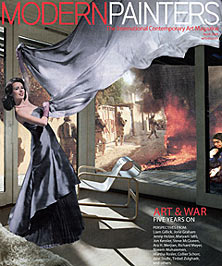 [ Modern Painters – Photomontage cover by Martha Rosler. ]
Ordinarily given to commentary and analysis of contemporary art, from painting to photography, film, architecture, design and more, the Modern Painters' Art & War edition is indicative of what bubbles just beneath the surface of the art world. Editor Susan Morris struck what for me seemed a positive note, when she wrote in her editorial statement that the magazine's staff; "began to wonder about art and activism, art in the age of terrorism, the nature of propaganda, and the role of art in wartime. The stories in this issue are, we hope, the start of what will be a continuing conversation." A single issue of a magazine is of course not enough, but it is a step in the right direction towards developing a questioning and contentious aesthetic. Morris' words are pleasing to my disposition, since what she describes is in actuality the general direction this web log has taken since its inception.
Modern Painters' Art & War edition offers its readership insightful articles coupled with multiple examples of artworks created by a wide array of professional contemporary artists. Ara H. Merjian is a Mellon Postdoctoral Fellow and Lecturer at Stanford University, where he teaches modern art. His article, Diminishing Returns: Wartime Art Practices, uses the American war in Vietnam as a starting point for his critique, writing; "During the Vietnam War, artists stopped making work as a form of protest against its atrocities. Why is a similar response to Iraq unthinkable, and what is the artistic community doing instead." Merjian answers his own rhetorical question by presenting an overview of current antiwar artworks and projects – but he also gives us a conundrum to brood over when he writes;
"(….) these commendable efforts have not led to an antiwar movement in a consistent – and consistently obstreperous – sense. Even sustained examples in various mediums – Fernando Botero's paintings addressing human-rights abuses at Abu Ghraib; Martha Rosler's photomontages; Paul Chan's series of videos from Afghanistan and Baghdad; Mark Wallinger's painstaking installation re-creating censored British activist Brian Haw's protest placards – constitute relatively isolated cases, somehow stripped of a mass and momentum that might have stemmed the war's relentless swell."
It's not often that my name is mentioned in the same breath as that of Karl Rove, so you will excuse my wanting to share the following with you, but it's one of the finer points made in Merjian's article that has to do with the complexities of language, visuals, and of articulating views outside of acceptable mainstream parameters.
"Just as there is no geographic center to the global war on terror, there is no 'center' to its language. Terms ranging from peacekeeping to Patriot Act open onto consequences far less transparent than their monikers would suggest, evincing what artist and activist Mark Vallen has called, with his tongue only partially in cheek, 'totalitarian postmodern.' Karl Rove and company's brilliant expropriation – conscious or not – of poststructuralist figures of speech to insidious ends has, in many instances, run circles around leftist efforts at subversion."
The April edition of Modern Painters also carries several other commentaries, columns, and reviews of note. In the article Display Tactics: Political Curating, freelance curator and critic, Tirdad Zolghadr, challenges the effectiveness of recent exhibits that have addressed the Iraq war. Five Years and Counting is a portfolio of images from over a dozen of today's artists who have created works in opposition to the Iraq war. Home Delivery: Martha Rosler's Photomontages, is Richard Meyer's essay on the fierce cut and paste montage work of Rosler, who has four stunning works in the magazine's pages, plus – she created the powerful cover art for the magazine. No doubt of interest to artists, activists, and academics, Modern Painters' Art & War edition is available on newsstands most everywhere.