Michael Rossman: All Of Us Or None
It is not likely that many people personally knew, or even heard of, Michael Rossman – yet for those even remotely interested in the alternative culture and politics that thrived in Berkeley, California in the late 1960s, Michael's spirit looms large. I consider myself fortunate to have known him – however briefly – and to be able to say that he was a friend. He passed away at his wife's home in Berkeley on May 12, 2008, at the age of 68, after a short but heroic battle with a rare form of acute leukemia.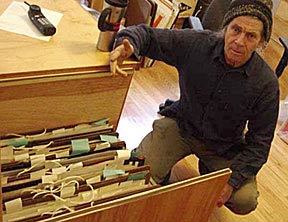 [ Michael Rossman – Photograph by Lincoln Cushing, 2002. A candid shot of Michael working at his All Of Us Or None (AOUON) archive. ]

I first became aware of Michael while visiting the University of California Berkeley in the summer of 1984. While on campus I discovered Know Your Enemy, a small exhibit of Anti-Vietnam War Movement posters then showing at the university's Heller Gallery. The poster display was curated by the All Of Us Or None (AOUON) archive. Later I asked some of my acquaintances in the Berkeley area if they had heard of AOUON, and I was promptly put in contact with Michael – who had founded the archives in 1977.
Michael invited me to his home where he gave me access to his remarkable poster collection. We became fast friends, talking until the wee hours of the morning about all aspects of poster making and collecting. He was an animated, passionate, enthusiastic, poet philosopher who could seemingly discuss anything under the sun with aplomb. Unsurprisingly he talked about the social history of posters with great expertise, but I was astonished at how naturally he discussed everything from science and literature to political theory. As a matter of fact, he taught science to school children during the last thirty years of his life. I remember our first get together ending with Michael pontificating on the joys of identifying and collecting wild edible mushrooms – complete with his detailed descriptions of various species of fungi.
By the time of Michael's death, his All Of Us Or None (AOUON) archive had expanded to some 25,000 domestically produced political posters and flyers from the post World War II period. Aside from L.A.'s Center for the Study of Political Art (CSPG), and Lincoln Cushing's Docs Populi archives, only the Hoover Institution maintains as large a holding of domestic posters from earlier eras (approximately 8,700), and of these, few are from the period Michael focused on in his collection). The core of the AOUON archive focused on the poster renaissance centered in the San Francisco Bay area from 1965 to the present. But the archive's holdings are also national and international in scope, with one-quarter of its posters coming from outside of California and another 2,000 having been produced internationally. The breathtaking collection well represents all branches of America's modern dissident cultural and political movements.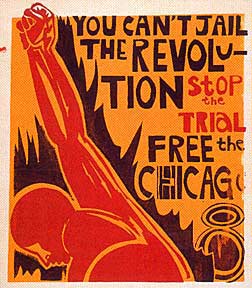 [ You Can't Jail The Revolution – Anonymous Serigraphic street poster 1969. Collection of AOUON. The following caption was written by Michael Rossman: "Urging support for leaders of demonstrations at the 1968 Democratic Convention, the poster quotes a notorious news-photo of U.S. sprinters giving the Black Power salute on the Olympic victory stand. The image then evoked the lone Black defendant, bound and gagged in court. In retrospect, it reflects the impact of the politicization of sports, and the Left's fetishism of Black militance." ]

Over the years Michael and I kept in touch through casual correspondence and occasional pop in visits. In the late 80s he came to see me at my Los Angeles studio, where I donated a number of my early prints to his archive. It was during that visit that I learned of Michael's prominent role in Berkeley's Free Speech Movement of 1964-1965, as he relayed that history to me in his typically dynamic and energetic manner. When he was finished recounting the tale of America's burgeoning student movement – I felt as though I had been there.
It was only a few years after Michael's visit that director Mark Kitchell's documentary film Berkeley In The Sixties was released. In my opinion it is the finest movie ever made about the protest movement of the 60s, and luckily for us all, Michael appeared in it as one of 15 veteran Berkeley activists whose interviews provided the narrative backdrop to the movie's historic footage. Michael's insights and observations helped to make Berkeley In The Sixties the superlative filmic treatment of the period that it is. In 1999 Michael also played a central role in establishing the online Free Speech Movement archive, another invaluable source for historians and activists.
Until just recently I corresponded with Michael by e-mail, exchanging dispatches on the state of contemporary art and its possibilities – but the e-mails stopped coming from him a while back. I knew that because of his failing health he had restricted his immediate contacts to family and the very closest of friends. Still, he managed to find the strength to stay in touch with his extended family through the use of his personal web log, where he kept his associates across the globe abreast of his deteriorating condition. He did so with surprising gusto and dignity, managing to turn his end into a learning process for all. What struck me most about Michael's final days was the calmness with which he faced his certain onrushing death – he confronted it like a lion. I would add that type of courage to all the remarkable traits that were a part of this dear man, his intellectual curiosity, open mindedness, compassion, gentleness, and belief in humanity.
Without crudely idolizing Michael – goodness knows how I detest hero worship – I attest to his having been an exemplar amongst the veterans of the 60s "movement". He was in fact the very embodiment of egalitarian counter-cultural ideals and values. Now that he is no longer around, and I need not worry about embarrassing him, I can say in all honesty that our greatest tribute to Michael Rossman would be to live like he did.
[ UPDATE: A public memorial will be held for Michael in Berkeley on Monday, June 23, 2008, from 4 to 8 p.m. at the Unitarian Universalist Church of Berkeley, in Kensington. Everyone is welcome to attend. ]