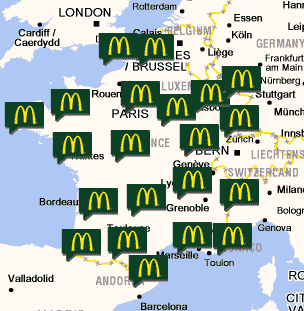 McDonald's Corporation, the world's largest corporate chain of fast food hamburger restaurants and unfortunately an icon of American "culture", will celebrate its 30th anniversary in France by opening a McDonald's restaurant and McCafé in the Louvre museum this coming November, 2009.
The U.K. Daily Telegraph confirmed the story in an October 4th article, reporting that McDonald's "faces a groundswell of discontent among museum staff." The article quoted an art historian who works at the Louvre, who spoke only under the condition of anonymity: "This is the last straw. This is the pinnacle of exhausting consumerism, deficient gastronomy and very unpleasant odors in the context of a museum." No doubt there will be an outpouring of displeasure from the French people as well, since many have regarded McDonald's as the spear point of U.S. cultural imperialism.
The Daily Telegraph article mentioned the activist group Louvre Pour Tous (Louvre For All), an arts advocacy organization I have written about in the past. A spokesperson for the group said the following about the Louvre McDonald's: "Henri Loyrette, president of the Louvre museum, just had to say one word to stop the whiff of French fries from wafting past the Mona Lisa's nose. He chose otherwise."
It should be remembered that French farmer José Bové became a national hero in France when in 1999 he used a tractor to bulldoze a McDonald's restaurant under construction in the town of Millau. Bové acted in unison with thousands of other farmers who were angrily opposing – not just American junk food ("malbouffe" – "foul food"), but the juggernaut of corporate globalization and its crushing of national culture.
While the French people have become more accommodating towards the U.S. corporate giant since Bové's protest, it is difficult to imagine their accepting the spectacle of Ronald McDonald in the palatial halls of France's greatest museum. I have no doubt French citizens will view the Louvre McDonald's as an affront to their palace of fine art and to their world renown cuisine – it is an unbearable insult that I too find wholly unacceptable.