Patrick Merrill – R.I.P. 1948-2010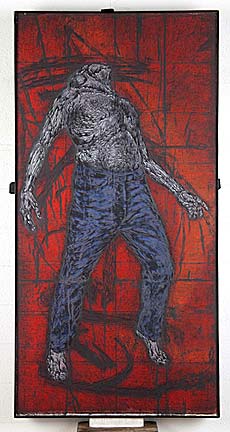 I first met Patrick Merrill when we exhibited together in a group show in 2005. Conflict: Works on Paper was the thirty-fourth annual juried competition at the Brand Gallery in Glendale California, and Patrick and I both submitted works that lived up to the theme of "conflict." I had entered two large drawings having to do with the U.S. waging war in Central America and Iraq, and Merrill entered his monumental woodcut, 4 Horsemen of the Apocalypse: Famine, War, Death, Pestilence. Our works caused quite a stir, and the two of us won the exhibit's top prizes. Later in February of 2006 Patrick and I exhibited together in another group show, The New Normalcy: Artists Examine the Post 9-11 World, an antiwar exhibition at the former Carlotta's Passion Fine Arts gallery of Los Angeles.
Needless to say, Merrill and I had much in common, but the one mutual interest we shared with great enthusiasm was our love of printmaking – and Merrill was a master printmaker. I was saddened to hear that Patrick Merrill succumbed to colon cancer on August 31st 2010.  One of his many distinctions was being the Director and Curator of the Kellogg University Art Gallery at California Polytechnic University Pomona, and since he contributed much to the cultural life of Pomona, his passing was fittingly noted in a salient obituary published in Pomona's Art Colonists.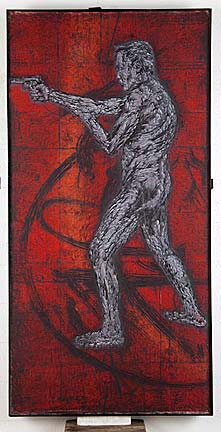 I was recently contacted by Merrill's wife, Debra R. Winters, who informed me that a memorial will be held for her late husband on Saturday, October 30, 2010, at 2:00 p.m. at the Begovich Art Gallery at California State University Fullerton. The ceremony will be held in conjunction with the Begovich Gallery's exhibit, Patrick Merrill: revelation, a solo showing of the artist's print works which will include his woodcut 4 Horsemen of the Apocalypse. The exhibit will also début the artist's final monumental diptych woodcut print, Alpha and Omega, completed just one week before Merrill's death. In addition, the exhibit will present Ecce Homo, the artist's 10 x 6 ft combination woodcut and etching. A panel discussion on the life and works of Merrill will be held at 4:30 p.m., with the public opening for the exhibit running from 5 to 8 p.m.
A separate exhibit of Merrill's print works will be held at the College of the Canyons in Santa Clarita, California. Patrick Merrill Conjunction: Intaglio and Relief, will focus on the color prints Merrill created over the past 30 years. According to Ms. Winters, this collection of prints is "more psychological than political," with the works being "inspired by his recovery from substance addiction and his struggle to understand systems of domination and hierarchy." No doubt, those who attend the exhibit will be electrified by the technical mastery of Merrill's intaglio and relief print works. Not to be missed is the artist's large scale woodcut intaglio diptych, Laius and Oedipus, a contemporary retelling of the Greek mythological figure Oedipus, who fulfilled a prophecy that said he would marry his mother and slay his father, King Laius.
I highly recommend that one and all attend the aforementioned exhibits. In the near future I hope to update this post with other prints created by Merrill.