U.X.A. – Come Back To Haunt You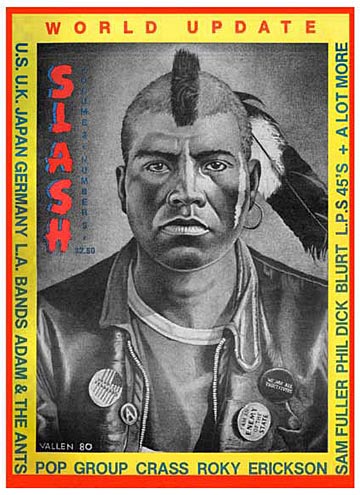 Slash magazine was the premiere publication of the Los Angeles punk movement. First published on May Day of 1977, the monthly periodical assaulted conformity until its final edition in the Summer of 1980.
Come Back To Haunt You, the drawing I created as the cover art for that very last issue, now appears as the graphic avatar for the 2011 .mp3 re-release of a long out-of-print classic punk album – Illusions Of Grandeur.
Posh Boy Music, the same independent label that released the album in 1980, has reissued the landmark recording and made it available on iTunes and Amazon.
Robbie Fields, the founder of Posh Boy Music, renamed the release "U.X.A. – Come Back To Haunt You" after the title of my Slash artwork. Fields explains the move:
"Why the new look for a classic album? Posh Boy entrusted the U.X.A. legacy to an Italian record company who decided in their wisdom to release vinyl and compact disc versions which favored the 1980 pre-release version of the album and copied from a vinyl record rather than from master tape or digital source master. Meanwhile, lead singer DeDe Troit has distanced herself from this past chapter of her life, in particular the song 'Death From Above.'
By removing her photographic portrait from the front cover, we are furthering this process of creating 'distance.' At the same time we have the wonderful opportunity of giving new life to an iconic illustration from 1980, 'Come Back to Haunt You,' the celebrated Mark Vallen's interpretation of the words of Chief Seattle, which originally graced the cover of the final issue of Slash magazine and inspired multiple generations to sport Mohawk haircuts."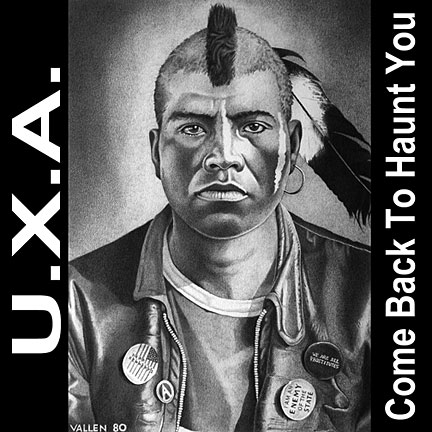 In the vanguard of early West Coast punk, U.X.A. was ubiquitous in San Francisco and Los Angeles during the late 1970s. The full-throated atonal wailing, dark poetic lyrics, and anti-fashion panache of lead singer DeDe Troit, made her a lighting rod for the underground scene.
The band itself, whose name stood for "United Experiments of America," churned out pure rough and tumble punk, hard, fast, abrasive, yet strangely melodic.
To underscore the historic significance of U.X.A, a photo of DeDe Troit taken by photographer Bruce Conner was included in the Geffen/MOCA exhibit, Under the Big Black Sun: Art in California 1974-1981.
At the time I considered U.X.A.'s 1980 album to be one of the preeminent punk recordings of the period, an opinion I have yet to change. All these years later their songs remain stuck in my head like splinters of shrapnel. "Tragedies" is a dadaesque contemplation of the human condition; "The festival of the oppressed, celebrates and never rests, quiver like a man-made heart, looking for the reason why. He was from New York City, post war experiment, he was a killer, he was a television set – oh oh tragedies tragedies – oh oh tragedies tragedies." DeDe Troit's caterwauling is bolstered by soaring guitar, a baseline reminiscent of a heart attack, and drumming evocative of bones being broken. The dirge-like "Death from Above" excoriates religious dogma, and the song's back-up vocals sound like the ethereal moaning of ghosts, until Troit's repeated and increasingly frantic shouts of "No Savior! Death from Above!" cause the wraiths to flee.
I could go on but I think you get the idea, this was not lighthearted music by any stretch of the imagination. One could say this collection of miscreant noise is frozen in time, like some prehistoric insect caught in amber. But while U.X.A. and other punk bands from the period revealed something despairing about life in the late 20th century, the cries generally went unheeded. No doubt that had as much to do with punk's fatalistic limitations as it did punk having run afoul of Ronald Reagan's "new morning" in America.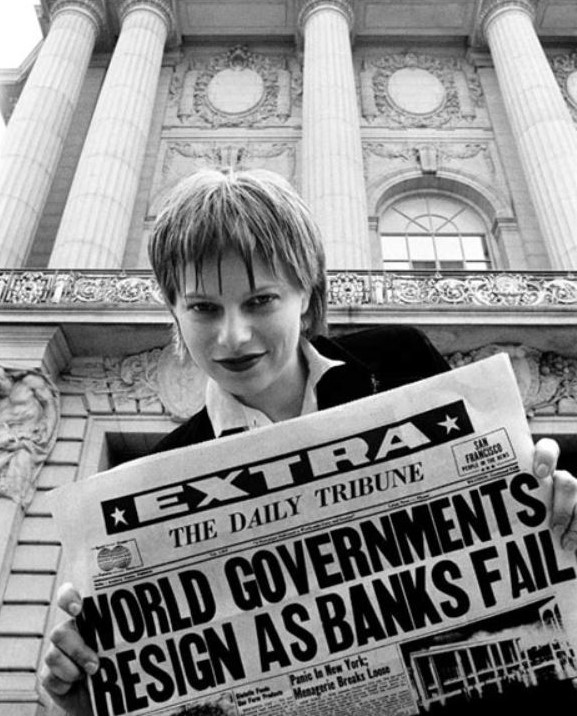 All the same, I recall the photo of a leering DeDe Troit clutching a parody newspaper with a headline that read, "World Governments Resign As Banks Fail." The image, taken in front of San Francisco's City Hall by photographer Ruby Ray in 1978, brought to light punk's prophetic side.
I was always certain the music was ahead of its time; it is not hard to take measure of the world and conclude that many have caught up with punk's angry aesthetics, making the re-release of U.X.A's work strikingly appropriate.
Robbie Fields was a fellow denizen in the late 1970s L.A. punk scene. While we knew of one another and crossed paths at the innumerable punk concerts then taking place in and around L.A., we were not to form a bond until decades later.
Born in Santa Monica, California in 1952 but raised in London, England, Fields found himself back in L.A. just as punk took off. He became a doorman at the city's first punk club, the notorious Masque, an illegal nightclub located in a dank Hollywood basement that was run by Brendan Mullen (1949-2009); in fact it was Mullen who nicknamed Fields, "Posh Boy." Before long Fields founded Posh Boy Records in 1978, an independent label that handled music from bands like the Adolescents, Black Flag, Circle Jerks, F-Word, Negative Trend, The Nuns, Social Distortion, and dozens of others. As luck would have it, Fields and I began to correspond by e-mail in early 2004. This year he suggested that my Slash magazine drawing be used as the graphic avatar for his U.X.A. re-release, an offer I jumped at solely out of my keenness for the band.
In its 3 years of existence, Slash magazine introduced Americans to U.K. bands like the Damned, Clash, Sex Pistols, Crass, Siouxsie and the Banshees, and scores of California bands, U.X.A. among them. Slash editor Claude Bessy also had a great enthusiasm for reggae music, and Slash was possibly the first West Coast publication to write about Bob Marley, Peter Tosh, Steel Pulse, and other reggae greats. Conveying the antipathy Slash had for the corporate music industry, Bessy wrote in the debut issue, "May the punks set this rat-infested industry on fire. It sure could use a little brightness!" A bit of that fiery brightness is captured on U.X.A. – Come Back to Haunt You.