Peace Press Graphics: 1984
In August of this year I announced that a number of my early graphic works would be included in the museum exhibition, Peace Press Graphics 1967-1987: Art in the Pursuit of Social Change, at the University Art Museum at California State University Long Beach (CSULB). The exhibit is an important showing of over 100 historic posters and flyers published by Peace Press, a Los Angeles collective that once ran a professional print shop serving the local and national needs of activist political groups and organizations. The exhibit will close Dec. 11, 2011, and because of its relevance to current events I wanted to bring attention to the history of one of my exhibited artworks – a flyer titled 1984.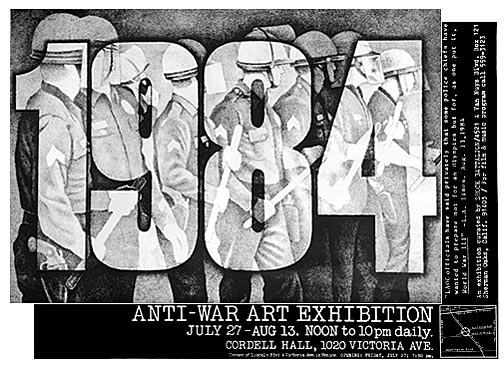 The 1984 flyer publicized the Anti-War Art Exhibition, an art show I curated at a venue in Venice, California with assistance from Shock Battalion, the now defunct 80s era arts activist collective I founded during that period. From July 27 to August 13, 1984, the exhibit displayed contemporary and past anti-war art from around the globe; drawings by Japanese atom bomb survivors (hibakusha), children's art from the war zones of El Salvador, reproductions of the photomontage works of John Heartfield, works from local southern California artists, and so much more. 1984 was one of nine separate flyers I created to publicize the exhibition, all of which are in the Peace Press Graphics exhibit catalog, and five of which are on display at the University Art Museum.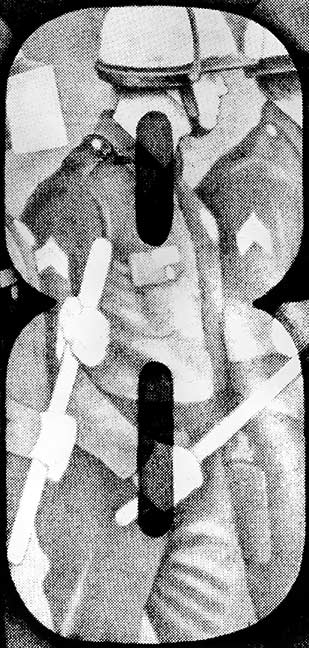 The Anti-War Art Exhibition was ultimately attended by thousands, but to date, has not yet been properly documented.  I will someday write lengthily about the exhibit, but for now all that remains in the public record are the flyers.
The Anti-War Art Exhibition was intentionally timed to coincide with the highly politicized 1984 Los Angeles Summer Olympics, which had become a victim of Cold War insanity; in fact the show's alternative title was the Pre-World War 3 Art Exhibit.
In the blackened right-hand margin of the exhibit announcement flyer, I quoted the Los Angeles Times from Aug. 13, 1984; "LAOC (Olympic Committee) officials have said privately that some police chiefs have wanted to prepare not for an Olympics but for, as one put it, World War III".
In 1980 U.S. President Jimmy Carter barred U.S. athletes from attending the Moscow Summer Olympics because of the 1979 Soviet invasion and occupation of Afghanistan; the U.S. led a boycott of some sixty countries that refused to participate in the Moscow games.
In 1984 the Soviets retaliated by leading an international boycott of the Los Angeles Olympiad, charging the Reagan administration with using the games "for political purposes", of "stirring up anti-Soviet propaganda", and of taking a "cavalier attitude" concerning the security of Soviet athletes in the U.S.
Some fourteen countries joined the Soviets in boycotting the L.A. games. The Reagan White House hit back with heated condemnations of the USSR for its "barbarous behavior" in Afghanistan; an immense irony considering the U.S. has waged a bloody and costly war of occupation in Afghanistan since 2001.
But the artwork my 1984 flyer was based on had been circulating in Los Angeles a good seven-months before the Anti-War Art Exhibition. Created in late 1983, my artwork was initially a 29 x 21 inch pencil drawing I then reworked into a black and white silkscreen print to be posted on city streets. Around 200 silkscreen posters were published and distributed around L.A. on the eve of 1984.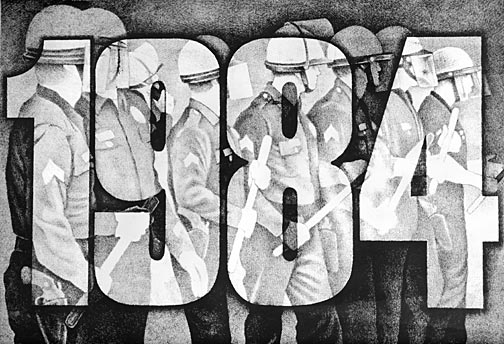 Of course the title of my artwork came from George Orwell's novel concerning a dystopian society ruled through propaganda, fear, and raw police power. Having first read the book as a 15-year-old in 1968, it did much to shape my political philosophy, and when the actual year rolled around I felt compelled – given the miserable state of the world – to create an artwork that would facetiously "celebrate" our own entry into a nightmare social order.
I am now offering a handful of these rare 1984 silkscreen prints that I had long ago set aside in my archives. The 29 x 21 inch prints have not been seen since I first distributed them in 1984, and the prints have never been available for sale. Intended as throw away street posters, the prints are imperfect and roughly printed but otherwise in perfect condition.