LACMA Halloween Nightmare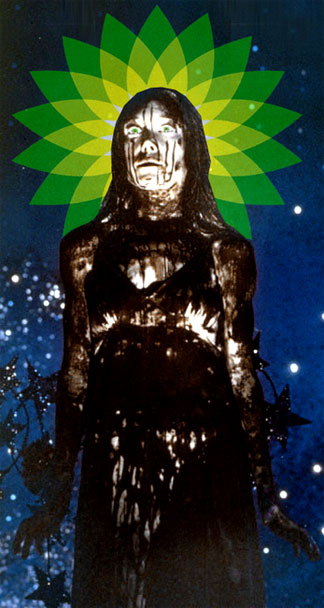 Hallowe'en… what fearfu' pranks ensue! This October 26, 2013, the trendy vampires and way-out ogres of Los Angeles will shamble and hobble their way to the 10th-annual Muse Costume Ball thrown at the Los Angeles County Museum of Art (LACMA).
By a route obscure and lonely, haunted by ill angels only, the museum promotes their monstrous masquerade ball as "haunted by the ghosts of old Hollywood," and entreats those who are fearless enough to attend, to "make your red-carpet debut and toast the town, but don't be surprised if you feel some darkness lurking behind the red carpet."
Oh yes dear baddies and cackling cacodemons, there are evildoing specters oozing, percolating, leaking, and bleeding all over the LACMA campus, and the foul spirits reek of viscous crude oil!
Ghoulies and harpies attending the Muse Costume Ball will be bedeviled, and distressed by various exhibits and art happenings in and around the unholy grounds of LACMA.
Clairy Browne and the Bangin' Rackettes will regale rapscallions and banshees alike with their clichéd sultriness, Theophilus London will get dem dry bones clattering with the type of rap so fresh that it makes a George Romero reanimated corpse look like a newborn, and Zombie Joe's Underground Theatre Group will do their very best to scare the bejesus out of bored, jaded, trend mongering, LA bon vivants. For youse jack-o-lantern headed, worm-eaten postmodern art loving goons, you can feast yer vacant eyes on Richard Serra's Whatchamacallit, Bruce Nauman's Gang Signs For Beginners, or Chris Burden's super expensive Tonka Toy set, Metropolis I love you. Wow, all those performers and artists… really scary stuff.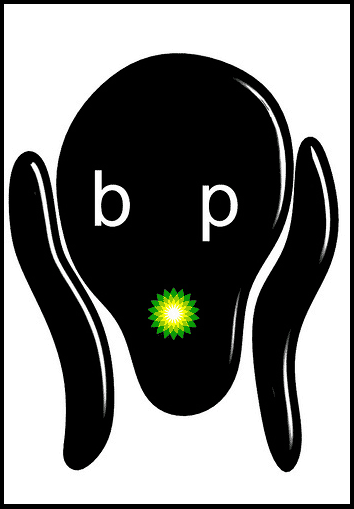 A horrid night will be had by undead art superstars, devilish art critics, and other ne'er-do-wells, but perhaps the most disagreeable and ghastly evening will be had by none other than Michael Govan, the Director, CEO, and numero uno mischievous sprite of LACMA.
It is rumored that Govan will make an important announcement at LACMA's Muse Costume Ball, the acquisition of a most important "land art" masterpiece from New York based conceptual artist, Bob Dudley.
Titled Massive Tar Mat, Dudley's earth art magnum opus makes use of natural materials from the Gulf of Mexico; sand, shells, water, and a few lifeless sea creatures. The controversial work of genius is said to measure 165 feet long by 65 feet wide, and Govan has secretively kept the piece underwraps, though it is beginning to stink of petroleum and death.
Dudley's Massive Tar Mat was purchased for an undisclosed price rumored to be as high as $18 billion. Much bigger and far more expensive than Michael Heizer's $10 million boulder, Levitated Mass, Dudley's tour de force will no doubt put LACMA on the map for worldwide art tourism. No-goodniks and wraiths at the Muse Costume Ball will breathlessly be anticipating the unveiling of Dudley's masterwork.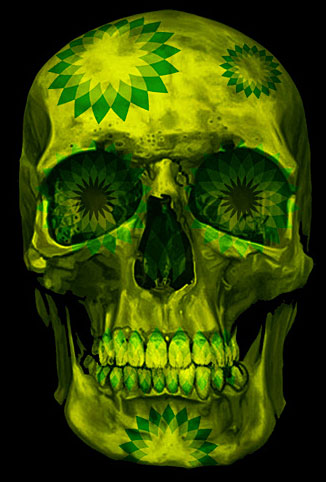 Meanwhile, there are those interfering and annoying do-gooders who just want to spoil a damned good night of mischief-making.
The California Attorney General has filed a lawsuit against BP for violating state law on handling hazardous materials and toxic waste, accusing BP of endangering public health by not properly inspecting and maintaining underground gasoline storage tanks for 750 California gas stations.
Come on, why be so upset about a little lethal waste? Besides, BP is a major contributor to LACMA, how can the museum keep telling people of BP's "commitment to sustainable energy" with California suing the oil giant?
But wait, there is more… paranormal events have been spooking LACMA's grounds in the days just before the Muse Costume Ball. The disembodied spirits of the 11 workers killed when BP's Deepwater Horizon oil rig exploded in the Gulf of Mexico on April 26, 2010, have been seen on the roof of LACMA's "BP Grand Entrance." Atop that wretched entry, the ghostly workers reenact desperate attempts to evacuate the burning oil rig that led to their demise. No doubt the specters will continue to haunt LACMA's entrance as long as it bears such a hellish name.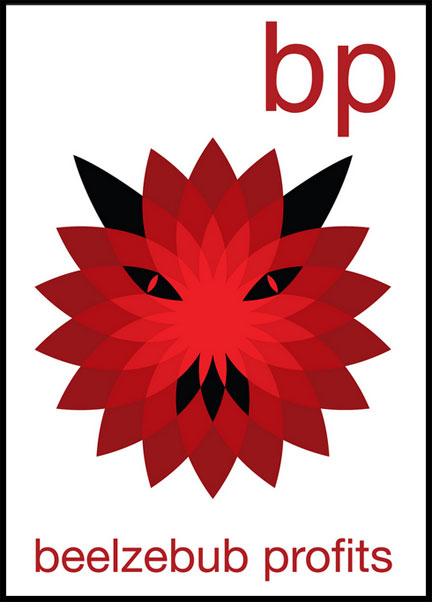 Museum patrons have reported that poltergeists have rebuilt the large reflecting pools of water that once graced LACMA's grounds. Younger Angelenos will not remember the pools on Wilshire Boulevard that nearly surrounded the entire museum in its early years.
Because oil from the nearby La Brea Tar Pits continually seeped into those lovely pools, they were emptied of water and eventually filled in; a portent of LACMA actually becoming the oil museum. But since poltergeists love to plague and pester, they have created phantom pools containing not water, but tar balls and smelly petroleum.
Those who have seen the mirage-like black pools swear they contain horribly mutated sea creatures from BP's Gulf disaster; shrimp born without eyes, clawless crabs, fish with oozing sores and other nightmares.
When on Oct. 26, hipster hobgoblins, suburbanite zombies, and edgy demons with androgynous hair cuts try and make their way to LACMA's Muse Costume Ball, they may have to circumnavigate Bob Dudley's malodorous Massive Tar Mat, a phantasm burning oil rig, and some really pissed-off mutant sea creatures in order to do so. Not to mention encountering the scary Attorney General of California gnashing her teeth out in front of the BP Grand Entrance.
Oh, and there is one more nightmarish thing to deal with, ticket prices. LACMA's monster mash is not for bête noire proletarian miscreants, it is strictly for upper-crust bloodsuckers and villainess socialites. At $100 per general admission ticket, what is a poor working ghoul to do? Ya know… creeps and bugaboos might be better off staying at home and watching reruns of The Walking Dead.