Another Oil Slick at LACMA
In March of this year I wrote an exposé that uncovered the relationship between the Los Angeles County Museum of Art (LACMA), and the multinational oil company, BP (British Petroleum). LACMA is expanding and renovating its facilities, and it has taken $25 million dollars from BP as a "gift" towards the projected cost of the reconstruction, which is $191 million. The payoff is that LACMA will dedicate its massive new entrance gate to the oil giant, calling it – the "BP Grand Entrance." It was the new Director and Chief Executive Officer of LACMA, Michael Govan, who actively sought the financial support of BP, saying in a Los Angeles Times interview, "What was convincing to me was their commitment to sustainable energy." The President of Houston-based BP America, Bob Malone, said the oil giant's donation represented a "commitment to the arts."
On October 25th, 2007, international news media reported that BP agreed to pay a whopping $373 million in an out of court settlement designed to stop U.S. Justice Department criminal indictments against the global energy giant's law-breaking in the United States. Essentially the settlement stipulates that BP must pay for damages in the hundreds of millions of dollars, and that the company be placed on probation by the Justice Department for a period of three years. The federal government will continue extensive investigations into the energy company's wrongdoings, and the Justice Department has made it clear that BP is "not beyond prosecution" when it comes to further possible charges. The Associated Press quoted Acting Attorney General, Peter Keisler, saying; "Obviously, the actions we're responding to today reflect that there were some very serious problems within the company."
Federal investigators have charged BP with a number of crimes; inflating the price of propane gas and overcharging U.S. consumers millions of dollars – ignoring government safety standards, leading to an enormous explosion at BP's Texas City Refinery plant that took the lives of 15 workers and injured 170 others – and ignoring government warnings which lead to a spill of 201,000 gallons of crude oil in Alaska's Prudhoe Bay, the nation's largest oil field.
According to the deal with the U.S. Justice Department, BP must pay $303.5 million in punitive fines for conspiring to fix propane prices in 2003 and 2004. They are also required to pay a $50 million fine and plead guilty to a felony for the explosion at their Texas refinery, and BP must also pay $20 million in criminal fines for their oil pipeline leaks in Prudhoe Bay, Alaska. ABC News quoted Granta Nakayama of the Environmental Protection Agency as saying; "BP committed serious environmental crimes in our two largest states – with terrible consequences for people and the environment."
BP America president, Bob Malone, said of the deal with the Justice Department; "These agreements are an admission that, in these instances, our operations failed to meet our own standards and the requirements of the law – for that, we apologize." Perhaps those are the very words that should be chiseled into the "BP Grand Entrance" that LACMA Director Michael Govan is having constructed for the museum. And speaking of apologies – when will Govan express regret for turning LACMA's good name and cherished art treasures into a public relations vehicle for BP? When will Govan return the $25 million dollars BP donated to LACMA? – a "gift" that was nothing more than the oil giant's attempt to "greenwash" its reputation?
Rep. John Dingell, the chairman of the House Energy and Commerce Committee, disapproved of the lenient fines BP must pay regarding the Texas refinery charge. The good Senator from Michigan said; "I note with curiosity that when an average citizen commits a felony it usually leads to a prison sentence. Yet, apparently, when a big oil company commits a felony that causes 15 deaths, it pays a criminal penalty equal to less than a day's corporate profits." To the Senator's penetrating remark, I can only add – "And then the Los Angeles County Museum of Art will construct a new building named in honor of the corporate criminal."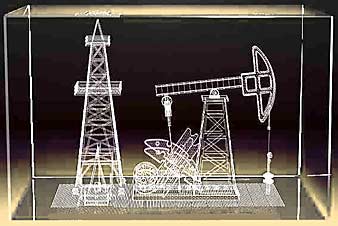 [ Illustration for my proposed architectural design for the "BP Grand Entrance" at LACMA. My project calls for a monumental archway constructed of clear plastic – which of course is made from petroleum. The portico will encase a 200 ft. tall functioning oil derrick that actually pumps oil. Every hour on the hour, the derrick will spout a geyser of crude.]
[UPDATE: Smithsonian Balks over Oil Money – It's instructive to note that LACMA has enthusiastically taken money from BP, while the nation's prestigious Smithsonian Institution recently shelved plans to accept $5 million from the American Petroleum Institute – the national trade association representing some 400 companies in the oil and natural gas industry. In a Nov. 13, 2007, article titled Smithsonian Questions $5 Million In Oil Money, the Washington Post reported that: "The Smithsonian Institution has taken the rare step of putting on hold a $5 million donation from the American Petroleum Institute after two members of the museum complex's Board of Regents, including a U.S. senator, balked at accepting oil-industry money for a major initiative on the world's oceans." Chairman of the regents' executive committee, Roger Sant, a businessman who made his millions as an energy industry executive, told the Post: "I think it is in everyone's mind that oceans and oil are not consistent." Well… almost everyone – apparently LACMA's Director, Michael Govan, and the museum's board of directors, haven't heard that oil and water don't mix.
On Nov. 17, 2007, the
Washington Post reported
that the American Petroleum Institute
withdrew its funding
to the Smithsonian in a tersely worded one sentence letter that simply read: "The purpose of this letter is to inform you that API is rescinding the Aug. 29, 2007, offer of financial support for the Smithsonian National Museum of Natural History Ocean Initiative, effective immediately." ]