Celebrate Earth Day with BP!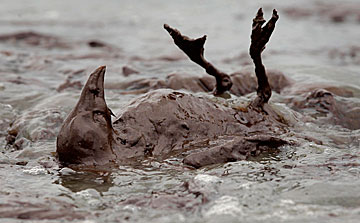 The Los Angeles County Museum of Art (LACMA), sponsored by the multinational oil company BP – responsible for the biggest toxic oil spill in history, had the unmitigated gall to organize "greenwashing" activities on its museum campus for Earth Day.
Posting an announcement on the LACMA website for the April 21, 2013 Earth Day activities, the museum gave its day of programs the ill-chosen title, "Because Earth without Art is Just 'Eh'".
While LACMA invites people to walk through its "BP Grand Entrance" to celebrate Earth Day – Florida, Mississippi, Alabama, and Louisiana have filed lawsuits against LACMA's oily sponsor over the incalculable damages their states suffered because of BP's 2010 Deepwater Horizon oil disaster. LACMA's announcement reads as follows:
Earth Day: Because Earth without Art is Just "Eh"
Sunday, April 21, 2013 | 11 am

Celebrate Earth Day with a day of programs and activities designed for all ages, including artist-led workshops, tours of the collection for families and adults, a nature-inspired poetry workshop for adults, sketching from nature, music jam with instruments made of recycled materials, and a guided walkthrough of the natural art on campus. You and your freinds (sic) can organize your own community bike ride to LACMA! If you plan to travel to LACMA by bike on Earth Day, be sure to check out LADOT's bike maps for a safe route.

*Does not include admission to Stanley Kubrick.

BP Grand Entrance l View full schedule | General museum admission is required; free museum admission will be granted to those with a bike helmet, or those who have traveled by alternative transportation.
UPDATE: On Wednesday, 5/1/2013, LACMA sent out its May newsletter to the public with a "Corporate Member Update". In a single perfunctory sentence, the newsletter informed readers that the museum was "pleased to announce" the renewal of corporate sponsorship from BP. No further details were offered. Meanwhile, in the reality based community, people are paying attention to the ongoing "Clean Water Act" trial BP faces in New Orleans, Louisiana. The proceedings will establish whether BP was guilty of "gross negligence" in running its Deepwater Horizon drilling platform. If found guilty, the oil giant could face a $21 billion fine. A ruling is expected sometime in September.