"You keep all your smart modern painters
I'll take Rembrandt, Titian, Da Vinci and Gainsborough."
20th Century Man – The Kinks
TRAC 2014 offered a dizzying array of panels, presentations, and demonstrations, some of which I found to be much more agreeable than the keynote address of Roger Scruton, which I wrote of in Part I of my observations on the "The Representational Art Conference." In Part II of my assessment of the event, I will cover a lecture from the conference that I found worthwhile and insightful; Michael Zakian's The Problem of Content in Contemporary Realism; the views of TRAC 2014 as given by art professor and journalist, John Seed, and remarks regarding one of the conference's sponsors, the Art Renewal Center (ARC).
An Adjunct Professor of Art History at Pepperdine University in Malibu, California and also the director of that institution's Frederick R. Weisman's Museum of Art, Michael Zakian was an engaging speaker with an obvious passion for art. However, unlike some attendees of TRAC 2014, Mr. Zakian's appreciation of art does not stop with the academic style of the 19th century, though he began his lecture by saying that he likes the paintings of William-Adolphe Bouguereau (1825-1905). But he also counts Jackson Pollock, Barnett Newman, and Willem de Kooning among his favorites, so Zakian's ideas run counter to those many aficionados of Academic art that attended the conference.
Mr. Zakian seemed aware that he was somewhat the odd man out at TRAC 2014. When he launched into an explication of his lecture's title, The Problem of Content in Contemporary Realism, he warned the audience packed into the room to hear his address that he was likely going to upset them with his opinions. According to Zakian, the dilemma of today's classical realist art is that it almost entirely overlooks content, and though much of the art displays high technical proficiency… it fails in having any meaningful to say. He made his point by comparing projected slides of two paintings, the 2012 Studio in Sharon, by the U.S. academic realist Jacob Collins, and the 1629 Artist in His Studio by Rembrandt van Rijn.
After first extolling the impressive talent of Mr. Collins, Zakian put in plain words his reasons for disliking Studio in Sharon; the artist's painting captured reality with technical virtuosity, but what was the painter telling us? Zakian asked what meaning was added to the depiction of an empty studio room? Collins' canvas had the surface details correct, but there was little beneath the polished exterior. Zakian noted that many of today's classical academic artists paint in the same manner, they depict reality without capturing its essence.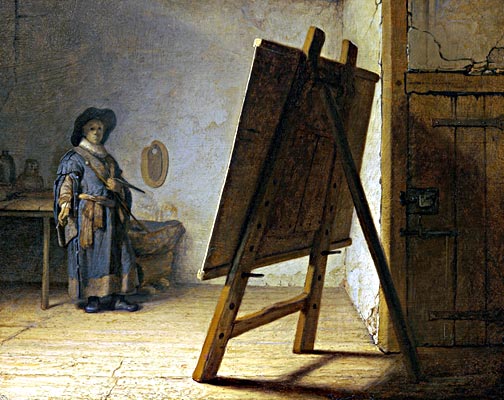 Mr. Zakian then switched to the slide of Rembrandt's Artist in His Studio. In the canvas the young Rembrandt placed himself in the background studying his work from a distance, the easel looming large in the foreground. It is hard to read what the artist is thinking while contemplating his painting, is he confident or troubled about how to proceed? One could even say that Rembrandt seems a Don Quixote-like figure preparing to go into battle against a windmill. The point is the painting not only tells a story, it invites the viewer's thoughtfulness. Zakian believes that narrative quality and scratching at the essence of things is needed in today's classical realism. In that I fully concur, but I would say that type of inquisitive and expository spirit should be a part of all art disciplines. Postmodernists have largely done away with narrative altogether, and Zakian warned that in their repudiation of postmodernism, academic artists are doing the same.
Zakian told his audience that today's academic and classical realists "must go beyond skill" to "wed their skills with story telling." Fair enough, but what type of story telling? We live in a tangle of media distraction where one is no longer allowed a private cathartic moment before being inundated by a flood of advertising images. Perhaps that is one story to be told. Zakian noted the difficulty of this when he told his audience that "to make an impact on society, we have to compete with YouTube cat videos." He offered another story to be conveyed when he projected a slide of The Cycle of Terror And Tragedy. Sept 11, 2007, a massive oil on canvas work by academic artist Graydon Parrish.
The painting was an attempt by Parrish to address the horror of the 9-11 terror attacks by means of allegorical symbolism. To me, addressing 21st century terror with the visual language of 19th century Victorian painters is a bit incongruous. Parrish wanted to produce a canvas imbued with the principles and sensibilities of academic art, but he unconsciously fashioned a postmodern work. At the center of the composition are two mirror image screaming men, blindfolded and near naked; the look-alikes symbolize the Twin Towers. When I gaze upon those figures I expect them to flicker and fluctuate like a badly transmitted video. The staccato, attention deficit disorder inducing, video editing style of today bled into the academic painting; Alma-Tadema meets the never blinking electronic eye.
To be fair to Mr. Parrish, the events of 9-11 were so catastrophic that it is tough to depict such a thing on canvas, though Pablo Picasso did just that when he painted his 1937 Guernica, which depicted the obliteration of the Basque village in Spain by Nazi warplanes during the Spanish Civil War. Despite the fact that most people attending TRAC 2014 belittle Picasso as a charlatan, his monumental antiwar canvas is an eternal work of art. Why we do not have such art today is a complicated question. In large part it has to do with artists having been disoriented by postmodernism, their withdrawing from political affairs, and their possessing little grasp of history. It is not enough for artists to simply "tell stories," we must plumb the depths of what it is to be human, as well as examine the societies that mold us.
Mr. Zakian also noted that "no one talks about the Old Masters anymore," and advised that artists begin studying those painters of skill that worked before the 1800s, such as Leonardo da Vinci, Michelangelo, Caravaggio, and the like. Once again, I agreed with Zakian. His advice seemed a slap in the face to those who worship Bouguereau as much as it was an admonishment to those that have abandoned classical realism.
I rarely talk or write about my love of Old Masters like Albrecht Dürer, Lucas Cranach the Elder, and oh so many others. Perhaps I should, I studied them all in my youth and they continue to be a guidepost. But if artists should "wed their skills with story telling," as Zakian proposes, then we should also study the school of social realism that existed from the early 1900s until after WWII. That encompasses a large field, including artists from across the U.S. and throughout Europe and the Americas in the first half of the 20th century. Seeing as how most of the organizers and attendees of TRAC apparently believe that "real art" stopped being made with the advent of modernism, and that they fervently seek to resuscitate academic art and its atelier based art curriculum, it is hard to take them seriously.
While the greater part of those involved in TRAC seem a traditional bunch, not all conservatives agree with their views regarding art. James Panero, the Executive Editor of the conservative journal The New Criterion, is a good example. In his article Graydon Parrish's 'Cycle of Terror, Panero disassembled the painting as "a machine for illustrating technical skill," and lambasted the advocates of academic realism for turning the genre into "a value system" that "borders on an evangelical faith. A sort of beaux-arts radicalism, it can be reactionary and thuggish: a sociological phenomenon; a form of 'identity aesthetics.'" Panero's words might be more compelling (or perturbing) to traditionalists since it was a conservative that wrote them.
While TRAC 2014 was a lightning rod for individuals ready to fulminate against modernism as the unlovely offspring of those unfit parents liberalism and Marxism, not all conservatives seem willing to accept academic art as the aesthetic deliverance for a world gone haywire. That Mr. Zakian advised realist painters at TRAC 2014 to use their skills to say something profound about life is sound and encouraging, and one hopes such counsel does not fall on deaf ears.
John Seed is a painter, professor of art history at Mt. San Jacinto College in Southern California, and a journalist that writes about art for various publications. Seed gave an unlikely talk to those gathered at TRAC 2014, the subject of The Bay Area Figurative School and its Legacy. Unfortunately I was not able to attend Seed's March 4th presentation, but it must have been a hoot, given the overall conservative atmosphere of TRAC 2014.
Mr. Seed talked about that small circle of painters in the Bay Area of San Francisco who, starting in the 1940s, rejected the reigning style of abstract art and began painting quasi-expressionist works that incorporated the human figure. Rejecting abstraction and making their way back to figuration, these painters were regarded as heretics by the official art world, which had almost unanimously embraced abstraction as the one true religion. Eventually the apostates became known as the Bay Area Figurative School, and therein lies the lesson; determined artists can unseat the status quo. Nevertheless, I imagine Seed had a hard time persuading the traditionalists at TRAC 2014 that they shared a kinship with painters David Park and Elmer Bischoff.
One might want to read When Art Worlds Don't Collide: TRAC 2014 and the Whitney Biennial, John Seed's sympathetic coverage of the TRAC event, which he juxtaposed to his critique of the simultaneously held 2014 Whitney Biennial. I could not agree less with Seed's summary of TRAC 2014, nor could I agree more with his rundown of the Whitney Biennial – though I might have been a tad more raucous in denouncing it.
Seed writes for the ostensibly "liberal" Huffington Post, but when mentioning Roger Scruton at TRAC 2014, refers to him only as "a British philosopher, and the host of the BBC documentary Why Beauty Matters." Seed said nothing of Scruton being a leading conservative figure in British society. With obvious approval Seed averred that Scruton "gave the conference its philosophical and moral center." In my review of TRAC 2014 I wrote that the organizers of the event "set the tone for the entire conference by inviting Mr. Scruton to speak," but my observation was not meant as approving.
In his review of TRAC 2014 Seed noted that the event was not "without its awkward" moments, then stated that "although TRAC has made every effort to be progressive and open towards its membership there was only one African-American artist at the event." Perhaps Seed defines "progressive" differently than I do. He made no effort to analyze why Blacks were not in attendance, or why Latinos, who currently comprise some 39 percent of California's population, were virtually nonexistent at TRAC 2014.
In his review of the conference, Seed asserted that "Classically and Academically oriented artists dominated the event but there was plenty of room for 'moderates' – I'm one of them – who acknowledge and find inspiration in the tradition of representational art with modernist roots." There is a big difference between having "plenty of room" for someone and actually joining forces to work in partnership. I agree with Seed that classical academic art held sway at TRAC, but in the vernacular of most traditionalists, "modernism" is a pejorative.
Historically speaking, modernism generated aesthetic and intellectual responses from U.S. blacks that developed into the Harlem Renaissance (1918-37). During that period the black experience was given voice in literature, music, dance, and the visual arts by extraordinary figures like Zora Neale Hurston, Duke Ellington, Josephine Baker, and Aaron Douglas; there were hundreds more and their remarkable contributions continue to reverberate in the present. But it was modernism that served as the impetus behind this black creative dynamism, not academicism.
To be honest, academicism seems to have had little to no impact on the African-American community; outside of a handful of brilliant 19th century painters like Henry Ossawa Tanner and Grafton Tyler Brown, I am hard-pressed to name a single African American painter in the 20th century that was of the classical Academic School. Is it really such a surprise that TRAC 2014, an event steeped in the traditions of European academic and classical art would fail to attract African-Americans?
Among the listed sponsors and partners of TRAC, one finds the Carnegie Art Museum of Oxnard, California, the Museum of Ventura County, and the Pepperdine University Frederick R. Weisman Museum of Art. The Art Renewal Center (ARC), was also a sponsor of the conference.
Many featured artists associated with TRAC 2014 are also connected to the Art Renewal Center. For instance, the event's 2nd Keynote speaker, Juliette Aristides, has been awarded a place on the ARC's list of Approved Artists ™ & Living Masters ™. Studio demonstrations were conducted at the event by Jeremy Lipking and Virgil Elliott, who are also living masters according to the ARC. Featured speakers Kara Lysandra Ross is a staff writer for the ARC website and the Director of Operations for the group, while Julio Reyes is another of the ARC's living masters. The aforementioned Graydon Parrish worked as a researcher on the William Bouguereau Catalog Raisonne co-published by the Art Renewal Center. There were certainly many ARC supporters and devotees in attendance.
Many artists and art loving individuals, alienated by the current state of art, have been attracted to the Art Renewal Center and its aim of fostering an appreciation of traditional art and technique. Not finding it in college and university level art classes, students seeking instruction in realist drawing and painting have turned to the ARC for its list of privately run "approved ateliers," where one can enroll in atelier based art classes. In principle I think this all well and good, but there is something off about the ARC.
On the "Frequently Asked Questions" page of the ARC website, one can find the following, "While modernism has indeed had some significance in the history of art for a time, that in no way implies that what modernists have been up to was actually good or artistically important." The ARC proclaims Bouguereau as the exemplar of French Academic art and so a quintessential leader for today's painters.
The director of the ARC, Fred Ross, wrote Abstract Art Is Not Abstract & Definitely Not Art, apparently unaware that abstraction lost its dominance to Pop art in the mid-1950s; never mind the shibboleth of 21st century postmodernism! But possibly the most damning contorted logic and grammar found on the ARC web site comes from this unfortunate quote found in the letter section of the site:
Q: Aren't you just advocating Nazism? After all, Hitler loved realist art.

No. Obviously. Hitler wore pants. Does that make anyone who wears pants is a Nazi too?

What Hitler knew (and Stalin too!) was that good art has the power to communicate with people in important ways and that what he called "degenerate art" didn't. In that he was right about that even though he was horribly wrong about a host of other things. Hitler also used good artistic expression as a powerful tool to promote his Nazi viewpoint but it is the message, not the medium that was flawed.
Aside from thinking that people who mouth such nonsense are an embarrassment, it is hard to know what so say. In very specific language, the ARC response to a question states the Nazis were correct in their assessment of "degenerate art," and that Hitler "used good artistic expression as a powerful tool."
The Nazis did not employ "good artistic expression" to convey their poisonous ideas, they strangled the very possibility of art before they even seized power (think of the Nazi Poet Laureate, Hanns Johst, who wrote the following words in his 1933 play Schlageter, "Whenever I hear of culture, I release the safety catch of my Browning!") As professor James E. Young pointed out in his article, The Terrible Beauty of Nazi Aesthetics, "Art, beauty and aesthetics were not benign byproducts of the Nazi Reich, but part and parcel of its malevolent logic."
Almost nine years ago I took a swipe at the ARC for posting correspondence on their website that praised the Nazi painter Ivo Salinger; it appears the group's stance remains unreformed. As the conservative James Panero of The New Criterion wrote, the zeal of some supporters of academic realism "borders on an evangelical faith," a fundamentalism that can be "reactionary and thuggish." I am not accusing the ARC of being fascists, but I am saying that they have a very weak understanding of history, and such people are ill-equipped to change the world.
It might be said that the ARC has done more to weaken and incapacitate 21st century realism in art than the combined efforts of Eli Broad and Jeff Koons. Clear thinking individuals that love representational art should distance themselves from the Art Renewal Center – starting with the organizers of TRAC 2015.
— // —
For more on Sir Roger Scruton please read the first part of my review regarding The Representational Art Conference, Roger Scruton at TRAC 2014, and my review of this 2010 film Why Beauty Matters.