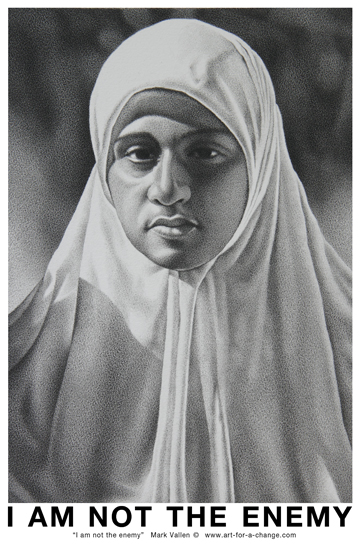 I Am Not The Enemy
Free downloadable, 11 x 17 poster.
Download and publish the poster on any printer that takes 11 x 17 inch paper. Poster available here.
Print and display this poster for solidarity, unity, and compassion, and to express your opposition to xenophobia, and racism.
— // —
I first published this poster in the weeks following the heinous terrorist attacks of September 11, 2001, when thousands of hate crimes directed at Muslim Americans, or those thought to be Arabs, were occurring across the United States. Some of those attacks resulted in murder.
It was the case of Balbir Singh Sodhi that drove me to create my pencil on paper drawing, which I then published as a poster against hate crimes. Mr. Sodhi, a turban-wearing Sikh and proprietor of a gas station in Mesa, Arizona, was gunned down by a "patriot" that hours before, had bragged in a bar about wanting to "kill the ragheads responsible for September 11." That murderer now sits on death row, but the racist xenophobia that motivated him is alive and growing in the United States, where anti-Muslim hatred and incitement has reached a boiling point.
On the afternoon of February 10, 2015, three young Muslims, twenty-three-year-old Deah Shaddy Barakat, his twenty-one-year-old wife Yusor Mohammad Abu-Salha, and her 19-year-old sister Razan Mohammad Abu-Salha, were found murdered in their home in Chapel Hill, North Carolina. A 46-year old white man was arrested as the suspected killer.
Deah Shaddy Barakat and Yusor Mohammad Abu-Salha had been married for just a month. Deah was a dental student that organized free dental care for the homeless of Durham, North Carolina. He was also raising money to provide free dental care to refugee children in Turkey fleeing the devastating war in Syria. His wife Yusor was a talented artist and videographer. Her sister Razan did fundraising for a charity group that helped deaf Muslims.
It took days for the U.S. press to notice the killings while the twitterverse exploded with horror and outrage, lambasting the media for its almost non-existent coverage of the murders. Downplaying the possibility of a hate crime, the press has been reporting that the shooter might have killed the three over an argument concerning a parking space. But the unarmed students were found in their apartment, each with a bullet hole neatly placed in their heads. That was not an argument over parking… that was an assassination. I am deeply concerned that the media hems and haws over whether or not the killer was angry over a parking space or was actually motivated by a hatred of Muslims. I cannot image the horror and alarm Muslim Americans must feel at this moment.
The murder of the three young Muslims has become an international incident. United Nations spokesperson Stéphane Dujarric said: "At a time of troubling tensions stoked by those who seek to twist the teachings of faith and sow division, these three young people represented the best values of global citizenship and active community compassion to build a better world for all."
On Feb. 11, 2015, at a daily briefing with the White House Press Secretary Josh Earnest, a reporter asked a question regarding the killing of the students, "Does the White House have any reaction?," to which Earnest responded, "There's no specific reaction from the White House."
On Feb. 12, 2015, U.S. ally President Recep Tayyip Erdogan of Turkey, sharply criticized President Obama for his "telling" silence over the murders. Erdogan remarked: "If you stay silent when faced with an incident like this, and don't make a statement, the world will stay silent towards you. As politicians, we are responsible for everything that happens in our countries and we have to show our positions." Erdogan chided, "I ask Mr. Obama, where are you, Mr. President?"
After mounting criticism, Obama finally made a short statement on Feb. 13, 2015. The president said the killings were "brutal and outrageous," and that "No one in the United States of America should ever be targeted because of who they are, what they look like, or how they worship." That those words sound refreshing in "the land of the free" should tell you just how deep the crisis of American democracy has become.
While Obama's words were certainly true, they also smacked of hypocrisy. The president targets people outside of the U.S. for "what they look like, or how they worship." In five years of his drone attacks on Pakistan, 2,400 people have been blown-up by drone fired hellfire missles. While the majority of fatalities were suffered by terrorists, an estimated 951 innocent civilians were also killed, including up to 200 children. You might say that the victims of the Nobel Peace Prize Laureate were simply "collatoral damage," but I suggest you take that up with their parents.
I do not know what more I can say. I will let my 2001 poster do the talking for me.