Eco-Vandals Attack Degas Statue
In the continuing war on art, members of the eco-extremist group Declare Emergency, entered the National Gallery of Art in Washington, DC on April 27, 2023, and attacked the famous sculpture by French artist Edgar Degas, Little Dancer Aged Fourteen.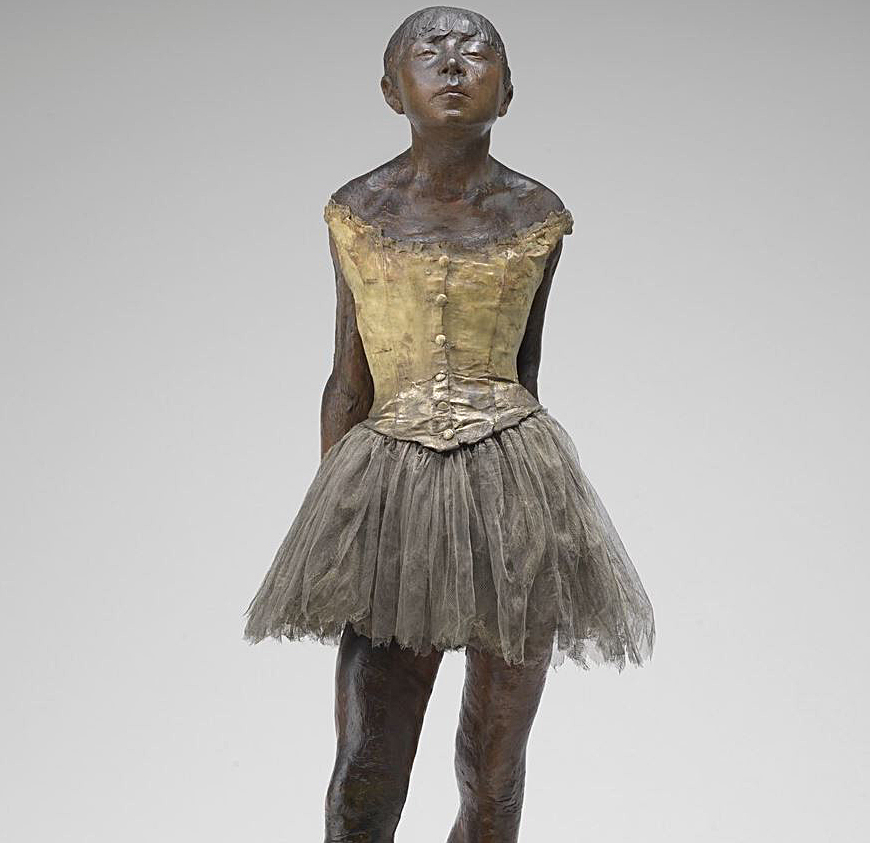 Two scalawags, a man and woman dressed in black, entered Gallery 3, the room that exhibits Little Dancer. The black garbed duo crouched by the plinth that supports the statue, and used their fingers dipped in red and black paint to create doodles on the pedestal. Stunned museum goers watched and filmed the grotesque buffoonery.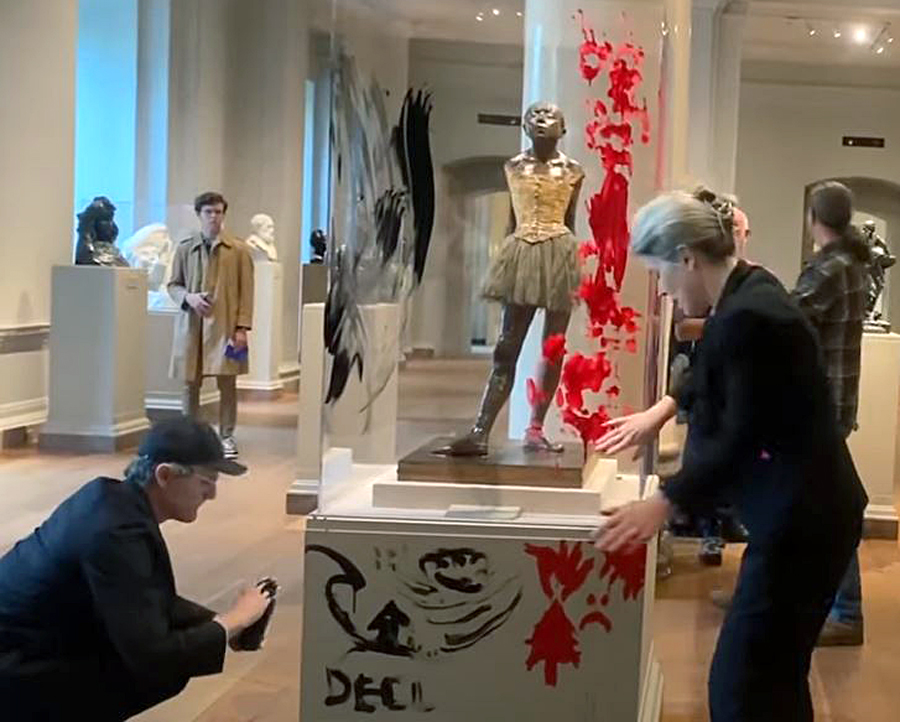 When museum security noticed the malicious mischief, the two good-for-nothings stood and smeared red and black paint all over the plexiglass box that protected the statue. Their infantile fingerpainting accomplished, the two vandals sat crosslegged beneath the vandalized display with their paint smeared hands outstretched as if they were two eco-extremist bodhisattvas.
Naturally they took the opportunity to evangelize the people in the room. The female mouthed the following moralizing claptrap: "This art is beautiful, and we're destroying it with climate change. We need our leaders to take serious action, to tell us the truth about what is happening with the climate." The poster boy geeklet who accompanied her mewled: "I have a job that requires health and safety, but I can't do my job unless I have a government that does their job in looking out for the health and safety of our children."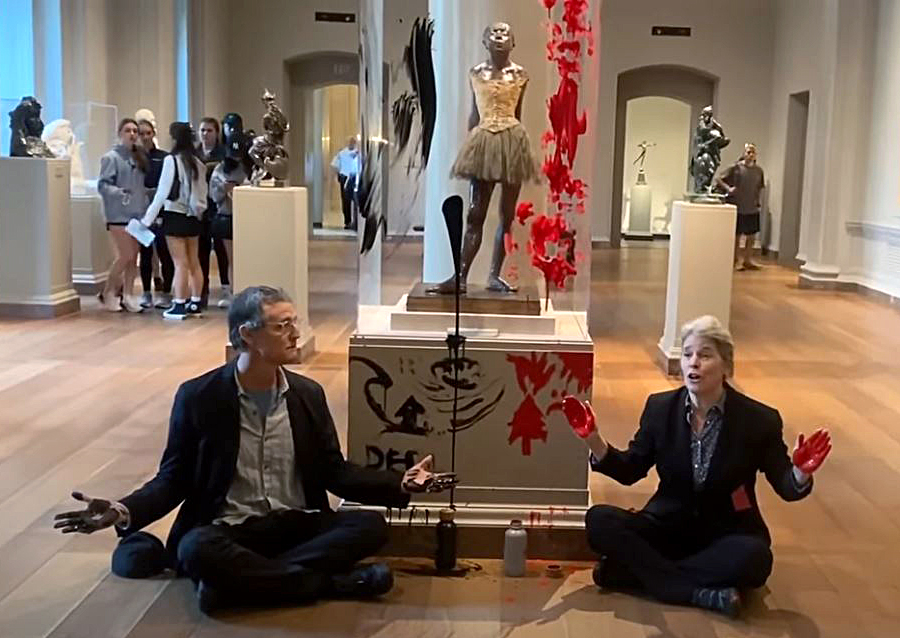 The two vandals continued with their pitiable squalling until the museum security guards moved in, stood them up, placed them in handcuffs, and detained them. The eco-extremist organization Declare Emergency took credit for and applauded the vandalism on their Facebook and Twitter accounts. How can organizations be allowed to openly call for and organize the criminal destruction of museum property from their social media platforms?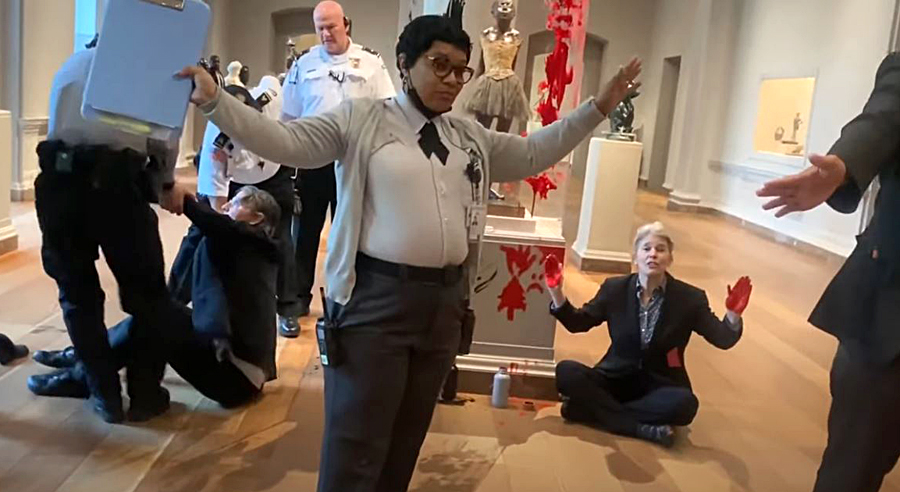 The National Gallery of Art evacuated the room where Little Dancer was vandalized, and handed it over to police and FBI investigators, essentially turning it into a crime scene—let that sink in for a moment. Museum as crime scene. Degas's delicate sculpture of wax was removed from exhibition and will be examined by the museum's conservation team. Meanwhile, I can think of two eco-zealots who need their heads examined.
Since 2022 I have written about the eco-extremist war on art carried out in the name of stopping "climate collapse." The acts of graffitiing sculptures, pouring soup on paintings, "activists" gluing themselves to canvases, and other acts of defacement, have been pulled off by leftwing ecologists all across Europe and in Australia, and committed by factions like Just Stop Oil in the UK, Letzte Generation (Last Generation) of Germany, Letzte Generation Österreich (Austria), Ultima Generazione (Last Generation) of Italy, Extinction Rebellion of Australia and the UK, and Stop Fossil Fuel Subsidies of Australia.
I feared this strategy of assaulting museums would spread to America. With the US climate cultists of Declare Emergency raiding one of the greatest art institutions in the United States—the National Gallery of Art in Washington, DC., my concerns have been realized. It was the first action of its kind in the USA… I'm certain in won't be the last.
The National Gallery of Art was not at all pleased with the destructive spectacle aimed at the institution. The museum issued a statement that in part read:
"Today a priceless work of art in our collection, Degas's original wax Little Dancer, was attacked by protestors with swaths of red and black paint. After attacking the Degas sculpture, they made statements about climate issues (…)

The Federal Bureau of Investigation is assisting in the investigation, which is still active. We unequivocally denounce this physical attack on one of our works of art and will continue to share information as it becomes available."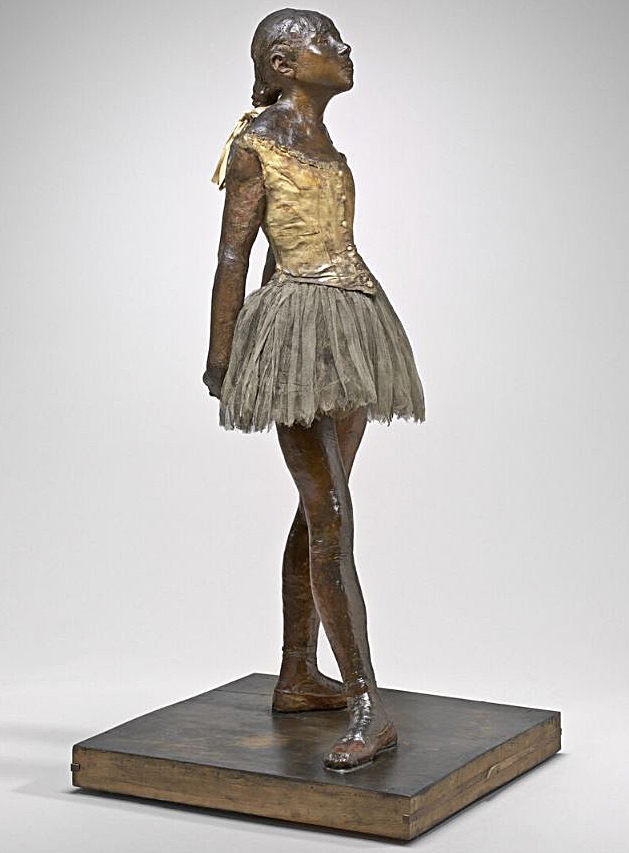 The famed French artist Edgar Degas (1834-1917), created his Little Dancer sculpture during the years 1878-1881. He constructed a metal armature, over which he sculpted the figure using clay and pigmented beeswax. He finished the statue by adding human hair, a cotton bodice, a cotton and silk tutu, and linen slippers. Little Dancer was the only statue publicly exhibited by Degas, and the model was a young working class ballet student named Marie van Goethem.
I knew of Edgar Degas as a child, as my mother hung reproductions of his oil paintings and chalk drawings in the family home. As a pre-teen and aspiring artist, I became a student of his life and works, especially his pastel drawings; my admiration for Degas knew no bounds. It should not come as a surprise that I have a visceral reaction to the dullards who dared to threaten a work of art created by dear Edgar.
Degas made several bronze castings of Little Dancer, but the original wax statuette was exhibited at the National Gallery. One of the bronze statues sold in 2022 at Christie's for $46.6 million. However, it's not the price tag that made Little Dancer invaluable, it was its glorious tenderness and humanism. To think, a poor working class girl, an undernourished waif from late 1800s Paris, striving to find her place in a ballet troupe. And all these decades later, we look back through barriers of time to see this wistful child, her sweetness breaks the heart!
The truly grievous thing about his incident, is that Declare Emergency and all their bubbleheaded eco-zealot followers, are not touched by the loveliness and beauteousness of Degas' creation. They see Degas' Little Dancer as nothing more than a prop in their woebegone political theatrics.
All they see is a means to an end—an opportunity to scandalize in the hopes of lassoing the unnerved into their apocalyptic death cult.