The Pervasive Ignorance of Westerners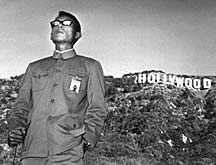 Starting this January 6th, the Stephen Cohen Gallery in Los Angeles is holding an exhibit of photos by Tseng Kwong Chi, and reading from the press release the show presents "tongue-in-cheek images of the artist posing as a Chinese Communist dignitary or 'Ambiguous Ambassador' in a world utterly alien to his persona, complete with the classic Mao suit, dark glasses and identity tag stamped Slut for Art."
The gallery seems unaware of the artist's motivations and their historical context. In the China of today party officials have traded the Mao look for the western suit and tie, as well as joint ventures with foreign corporations. Capitalism is hardly a "world utterly alien" to China. That this goes unsaid by the gallery would have amused Kwong Chi, since his work focused on the west's lack of knowledge pertaining to Asia.
In 1979 the photographer donned a Mao suit and entered a New York restaurant, only to be mistaken for a Chinese Communist official. The way non-Asians perceived Kwong Chi convinced him of "the pervasive ignorance of westerners regarding Asia generally and China specifically." That became the focus of the artist's performance photography. He would pose himself in that Mao suit standing in front of tourist spots around the world in snapshots that addressed issues of personal, cultural, and national identity.
The artist's vision was only marred by his usage of the "Slut for Art" badge, a hackneyed contrivance that added nothing to his critique. Tseng Kwong Chi was openly gay and well known for being the personal photographer to graffiti artist Keith Haring. In 1990, Tseng died of AIDS at the age of forty.