Police Performance & Installation Art
As Christo and Jeanne-Claude prepare to inflict The Gates upon New York's Central Park, the famous commons is beginning to look as if it's under police siege. Several hundred police will flood the park around the clock to guard the installation for sixteen days starting Feb. 12th.
Private security, park enforcement, and hundreds of police officers both uniformed and undercover, will defend the multi-million dollar gates from graffiti artists and other art critics.
In addition to swarms of officers on foot, teams of policemen on horseback and bicycles will jam the park. Helicopter patrols with surveillance cameras and officers with high-powered camera equipment posted in the high-rises around the park, will continually monitor the recreational area with live video feeds going to a special police command center.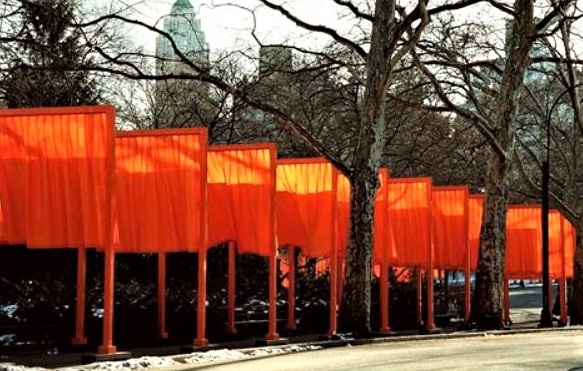 Officers will be deployed to keep people out of the park between 1 a.m. and 6 a.m. Nearly one hundred officers with foreign-language skills will be on hand to deal with overseas tourists.
Police Commissioner Ray Kelly said that all of the extensive security is being paid for by Christo and Jeanne-Claude, and that police overtime will be minimal because "officers are just being reassigned from their normal duties."
And Jeanne-Claude said of The Gates: "all works or art are good for nothing." Gee, I wonder if I could rent the LAPD for sixteen days to protect my artwork?