Artist's Forum on Art & Politics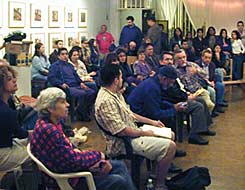 [ Dozens of people packed Avenue 50 Studio for a slide show
and lecture on the subject of art, religion, and politics ]
It was a standing room only crowd at the Artist's Forum on Art & Politics, held at L.A.'s Avenue 50 Studio. Part of its Don't Talk About Religion or Politics exhibit, the event took place on January 12th, and even though it was a Thursday evening nearly 70 people attended – the gallery literally ran out of seating.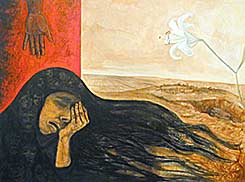 [ Where is God? – Painting by Poli Marichal ]
The slide presentation and lecture were late getting started, but the excitement was palpable as students, artists, academics and others enjoyed the artworks while waiting for the program to begin. After fumbling around with a slide projector that at first refused to work, the evening's slide show at last got underway at around 8 pm.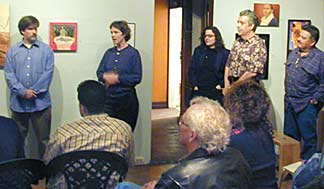 [ The artists take questions from the audience. Left to right: John Paul Thornton,
Gwyneth Leech, Poli Marichal, Mark Vallen, and Sergio Hernandez ]
As the curator of the show I played host for the evening; introducing myself and making an introductory statement; presenting each artist and describing how I came to know their work, running the slide projector as each artist gave a running monologue to accompany their images (with each artist showing around a dozen slides), and finally moderating a post-slide show "Q and A" where the audience interacted with the artists.

[ Paintings from the "Station of the Cross" series by Gwyneth Leech ]
Since the evening started late, I showed only a few slides of my own work, setting the pace for the show but also leaving plenty of time for the presentation of other artists. One of my projected artworks was created in homage to Oscar Arnulfo Romero, the Archibishop of El Salvador who was murdered by right-wing death squads in 1980, and I explained how Latin America's Liberation Theology informed and affected my work as an American artist. Next came John Paul Thornton, who wowed those gathered with his presentation of paintings based upon his travels in Nepal and India. I have the utmost respect for John Paul, a painter whose commitment to the medium is rivaled by no one I've ever met. We've agreed to collaborate on another major project together, details of which you'll be able to read about on this web log in months to come. Then it was Sergio Hernandez's turn to share paintings and drawings that reflected a Mexican-American perspective on religion – with his The Last Slap being a real show stopper. Poli Marichal followed with a stunning slide display of her feminist "retablos" (devotional paintings), and last but certainly not least, Gwyneth Leech showed a series of slides about her Stations of the Cross project – a major work of deep historical significance.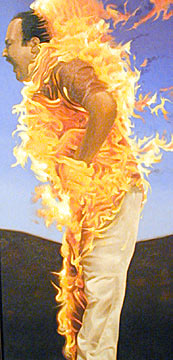 [ Man on Fire – Oil on wood panel. Vallen 2006 ]
A local university student attending the forum asked permission to make an audio recording of the lecture, and afterwards he posted it to the L.A. Indymedia website. The sound quality of the mp3 recording is uneven at best, with lots of extraneous noise – and since the presentation was basically a lecture punctuated with images from a slide show, you miss the rich visual component of the presentation. That being said, the recording does offer a glimpse of the excitement felt by all that evening, and it gives remarkable insight into the personal philosophies and political ideas of the five artists involved in the show. Plus, the interaction with audience members is also highly informative. You can hear the mp3 audio recording at: http://la.indymedia.org. The audio file begins halfway through my opening presentation – so it's a bit awkward and takes a while to become oriented – but stick with it and you'll be rewarded with some remarkable dialogue. The Don't Talk About Religion or Politics exhibition runs until February 6th, 2006. For more info on the show, visit: www.art-for-a-change.com/exhibits/religion.htm