Hillary Clinton Funds War on Art?
Funding is one activity that has sustained the acts of vandalism carried out against art museums by the UK group Just Stop Oil.
That faction has received financial backing from the Climate Emergency Fund, a global network of "climate activists" headquartered in Beverly Hills, California.
This was verified on Aug. 10, 2022 when the New York Times reported that the Climate Emergency Fund donated to Just Stop Oil—"close to $1 million and helped cover salaries for 40 organizers and activists."
Now there's a new wrinkle in the funding story, which is the reason for this article… Hillary Clinton is involved. But first some anecdotal background.
On Oct. 14, 2022, two young women from Just Stop Oil invaded London's National Gallery and poured Heinz tomato soup from a can onto Vincent Van Gogh's famous Sunflowers oil painting. The women then glued their hands to the painting's antique frame.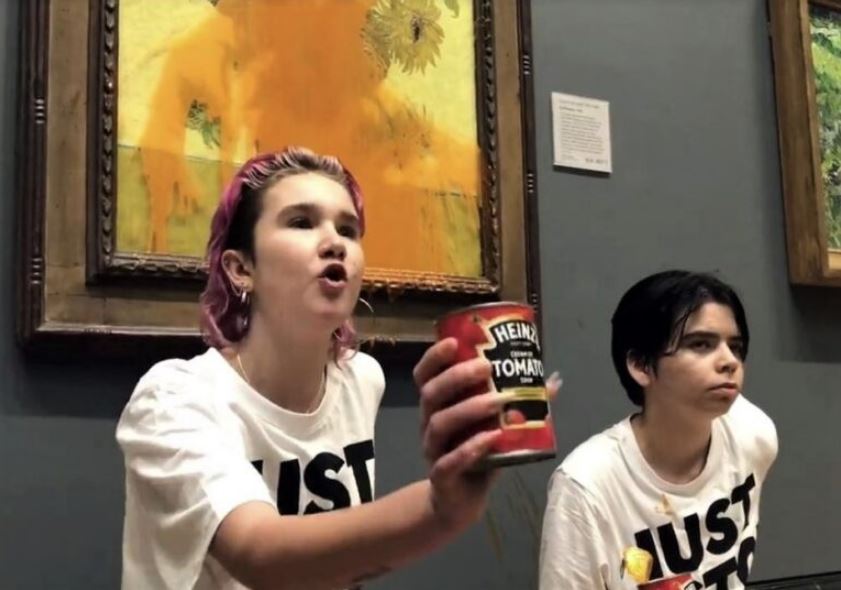 The purpose of the vile act against Van Gogh's painting, was to draw attention to what the eco-vandals contend is the imminent collapse of the global environment due to the oil industry.
I wrote about the criminal attack against the painting in an Oct. 17, 2022 essay titled Just Stop Oil Attacks Van Gogh's Sunflowers.
On Oct. 27, 2022 two men wearing Just Stop Oil T-shirts barged into the Mauritshuis museum in the Hague, Netherlands to assault Johannes Vermeer's masterpiece Girl with a Pearl Earring.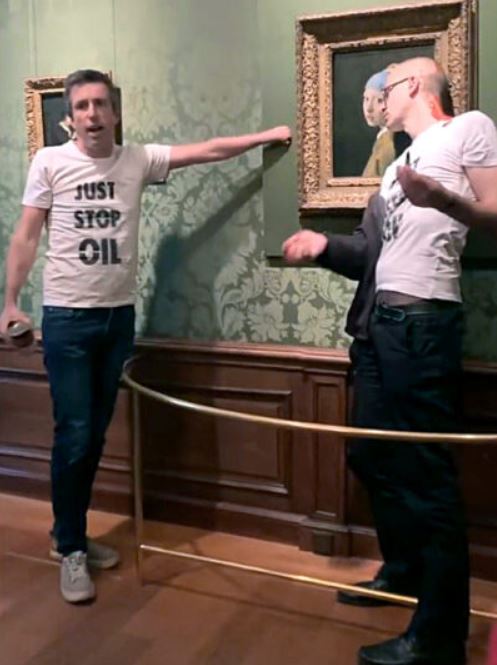 One vandal glued his head to the painting (it was protected by glass), the other glued his hand to the frame. Just Stop Oil denied organizing the attack, but issued a statement supporting the vandalism that read in part: "We applaud those ordinary everyday people who refuse to stand by, who step up to act."
In my essay The Eco-Extremist War on Art, I documented Just Stop Oil vandalizing the following artworks: a copy of Leonardo Da Vinci's The Last Supper painted by Giampietrino, The Hay Wain by John Constable, Thomson's Aeolian Harp by JMW Turner, Peach Trees in Blossom by Vincent Van Gogh, and My Heart's In The Homeland by Horatio McCulloch.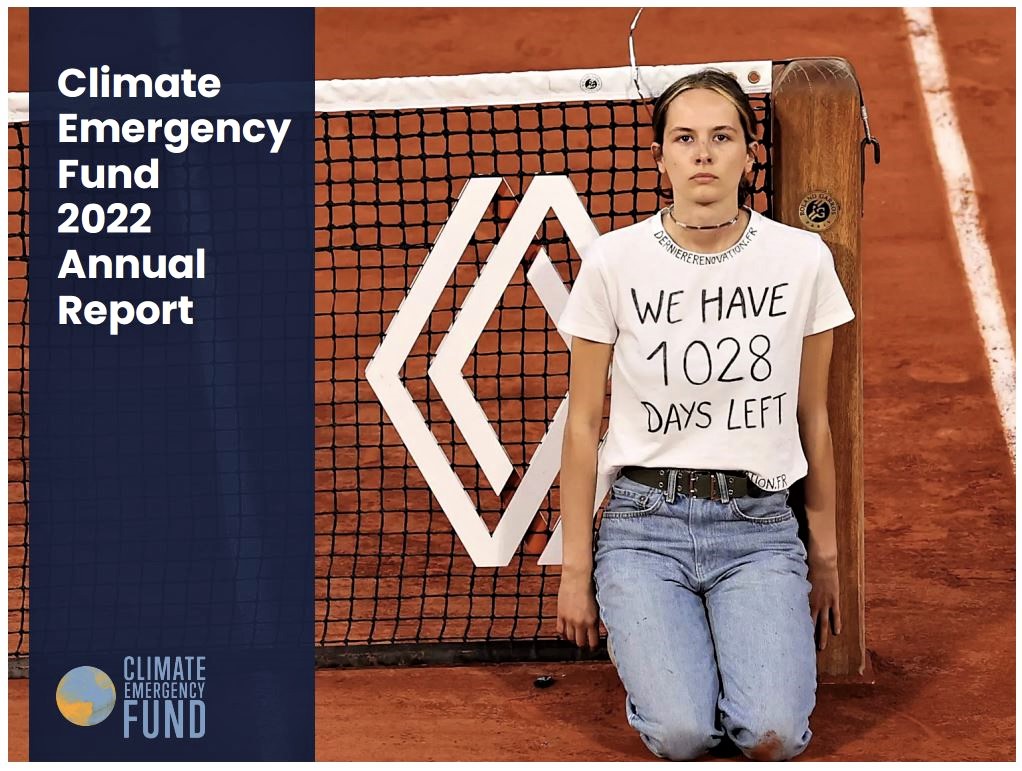 As it turns out the Climate Emergency Fund's 2022 Annual Report contains a very interesting fact. On page 14 of the report the Climate Emergency Fund thanks their funders and lists them by name. It also gives a special thanks on page 15 to their "dedicated donors" in a listing of those "who go above and beyond." The Onward Together Foundation is acknowledged and commended in each listing.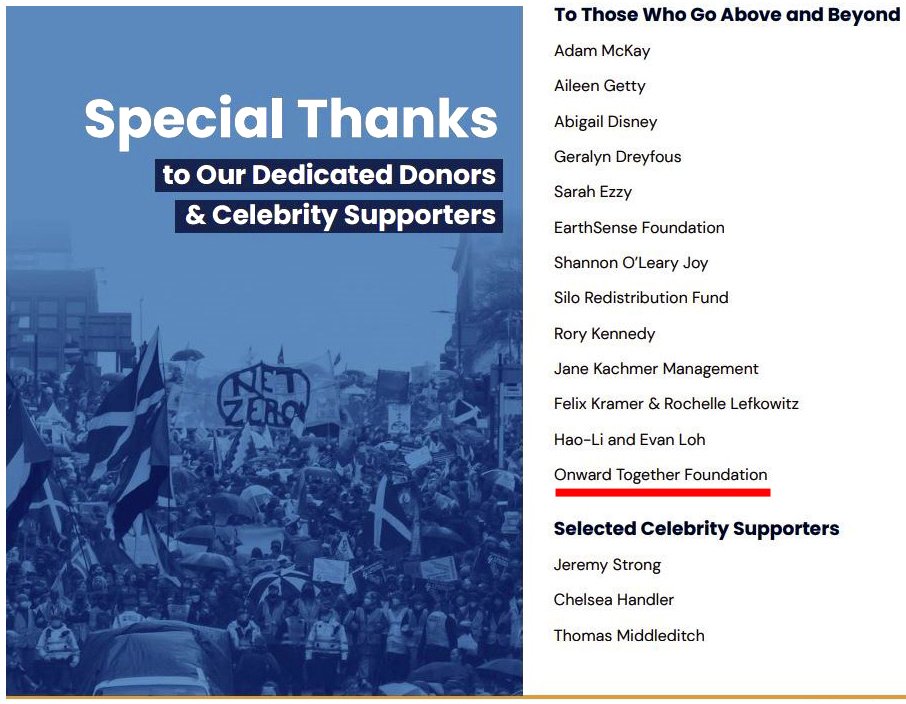 And what exactly is the Onward Together Foundation?
The Onward Together Foundation is an advocacy group founded by Hillary Clinton; she created it after her loss to Donald J. Trump in the 2016 presidential election. On its tax return for 2022 the Onward Together Foundation described its mission:
"By encouraging people to organize, get involved, and run for office, Onward Together will advance progressive values and work to build a brighter future for generations to come."
Also on the 2022 Onward Together tax return, there is an entry on page 36 that shows grants made to "domestic organizations." Those grants were made during the period between April 2021 and March 2022. The number 10 donation was made to the Climate Emergency Fund—and the Onward Together Foundation gave that organization $300,000.
Nowadays $300,000 can purchase a lot of canned Heinz tomato soup, and quite a bit of glue to adhere vandals to the frames of classical paintings.
It is verified that the Climate Emergency Fund got loads of money from Hillary Clinton's Onward Together Foundation. The question is, did Hillary herself directly contribute money?
Inquiring minds want to know.