Art Book: Yo! What Happened to Peace?
Yo! What Happened to Peace?, was an exhibition of hand-made prints in opposition to the invasion and occupation of Iraq. The brainchild of L.A. based artist John Carr, the exhibit had its beginnings in 2002 during the run-up to war in Iraq. Being a print-maker, Carr wanted to put together a traveling exhibit that was not only a political expression, but a celebration of the fine art of printmaking.
Instead of machine printed reproductions, the "Yo!" show consists entirely of handcrafted prints – silkscreens, lithographs, linocuts, woodcuts and stencils. The collection is a striking example of contemporary political poster making, and I'm happy to have four of my early prints in the exhibition.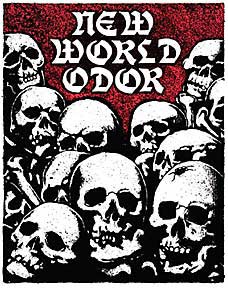 [ New World Odor – Mark Vallen. Silkscreen. 23″ x 29″ Printed in 1991 as a street poster in opposition to the first U.S. war with Iraq. The print was inspired by the traditional iconography of Mexico's Dia de los Muertos celebrations. ]
Past showings were held in Tokyo, San Francisco, New York, Milan, Rejkyavik, Washington D.C., Boston and Chicago. On April 14th, 2007, Yo! What Happened to Peace?, opened at the House of Love and Dissent in Rome, Italy. The opening was also the launch for the exceptional catalog book that documented the traveling exhibition. You can preview the Rome exhibit here, as well as view a number of prints from the exhibition and its catalog.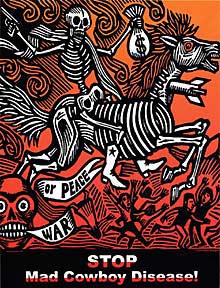 [ Galloping Death: Stop Mad Cowboy Disease! – Artemio Rodriguez. Silkscreen based on a linoleum block print. Born in Mexico, Rodriguez now lives and works in Los Angeles, where he founded La Mano Press, an artist-run shop dedicated to printmaking. ]
Edited by John Carr, the "Yo!" book features a unique embossed stencil cover, and reproductions of the 220 plus handcrafted anti-war and pro-peace prints by some 120 artists that have come to define the touring poster exhibition.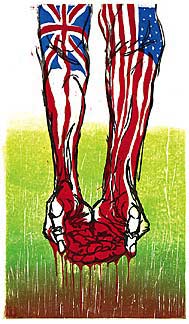 [ Blood On Our Hands – Noah Breuer. Woodblock print. Breuer is a printmaker from Berkeley, California, now living in New York City and managing Columbia University's student print shop. ]