LA vs. War promises to be one of the largest antiwar cultural happenings in the recent history of Los Angeles. Organized by the activist artists of Yo!, the same people who put together the Yo! What Happened to Peace? international touring peace poster exhibit, the LA vs. War extravaganza is scheduled to run April 10 – 13, 2008, at The Firehouse art space in downtown Los Angeles. In the words of the organizers, the show will be "an unprecedented gathering of artists united to deliver a message of peace, and offering resistance and opposition to war and violence."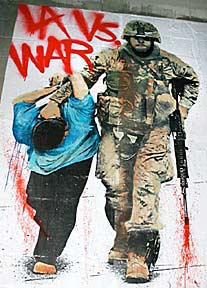 [ LA vs. War – Anonymous street poster. A number of colorful handmade posters promoting the LA vs. War exhibit have been appearing on walls all across Los Angeles. This particular example makes use of a huge Xerox-like, black and white print-out, which has been hand-colored with brushes and spray paint. ]
Over the course of the event's four day run, LA vs. War will showcase original artworks, present collections of current and vintage antiwar posters, conduct live workshops in poster and t-shirt screen-printing, display films, light installations and projections, offer music selections from antiwar DJs, and much more.
A core element of the exhibit will be the display of original drawings, paintings, and other unique artworks from the likes of Peter Kennard, Gee Vaucher, Poli Marichal, and other talented artists too numerous to mention. I'm pleased to have two drawings in this section of the show, I Am Not The Enemy, and Not Our Children – Not Their Children. Most of the one of a kind artworks in the show will be available for purchase, with a percentage of sales going towards furthering the overall project. Plans are already underway for San Diego vs. War and New York vs. War.
Also of interest will be the presentations of antiwar poster art both current and historic. LA vs. War will have on view dozens of recent posters from the Yo! What Happened to Peace? collection – and many of the vibrant prints will be available for purchase. In addition, a selection of historic antiwar posters from the archives of L.A.'s Center for the Study of Political Graphics (CSPG), will be on display. CSPG is a vital resource for artists, activists, researchers, and academics; and with its holding of some 50,000 works it has become one of the country's largest archives of political poster art.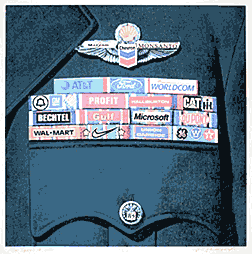 [ The Spoils of War – Winston Smith. Five color silkscreen print. On display at LA vs. War. ]
LA vs. War
takes place April 10th to April 13th, 2008, in downtown Los Angeles at The Firehouse, 710 S. Santa Fe Avenue, Los Angeles CA. 90021. For a full listing of participating artists and scheduled events, visit the
LA vs. War
website at
www.lavswar.com/
. An Artists' Reception takes place on Thursday, April 10, 2008. 7 p.m. – 9 p.m. Regular exhibition hours – Thursday through Sunday, Noon – 11 p.m. All ages are welcome and admission is free.
[ UPDATE – Organizers of the exhibit tell me that around 5,000 people took in the LA vs. War show during its four day run. The following photos are from the exhibit's opening night party. ]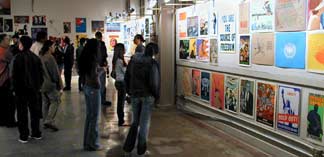 Artist's Reception at LA vs. War exhibit, Thursday, April 13, 2008.