Una visión de religión totalitaria
My painting, A People Under Command: USA Today, is included in the traveling exhibit, Fundamental, which opens at Espacio de Cultura LA BOCA in Madrid, Spain, Feb. 21, 2008. Exploring the sensitive subject of religious fundamentalism in the 21st century, the group show at the Madrid gallery runs until until March 2nd, 2008. LA BOCA is located in the Lavapiés neighborhood of the capital, not far from the world famous Museo Reina Sofia. Here's the Spanish language version of the exhibit's Press Release: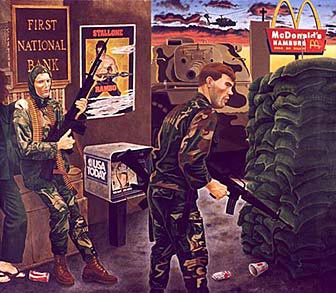 "A People Under Command." Mark Vallen. 1985. Acrylic on canvas.
FUNDAMENTAL
Una visión de la religión totalitaria en el siglo XXI
La Boca – Espacio de Cultura. Madrid, Espania
Del 21 de febrero al 2 de marzo 2008
'Fundamental' busca destacar la amplia variedad de formas del fundamentalismo que surgen en el mundo actual. La exposición nos da una visión oportuna del mundo inquietante del extremismo religioso, pretendiendo de esta forma disipar falsedades, informar al público y estimular el debate.
El programador Alex Potts, miembro del colectivo NATO "Ofensiva Táctica de Artes del Norte", de Manchester (Reino Unido), estrenará la exposición multidisciplinar en Lavapiés, el mismo barrio donde se planeó el ataque del 11-M. Esta exposición cuenta con la obra de doce artistas como Parastou Farahour (iraní), Mark Vallen (estadounidense) Debbie Hill (israelita) y su crítica a las fuerzas destructivas religiosas que afectan a sus naciones particulares.
Parastou Farahour viene de exponer al lado de Tracey Emin en Nueva York. Sus padres fueron asesinados por el régimen Iraní y su obra critica el fundamentalismo islámico con pictogramas hechos en papel de pared que muestran escenarios de tortura.
Por un lado, en la pintura de Peter Štrovs (esloveno) figura una comparación fisonómica satírica del papa y Osama Bin Laden. Por otro lado, figuran de la mano de Andrew Stern (americano) imágenes inquietantes de Iraq después de la invasión, así como también de la revolución iraní procedentes del fotógrafo Magnum Iraní, Abbas.
La exposición incluye también una emocionada serie de fotografías que se sacaron clandestinamente en Afganistán durante el régimen Taliban procedentes de RAWA (Asociación Revolucionaria de Mujeres Afgana) las cuales documentan el abuso ejercido sobre las mujeres musulmanas.
Alex Potts dice: "Cuando los historiadores del futuro examinen los principios del siglo XXI, el tema del fundamentalismo religioso se distinguirá. Hoy en día se escucha tanto sobre 'el fundamentalismo islámico' que da la impresión de que sea lo único que hay. Pero resulta que el extremismo religioso es un fenómeno global que surge de diversas creencias teológicas y pensamientos políticos y son esos los que busca mostrar."
En la exposición figuran técnicas de arte muy diversas: desde cuadros, fotografía, esculturas, hasta visuales. Paralelamente habrá una muestra de documentales que fomenten el debate.
'Fundamental' esta financiada por Arts Council England y European Cultural Foundation. Se lanzó en Manchester en Septiembre de 2007 y seguirá en Berlín la próxima primavera.