Cosmic Communist Constructions Photographed
Storefront for Art and Architecture is a non-profit organization in New York that prides itself on being one of that city's few alternative groups focused upon architecture and urban design. Established in 1982, the group seeks to advance innovative architecture through education, artist's talks, film screenings, forums, and exhibitions. For the first time the group is conducting an event outside of New York by coming to Los Angeles to present an exhibit and forum on Soviet architecture – the playfully titled, CCCP: Cosmic Communist Constructions Photographed; a showing of photos by Fréderic Chaubin documenting architecture from the last two decades of the Soviet Union ("CCCP" was the abbreviated Russian title for the former "Union of Soviet Socialist Republics").
The press release for the exhibit and forum states that Chaubin traveled extensively through the former Soviet Union, documenting the "startling architectural artifacts born during the last two decades of the Cold War." It further states that buildings from this late period were a far cry from the "vapid exercises in architectural propaganda" that form the stereotypical understanding of Soviet architecture. I believe the CCCP exhibit will frame Soviet architecture as a counter-point to how architecture is appreciated and practiced under capitalism, which should raise a number of significant questions.
Whatever one may think of the Soviet experiment, there's no argument that from 1917 to 1932, the Soviet Union witnessed an eruption of avant-garde and experimental art. Soviet Architects were no less impacted by this upsurge, and they fused engineering and city planning with communal ideals. Groundbreaking Soviet architects like Alexander Vesnin, Vladimir Shukhov, Ilya Golosov, Yakov Chernikhov, and many others all labored to this end, designing and building worker's clubs, sports facilities, offices, theaters, factories, communal apartment blocks, cooperative kitchens, collectivist living spaces and much more – all designed with a classless future in mind.
But the Soviet experiment in worker's rule also attracted important architects and engineers from outside the Soviet Union, such as Le Corbusier from France, Erich Mendelsohn of Germany, and the American industrial architect, Albert Kahn. A highly successful young architect, Mendelsohn was given a commission by the Soviets to design and build a factory in Leningrad (now St. Petersburg). He was the first foreign architect to be called upon by the young Soviet regime, and the result of the collaboration was the remarkable Red Banner Textile Factory, a masterpiece of Constructivist architecture. Albert Kahn's architectural firm designed and constructed over 500 factories for the Soviets between the years 1930 and 1932.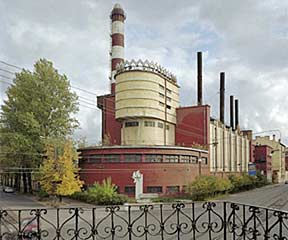 [ Red Banner Textile Factory in Leningrad – Photograph by Richard Pare, part of the Lost Vanguards exhibit. The Soviets gave a commission to German Architect Erich Mendelsohn in 1925 for the design and construction of the ultramodern factory. ]

The CCCP exhibit opened on April 11, 2008, for a month long run at a so-called "Pop-Up" store located at the Paperchase Printing building on Sunset Blvd. "Pop-Up" stores are a novel concept that circumvent profit-making venues in favor of unoccupied spaces that can be used for short periods of time. On Sunday April 13, 2008, at 2 pm, in conjunction with the exhibit, the Pop-Up Store will hold a public forum on Soviet Architecture. The curator of CCCP and Director of Storefront for Art and Architecture/New York, Joseph Grima, will be a panelist along with photographer Fréderic Chaubin.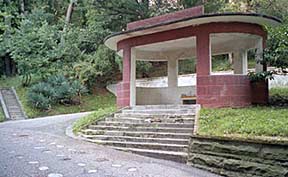 [ Red Bus Shelter – Photograph by Richard Pare. Architect unknown, date unknown. ]

Also included on the panel is photographer Richard Pare, whose photographic exhibit, Lost Vanguard: Soviet Modernist Architecture 1922-1932, was shown at the Museum of Modern Art in New York City. The panel will also benefit from the presence of Barry Bergdoll, who as Chief Curator of Architecture & Design at MoMA, organized Lost Vanguard for MoMA. I very much look forward to hearing Richard Pare, who made eight trips to the former Soviet Union between 1992 and 2000, for the express purpose of photographing what remains of Modernist Architecture from the post-revolutionary period of 1922 to 1932 – a good deal of which is in danger from neglect or being torn down by developers. Pare made nearly ten thousand photos of Soviet modernist structures, with a selection of 74 photographs eventually being presented in his MoMA exhibition and accompanying book. On the eve of his 2007 MoMA show, Men's VOGUE published a must-read interview with Pare, which also includes a slide show of the stunning buildings captured by Pare's camera.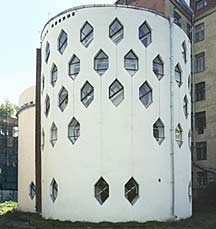 [ Melnikov House – Photograph by Richard Pare. Architect Konstantin Melnikov, constructed 1927-1931. ]

CCCP: Cosmic Communist Constructions Photographed, runs from April 11 to May 17, 2008, at the Pop-Up Storefront located at Paperchase Printing, 7176 Sunset Blvd. (2 blocks west of La Brea, corner of Formosa) Los Angeles, CA 90046.