In Memoriam Philip Stein, "Estaño"
I had the great pleasure of meeting Philip Stein and his wife Gertrude in October of 2003, when the two visited their daughter Anne in Silverlake, California. Last April I received the sad news that Philip died at his home in Manhattan on April 27, 2009, at the age of 90. A public memorial celebrating his life and legacy will be held Sunday, September 13, 2009, at:
The Village Vanguard
178 7TH Avenue South.
Greenwich Village, New York City
1 to 3 p.m. RSVP: 212-346-9309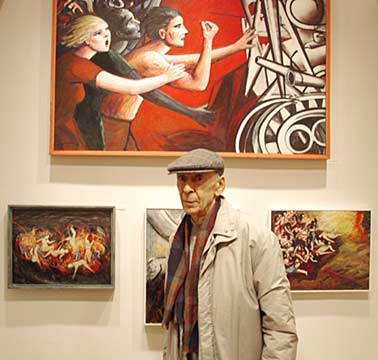 I will never forget finding the biography SIQUEIROS – His Life and Works, in a Los Angeles bookstore in 2003. As an artist deeply influenced by the Mexican Mural Movement, I was fascinated by the book's scholarly yet readable examination of the Mexican muralists, and of the life and works of David Alfaro Siqueiros in particular. I did not purchase the book, which was written by Stein, but I spent the next day kicking myself for not having done so. I was astonished when the very next day the publisher of the book contacted me, inquiring if I would like a review copy of the book. The publisher was kind enough to put me in contact with Stein and from that point on Philip Stein and I became fast friends.
Stein of course was an active participant in the Mexican Mural Movement, and he worked with Siqueiros as an assistant painter on eleven murals in Mexico City from 1948 to 1958. It was in those early years that Siqueiros gave Stein the nickname of Estaño, a moniker that stuck ever since. The insights Stein provided me regarding the social realist movement of the period – both in Mexico and the United States – cannot be found in any book, not even Stein's. I conducted an interview with him in 2004 that affords some clear understanding and deep perceptions of the man and his times – but clearly much more needs to be written.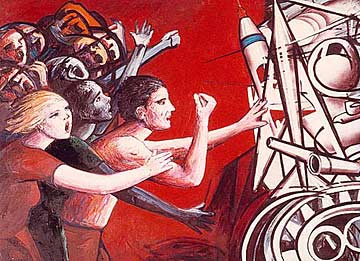 I was surprised to learn of Estaño's passion for Jazz. He spent much time in the early Jazz clubs of New York, maintained an absolutely massive collection of Jazz records, hosted Jazz radio shows in Mexico and Spain, and produced two albums on the Jazz Art label. In 1968 he painted a glorious mural on an interior wall of the legendary New York Jazz club, the Village Vanguard – which should explain why his memorial is being held at that historic venue. The New York Times wrote an obituary for Stein at the time of his death which included a rare glimpse of the Vanguard mural, New Man, New Woman.
Regrettably, I will not be able to attend the memorial at the Village Vanguard, but come the day and hour of the celebration, I will play my copy of John Coltrane, Live at the Village Vanguard, as a last salute to the people's artist, Philip Stein.