The American Scene: New Deal Art 1935-1943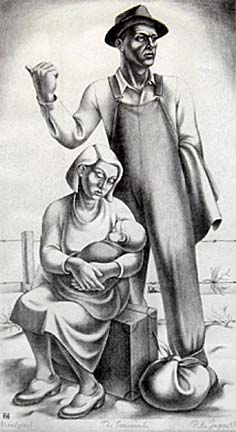 Celebrating the 75th anniversary of the Works Progress Administration (WPA) and the Federal Art Project (FAP), which put thousands of artists to work during the Great Depression, the Bedford Gallery in Northern California is presenting The American Scene: New Deal Art 1935-1943.
Running from October 3 through December 19, 2010, the exhibit features art from the likes of Diego Rivera, Ben Shahn, Raphael Soyer, Bernard Zakheim, Emmy Lou Packard, Mine Okubo, Pele deLappe, Harry Gottlieb, Beniamino Bufano, Otis Oldfield, Anton Refregier, and others too numerous to mention. The Bedford Gallery's Press Release for the exhibit can be viewed here in .pdf format.
A scant number of museums and galleries in the United States have bothered to mark the 75th anniversary of the WPA and the FAP. The Bedford Gallery is not only one of the few to have done so, they are offering a superlative exhibition of historic works drawn from the collections of the San Francisco Museum of Modern Art and the Fine Arts Museums of San Francisco; most of the works on view at the Bedford have been in storage and have not been seen since the 1940s.
While a number of artists included in the exhibit are well known, more than a few will be unfamiliar to the general public, consequently The American Scene holds quite a lot of surprises. Walter Quirt (1902-1968) is one of those revelations; his works are a bolt out of the blue. He was one of the first American artists to identify with surrealism, but he painted in the "social-surrealist" style, which placed emphasis upon contemporary political events – much like the paintings of Irving Norman. A good introduction to the life and works of Walter Quirt can be found at the official website for his estate.
The American Scene exhibit is not simply a time capsule, though artworks from the social realist painters and printmakers of America's Great Depression era will no doubt capture the tenor of times past. The works in the show are humanistic, poignant, optimistic, and politically engaged, displaying the type of critical approach needed in today's art.