In February of 2009 I wrote about one of California's great modernist painters from the post WWII period, Edward Biberman. At the time the Los Angeles Municipal Art Gallery in Barnsdall Park was running its splendid exhibition Edward Biberman Revisited, so my timely article was not simply a review, but an in depth look at one of L.A.'s forgotten artistic geniuses. If you are not familiar with the life and work of Mr. Biberman, I encourage you to read my '09 article.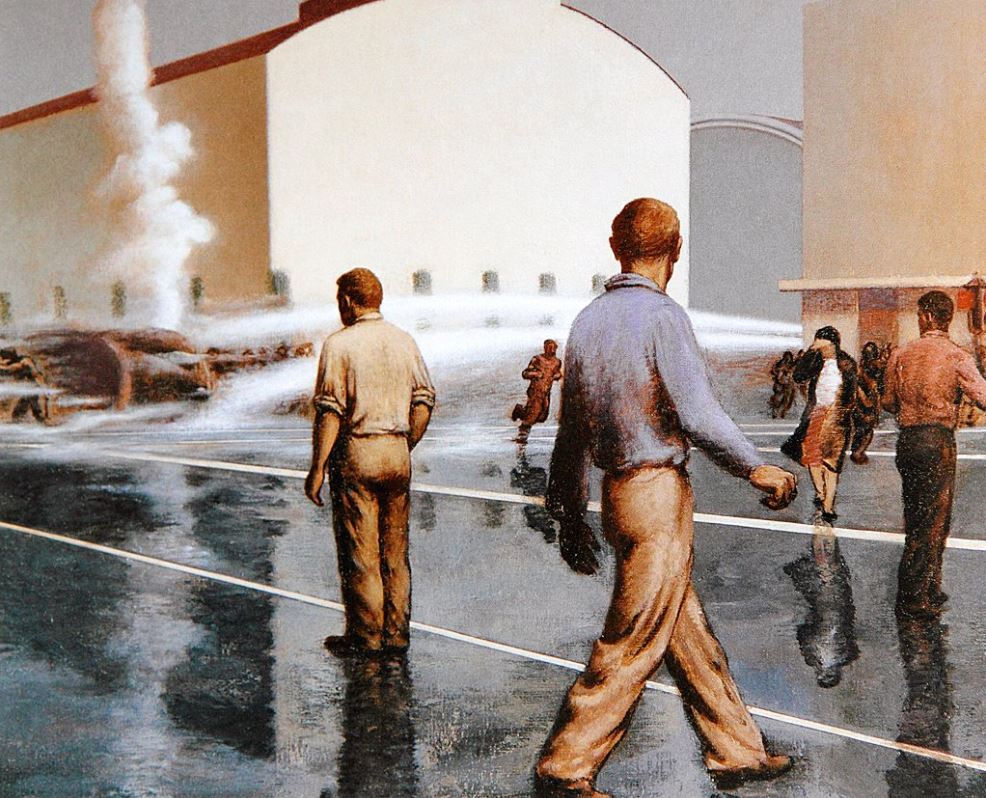 I recently acquired a long out of print hardback copy of Time and Circumstance: Forty Years of Painting, a book Biberman wrote in 1968 that detailed his life and works. To further the reader's appreciation of Mr. Biberman, I am posting reproductions of five paintings from his book along with his original captions. Published by Ward Richie Press, the rare hardback presents 118 full-page illustrations accompanied by the artist's comments and observations. Unfortunately only a handful of the illustrations were printed in color, one of which – The Headless Horseman I present here.
Edward Biberman wrote the following paragraph, which appeared in the foreword to his book; his artwork and captions follow:
"By pure coincidence, just as I was wondering how I might mark the fortieth year of my career as a professional painter, Mr. Joseph Simon, of The Ward Ritchie Press, asked me if I would be interested in having his company publish a book of my work. I was very intrigued with the idea and suggested that the book combine selected photographs of my paintings with enough written material to establish an autobiographical continuity.

The publishers agreed, and as I began to choose the paintings and write the text, all the material seemed to fall into place quite easily and naturally. Here then, with my own narrative comments and a few quotes, are the paintings which I chose from the full body of work done in forty years span, 1927 to 1967."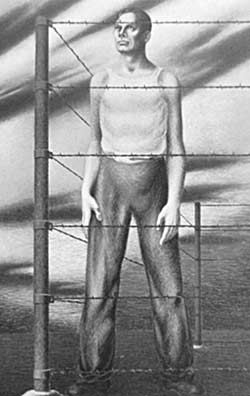 The Unseen Wind. "By the late 1930s all of us looked with fear and foreboding at a world which was careening toward a holocaust. Mussolini's dive bombers were cutting down the spear-carrying soldiers of Ethiopia: Spain was wracked by civil war and the silence of most of the world; and Picasso, outraged by the destruction of a Spanish town by German Stukas, became one of an increasing number of artists who felt impelled to protest directly through their art. And Guernica became a household word. Concentration camps, a foretaste of the genocide to come, were filling, and Hitler was preparing his march across Europe."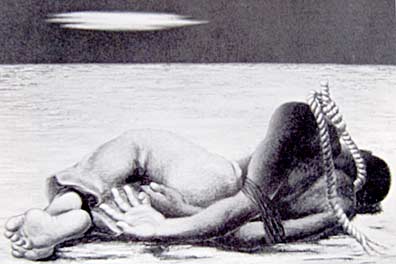 Still Life With Rope. "In our own land, there remained an old and recurring sickness. I began to turn more frequently now, to a world in ferment for my themes. But it soon became obvious to me that the technique which had served me well for other ideas and circumstances was inadequate for these new concepts. The basically two-dimensional, highly pigmented idiom which I had been using for almost ten years, was simply not able to carry the weight of these new intentions. I needed a more solid, three-dimensional, less chromatic approach. I had no hesitancy in making these changes. For then, as now, the form of my work was basically determined by its content."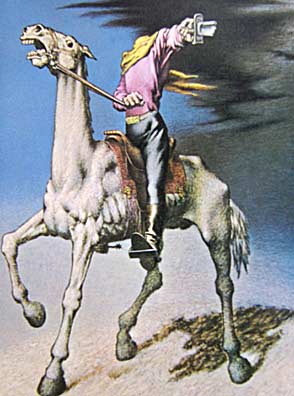 The Headless Horseman. "The specter of another world war filled our mind's eye. But this was totally unlike the mood which had unified our country almost to a man after Pearl Harbor. This vision was of something foreboding and divisive – needless, cruel, corrosive."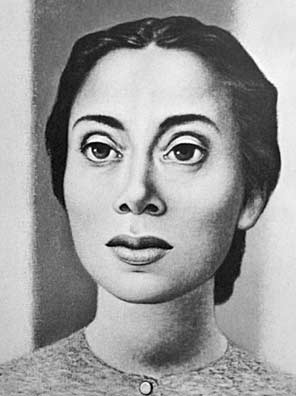 Woman of Mexico. "Though this head was painted a few years later, it belongs emotionally to the work of that summer. It is a free interpretation of the Mexican actress Rosaura Revueltas, who played the leading role in the motion picture, Salt of the Earth, directed by my brother in 1953. The present director of the Los Angeles Municipal Arts Commission, Mr. Kenneth Ross, was at this time art critic on a Pasadena newspaper. He had written, 'Biberman can affect a striking balance of heart and mind.'" [Editor's comment: You can view the entire Salt of the Earth film as a streaming video on YouTube. Read about the history of the film here].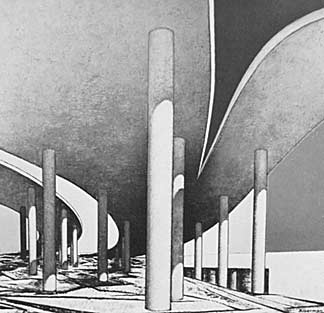 Winged Victory of Los Angeles. "Once, by chance, I happened to drive under an uncompleted section of one of these soaring ribbons of concrete. I suddenly felt the same sensation of imminent flight that I experienced when I first saw the "Winged Victory" at the head of the stairway, at the end of the long corridor in the Louvre. I could not resist this slightly facetious title for the painting. Most of these urban landscapes were shown at my one-man exhibition at the Heritage Gallery in Los Angeles in 1962, and this gallery has remained by representative since that time."