Crystal Bridges Museum of American Art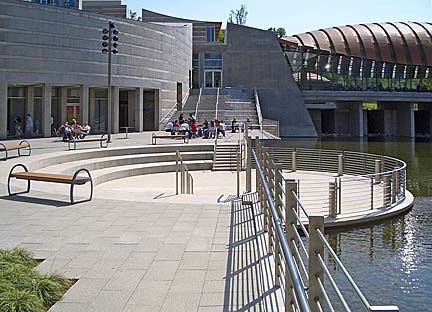 During the month of May 2005 I posted an essay titled The Wal-Mart Museum of Art.
My article detailed the intentions of Wal-Mart heiress Alice L. Walton to found and build the Crystal Bridges Museum of American Art in Bentonville, Arkansas, the hometown headquarters of Wal-Mart Stores Inc, the world's largest retailer.
Forbes ranks four of the Waltons among the top dozen wealthiest Americans, with the family members collectively worth around $93 billion dollars. Alice Walton alone has a net worth of $20.9 billion dollars, and not surprisingly she serves as the head of the museum's Board of Directors. The $800 million it took to erect the huge museum of course came from the Walton Family Foundation. Crystal Bridges opened this past November to much fanfare from the press, though this article will make note of a few things generally left unsaid about the new "world-class" art museum and its connections to the Wal-Mart empire.
Should I ever find myself in Bentonville, Arkansas, I would most likely pay a visit to the Crystal Bridges Museum of American Art. There is no doubt Alice Walton and family have purchased a superlative art collection. The museum houses works by the likes of Charles Wilson Peale, John Singleton Copley, Charles Bird King, Asher Brown Durand, Arshile Gorky, Thomas Hart Benton, Norman Rockwell, Georgia O'Keefe, Claes Oldenburg, and innumerable others from throughout America's episodic history. It may be a conservative collection hung in a conventional setting, but there is no arguing its significance. It is also incontestable that the museum serves an unstated political purpose. I will set the pace for the remainder of this article by quoting from my original May 2005 post:
"Wal-Mart Inc. is hardly a credible or benevolent voice when it comes to the public interest, and delivering the nation's art treasures into its gapping maw makes me shudder. While the corporate press and apolitical art critics fawn over the art world's latest benefactor, they are likely to forget to mention the following… Wal-Mart Inc. has a terrible record when it comes to the mistreatment of its US employees, and a ghastly history of exploiting workers in other parts of the world. There is no better example of how politics is intertwined with art than the spectacle of an art museum being founded by a rapacious corporation well known for exporting US jobs overseas and profiting from foreign sweat shop labor."
Writing for Bloomberg.com, Jeffrey Goldberg penned a December 2011 article titled "Wal-Mart Heiress's Museum a Moral Blight", in which he updates and extrapolates on the points made above. Goldberg referred to the Wal-Mart Museum as "a moral tragedy, very much like the corporation that provided Walton with the money to build a billion-dollar art museum during a terrifying recession. The museum is a compelling symbol of the chasm between the richest Americans and everyone else." He went on to write that the museum "is certainly the handsomest building ever built with Wal-Mart money. I suspect it is also the only building associated with Wal-Mart that is devoted solely to American-made goods."
Here I must point out that the inaugural presentation of the Crystal Bridges Museum collection was co-sponsored by General Electric, Coca-Cola, and Goldman Sacks. Honestly, the museum seems not so much a gathering of historic and noteworthy American art as it does a monumental advertisement for America's plutocratic 1%.
Contributing editor to Art & Auction magazine, Abigail Esman, may no doubt disagree with my assessment. In her article for Forbes, "How Alice Walton's Crystal Bridges Exposes The Foolishness Of Occupy Wall Street", Ms. Esman wrote of Alice Walton's Crystal Bridge Museum as a "love letter, as it were, to her community and to America", saying that "there remain those so wedded to the whining of the so-called 99 percent that they remain blinded both to the philanthropy and to the significance of the project."  Esman's attacks against the "Occupy crowd" are simply diversionary and do not address the social role played by Wal-Mart and its cultural appendage, the Crystal Bridges Museum. She maligns the Occupy movement by saying "What matters to them is simply the fact that Ms. Walton has the money to do any of this in the first place – and this, evidently, is an emblem of pure evil." It is not the family's affluence that is problematic, it is the question of how they acquired their wealth and the ways in which they utilize it.
I realize that worshipping monetary success has become a cult religion in the United States, but please, let us not delude ourselves.
According to a 2007 report from the Economic Policy Institute (ECI) titled The Wal-Mart effect, the mega-corporation imported $27 billion dollars worth of products from that shining citadel of democracy, the People's Republic of China; those imports, according to the ECI, "eliminated nearly 200,000 U.S. jobs in this period". The ECI report also stated that "Wal-Mart has aided China's abuse of labor rights and its violations of internally recognized norms of fair trade behavior by providing a vast and growing conduit for the distribution of artificially cheap and subsidized Chinese exports to the United States."
I can only add that the U.S. trade deficit with China has increased exponentially since the 2007 ECI report, and that Wal-Mart continues to eliminate even more American jobs by ramping up its imports from China. That is some "love letter" to America. One wonders how the follies of a few misguided adherents of the Occupy movement could even begin to compete.
In my original May 2005 article I mentioned that Wal-Mart defiled the ancient metropolis of Teotihuacán by opening one of its super stores in the city's archeological perimeter after months of protests by the Mexican people who saw the store's location as an affront to Mexican culture and history.
Located just outside of Mexico City, I visited the ancient indigenous site in 1991 and climbed to the top of its magnificent pyramids dedicated to the Sun and Moon; the ruins of the old city are massive and breathtaking, and indigenous people continue to see Teotihuacán as a sacred place. When viewing the grounds it is difficult not to agree. Seeing a Wal-Mart store less than a mile from those ancient pyramids is as unacceptable an experience as seeing the big-box store on the grounds of the Vatican or near the great pyramids of Egypt – especially knowing the Wal-Mart 7 1/2 acre lot is undoubtedly covering priceless artifacts.
In a 2009 dispatch titled, "Teotihuacán Gets Mickey-Moused", author John Ross wrote that; "Priceless artifacts uncovered during store construction were reportedly trucked off to a local dump and workers fired when they revealed the carnage to the press." Those who imagine Wal-Mart as an advocate for the arts should think deeply about the mega-corporation paving over an archaeological zone belonging to one of the world's most celebrated ancient cities. While Wal-Mart's reckless cultural insensitivity regarding Mexico's Teotihuacán is stunning enough, an even bigger story is currently playing out at the time of this writing.
On April 21, 2012, the New York Times published a report titled "Vast Mexico Bribery Case Hushed Up by Wal-Mart After Top-Level Struggle". The story detailed how Wal-Mart's largest foreign subsidiary, Wal-Mart de Mexico, "orchestrated a campaign of bribery to win market dominance" in Mexico, paying "more than $24 million" in bribes and kickbacks to corrupt officials both in and out of government. The story came to light in 2005 when a former Wal-Mart executive leaked information regarding the crooked business practices. When Wal-Mart's headquarters in Bentonville, Arkansas was informed of the subsidiary's criminal behavior, it launched its own supposedly impartial investigation. According to the New York Times:
"Wal-Mart dispatched investigators to Mexico City, and within days they unearthed evidence of widespread bribery. They found a paper trail of hundreds of suspect payments totaling more than $24 million. They also found documents showing that Wal-Mart de Mexico's top executives not only knew about the payments, but had taken steps to conceal them from Wal-Mart's headquarters in Bentonville, Ark. In a confidential report to his superiors, Wal-Mart's lead investigator, a former F.B.I. special agent, summed up their initial findings this way: 'There is reasonable suspicion to believe that Mexican and USA laws have been violated.' The lead investigator recommended that Wal-Mart expand the investigation. Instead, an examination by The New York Times found, Wal-Mart's leaders shut it down."
In light of the corruption scandals Wal-Mart now finds itself embroiled in over its dirty business dealings with crooked Mexican officials, one must consider something John Ross wrote in his aforementioned article. Ross brought up Arturo Montiel, the former governor of the State of Mexico and Institutional Revolutionary Party (PRI) politician who in 1994 granted Wal-Mart the permits allowing construction of its store on the grounds of Teotihuacán. Mr. Montiel was driven from office in 2005 due to charges of corruption, including influence peddling, using public funds for private purposes, and amassing a personal fortune through bribery and other illegal means. In its 2012 expose, the New York Times conducted extensive interviews with Sergio Cicero Zapata, a former Wal-Mart de Mexico executive that ran the company's real estate department since 1994. The NYT wrote that:
"Mr. Cicero recounted how he had helped organize years of payoffs. He described personally dispatching two trusted outside lawyers to deliver envelopes of cash to government officials. They targeted mayors and city council members, obscure urban planners, low-level bureaucrats who issued permits — anyone with the power to thwart Wal-Mart's growth. The bribes, he said, bought zoning approvals, reductions in environmental impact fees and the allegiance of neighborhood leaders."
One may wonder about the extent of Wal-Mart's bribery in Mexico and if its long reach got to former governor Montiel, "helping" him to issue those permits for the Teotihuacán Wal-Mart. In a follow-up article by the New York Times dated April 22, 2012, the paper noted that a leader from one protest group, Emma Ortega Moreno of the Civic Front for the Defense of the Teotihuacán Valley, charged that the 1994 permit process was rigged. Moreno asserted that "Wal-Mart started building without permits, the licenses came later. When there are banknotes, you know that they can work wonders." In the same article the paper mentioned the U.S. government's "1977 Foreign Corrupt Practices Act, which bars U.S. companies from bribing foreign government officials or companies to secure or retain business."
As the world's largest retailer the company certainly has no shortage of expendable cash, and it can just as easily purchase foreign government officials as it can procure a fabulous art collection and an $800 million dollar museum in Arkansas to house it. Both projects serve political expediency, but only one can be cast as benevolent. There is an old saying South of the Border, "Poor Mexico, so far from God, so close to the United States." Wal-Mart's relationship with Mexico seems to exemplify that truism.
If Wal-Mart using its considerable financial resources to buy market dominance and political influence in Mexico does not offend you, then consider the following. On April 30, 2012, the New York Times published a report concerning how the corporation:
"has adroitly used millions of dollars in campaign contributions, charity drives, lobbying campaigns, and its work for popular causes like childhood nutrition and carbon emissions to build support in Congress and the White House. It also uses these methods to increase its 'favorable' ratings, especially with liberals. And as Wal-Mart's top lobbyist explained to investors in 2010, the company thinks the strategy has worked. 'Across the board, our reputation with elected officials is improved, not only here in the U.S. but around the world,' the lobbyist, Leslie Dach, boasted as he ticked off poll numbers that he said demonstrated the company's improving public profile. That popularity, he said, 'makes it easier for us to stay out of the public limelight when we don't want to be there.'

(….) For years Wal-Mart had reliable allies in the Republican Party, while it struggled to develop support among Democrats. But in recent years it has joined with the Obama administration on a number of its initiatives, including President Obama's health care plan, environmental safeguards and childhood obesity. At the same time, it has aggressively lobbied the administration and Congress on dozens of policies affecting its business operations, including global trade, taxes, immigration, business regulation and waste disposal standards."
Wal-Mart certainly wants the "public limelight" when it comes to their new museum, but when it comes to exporting America's industrial base to China, bribing shady Mexican government officials for special treatment, or buying favor with U.S. politicians from both the Republican and Democratic parties… not so much. No matter how sophisticated the Crystal Bridges Museum of American Art might be, nothing can conceal the pernicious crimes of Wal-Mart.