Newseum: Super-Sized R-Rated Version
On Nov. 14, 2013, the Newseum in Washington, D.C. opened what it hoped would be a "blockbuster" show, Anchorman: The Legend of Ron Burgundy – The Exhibit. If there was ever a more blatant abuse of a museum's mission, I cannot think of what it might be. Slated to run until Aug. 31, 2014, the exhibit was created in partnership with Paramount Studios to promote its latest movie, Anchorman 2: The Legend Continues, written and directed by Will Ferrell and Adam McKay. Ferrell stars in the film as a 1970s anchorman at a fictional television news station.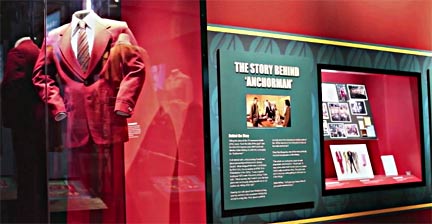 Presenting some 60 costumes and props from Ferrell's 2004 movie, Anchorman: The Legend of Ron Burgundy, the Newseum exhibit was timed to coincide with the formal opening of Anchorman 2 on December 18, 2013.
The "personal effects" (read: movie props), belonging to the fictitious  anchorman – a burgundy suit, mustache brush, and jazz flute, are displayed in the Newseum as if they were the property of an actual historic journalistic figure like Edward R. Murrow, Walter Cronkite, Bob Woodward, or Carl Bernstein. Another prop from the Paramount film – the news desk of the imaginary Ron Burgundy – will also be on display, along with various costumes worn by Ferrell and co-star Christina Applegate.
Developments at the Newseum give added weight and validity to The Newspeak Newseum, an article I wrote after the opening of the Newseum in Washington, D.C. on April 11, 2008. Quoting that critique:
"The traditional concept of a museum as an elite institution dedicated to research and the acquisition, conservation, and safeguarding of humanity's collective heritage – seems to be giving way to a profit driven, entertainment oriented, glitzy pop culture approach to museum management. As corporate monopolies move ever closer to controlling the cultural life of the nation, the Newseum provides the clearest look yet of a cultural institution in the service of big business."
Bloomberg Businessweek reported that the Chrysler Group contracted Ferrell to appear in character as Ron Burgundy in a series of "70 different commercials of varying length and format" for the 2014 Dodge Durango SUV. With help from one of the largest ad agencies in the world, Wieden+Kennedy (known for its work with sweatshop giant Nike), the ads have proliferated on television and across the web, from YouTube to Ferrill's sophomoric funnyordie.com. But that is not the end of it. Ferrill's flood of publicity stunts, television and radio appearances, not to mention branded products promoting the Anchorman franchise, led the director of Anchorman 2, Adam McKay, to declare it has all amounted to "at least 20 million in free publicity." The Newseum is just another component to that mass marketing campaign.
As of this writing, Anchorman 2 has made more than $125 million in the U.S. since it opened in Dec. of 2013. But for Hollyweird enough is never enough. On Feb. 28 the movie will be re-released in around 1,000 theaters. Advertised as a "Super-Sized R-Rated Version," it runs 20 extra minutes and contains "763 new jokes." The late 2013 release of Anchorman 2 had 95% of its jokes stripped-out through digital editing, replacing them with filthier jokes for the re-release. And to what effect? Co-director McKay is quoted as having said, that in talks with Ferrell, the two realized they could "replace every single joke in the movie with another joke." McKay went on to say that "there were a couple of jokes left for continuity."
The museum's curatorial philosophy seems akin to McKay's vision of film-making. The Newseum can replace every single legitimate exhibit giving insight and focus to history, with faux exhibits that are nothing more than advertising campaigns for mega-corporations. For continuity's sake, a few examples of how a museum should archive actual historic materials will be kept in place. Behold the future of U.S. museums.